The Vita Group, one of Europe's providers of flexible polyurethane (PU) foam, has taken its R&D capabilities to the next level with the introduction of advanced acoustic testing technology.
Middleton-based Vitec, part of The Vita Group has invested in the installation of an Alpha Cabin, which provides in-depth data on the acoustic insulation and noise absorption properties of foam products. This will help further formulate materials and composites with optimum noise reduction levels for end users in a range of market sectors.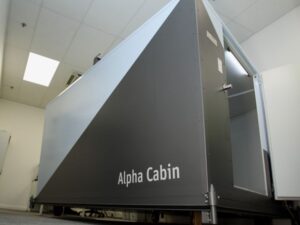 Vitec can now conduct innovative, high-end audio testing within its own research department. This allows the R&D team to test more batches and to react to customer demands or in-house R&D breakthroughs at a faster rate.
Stuart Roby, Technical and Flooring Division Managing Director at The Vita Group, said: "Having the Alpha Cabin at our Middleton Innovation Centre is an exciting development. It opens up a number of opportunities for our research into noise-tackling foam solutions. It opens up multiple opportunities for research into noise-tackling foam solutions.
"There is a demand for noise reduction systems of this kind, with everyone from data centres to manufacturing hubs and theatres all eager to find out how they can solve tricky sound-related issues. and noise reduction systems, for which there is huge demand in the market. Whether it is data centres, manufacturing hubs or theatres, we can now support all our customers' needs to solve tricky sound-related issues.
"Our ability to quickly turn around state-of-the-art tests and then use this information to tailor foams for specific situations has streamlined the research process, making us the ideal partner for companies that want to find out how foam can solve their acoustic challenges and concerns."