David Hewitt, Head of Global Support & Implementation at RetailSystem, talks about the complete customer journey when using the RetailSystem software and why it's a must for every furniture and bed retailer in the industry.
Improve Processes
"If we are not fishing, we can at least be mending our nets," says Michael McKeeffry, while I was on site implementing his RetailSystem just ahead of the recent Irish Furniture & Homewares Show in Dublin. There is no doubt as we navigate our way through the current lean and sometimes choppy sales waters, we need the very best in navigational tools to avoid those unseen dangers lurking below the surface!
Drive Sales
We don't just want to survive though; we need to thrive! RetailSystem comes packed with tools to help you get the maximum from your client's data, a full CRM linked to products and sales history, along with FurnitureTexts, the ability to send laser focused marketing messages directly to your clients, and if you wish, linked directly to a range or brand of furniture. All protected by the latest GDPR tech to keep you safe.
Tried, Tested & Trusted
RetailSystem has a proven record of over 19 years and has supported thousands of furniture and bed retailers in making the very best of business decisions when considering the unique data and statistics generated by their own operations.
Furniture & Bed Retailers Only
We are all in the furniture industry but every business is unique, getting to understand your requirements and objectives means that we can tailor our support to assist you getting the very best out of the software.
Invested for Growth
In order to support our growing client base, during 2022 we invested in new offices which are now home to a team of 14 support specialists at your service. Remember, RetailSystem support is free, so whether you are an existing client or thinking of taking up the industries number one, award winning software solution, we invite you to take full advantage of that.
A Complete Ecosystem
And it doesn't stop there! With WebSystem Shopify & FurnitureKiosk's we are now building, designing and implementing fully integrated, multichannel websites and sales solutions, tailored for our clients and all under one roof. This helps join up all the dots for our customers, all of which in turn can be accounted for using FurnitureBooks, our full integration with QuickBooks online! We provide the complete customer journey.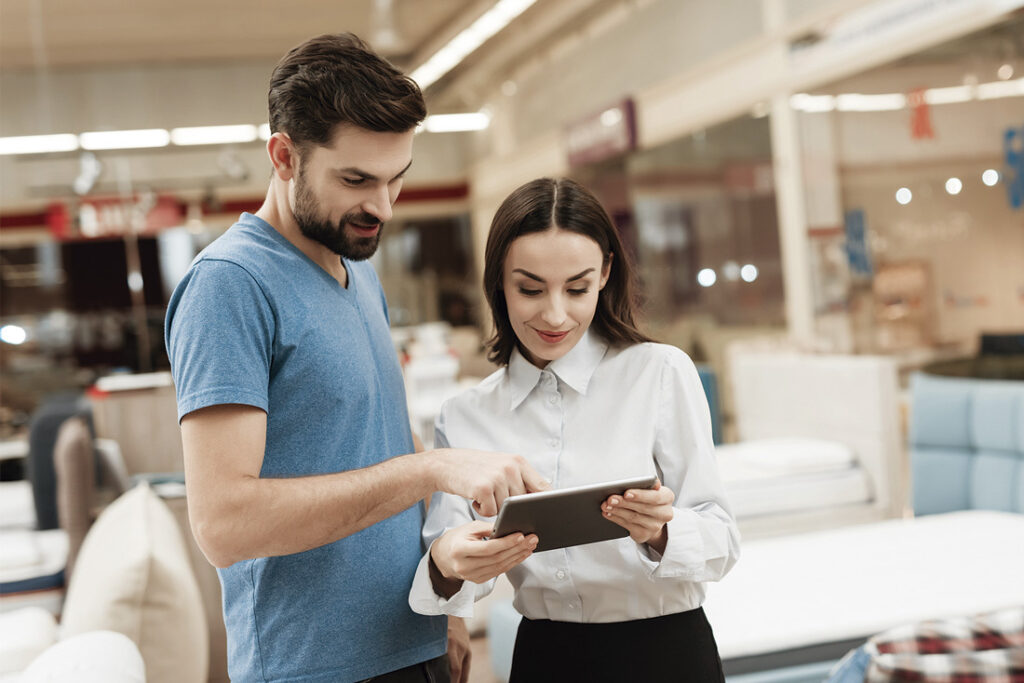 Easily Integrate with any Website
RetailSystem now integrates with any third party website bringing all the advantages of a single product database, live stock and real time sales order processing all fully supported.
Digital Warehouse
Create warehouse & showroom stock locations, print scannable sold, stock and location labels, interrogate stock levels and product history with a blip on your scanner. Plan & schedule customer deliveries based on time, area or postcode, print loading schedules, picking lists & delivery notes.
Our Customers Come First – (Read more here)
JB McLean Interiors, a customer since 2020: "RetailSystem helps right across the board from cashing up, taking money in, proof of orders, to keeping your finger on the pulse and up-to-date with all these different elements. It has given me better control and covers every part of the furniture business. You can keep an eye on things too and see what has been ordered and sold by having all the information in front of you, all on one screen. We would definitely recommend RetailSystem to every furniture retailer in the industry. It's fantastic and helps our business no-end."
Sopha, a customer since 2018: "We use RetailSystem as our main CRM software as well as for keeping track of our inventory and orders. The system is designed to follow the customer journey, from initial product pricing through quotation, sale, Purchase Order, Delivery Scheduler and invoicing. RetailSystem is perfect for independent furniture retailers who are currently running a paper system or a cobbled together set of systems that are attempting to do what their paper system used to do. The familiarity of the steps and even the layout will really help retailers transition to the system without the headache we all dread when we think of learning something completely new."
Sussex Beds, a customer since 2014: "RetailSystem helps our business from initial contact with our customers, through to delivery and customer service if required. RetailSystem is important to Sussex Beds as it's the way we currently process our customers' orders, with many databases to download important data. From one store to 15 stores, RetailSystem is a great system for processing customer orders in store and I would recommend to any retail store."
Let's Talk
We would love to show you how it all works with a visit or setup a zoom at your convenience. We're here to help, so let's talk.