To mark the 70th anniversary of the accession of Queen Elizabeth II, Gabriella James, Chairmakers has created a Special Edition Jubilee Collection.
Designed and handmade in Kent, the Jubilee Collection features the award-winning Darwin Modern Windsor Chair and Traditional Turner Counter Stool, with naturally soft seats beautifully upholstered in a traditionally woven Union Flag. For each one sold during 2022, Gabriella James will 'Plant a Tree for the Jubilee' in association with The Queen's Green Canopy, a charity that has been established for this special occasion.
Winner of a Design Guild Mark award, the Darwin Armchair designed in collaboration with chairmaker, Dave Green, is a stylish twist on the quintessential Windsor chair. This unique design draws on the stylish classic Windsor features, yet with a more contemporary aesthetic. Traditionally crafted in solid English Ash with steam-bent back spindles and a generously sculpted back for comfort, it has the added luxury of a soft upholstered seat made from 100% natural materials including natural latex, coconut coir and pure merino wool.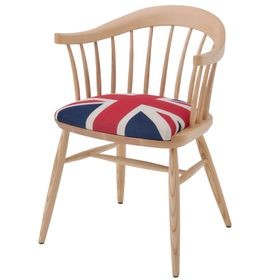 The Turner Counter Stool is the perfect kitchen companion. Slim enough to tuck under any counter or in any kitchen corner, the Turner Counter Stool is a winning combination of practical comfort and style. The traditional button-shaped seat is handmade from 100% natural stuffing materials making it uncompromisingly comfortable to sit on. The stylish solid-wood frame is hand carved with traditionally turned legs in sustainably sourced English Ash and finished with a natural wax oil, enhancing the beautifully warm grain.
The Queen's Green Canopy (QGC) is a unique tree planting initiative created to mark Her Majesty's Platinum Jubilee in 2022 which invites people from across the United Kingdom to 'Plant a Tree for the Jubilee.' Following the end of the initial planting season in March, tree planting will commence again in October 2022, through to the end of the Jubilee year. As well as inviting the planting of new trees, The Queen's Green Canopy will dedicate a network of 70 Ancient Woodlands across the United Kingdom and identify 70 Ancient Trees to celebrate Her Majesty's 70 years of service. The Union Flag, the national flag of the United Kingdom combines the crosses of the flags of England and Wales, Scotland and Northern Ireland.
Felicity Randolph, founder, Gabriella James, Chairmakers says: "It was a pleasure to create this Special Edition Jubilee Collection to commemorate the work and dedication of Her Majesty the Queen for 70 years. As the Darwin is a Windsor Chair, it makes perfect sense to include it in our Jubilee Collection. Both the Darwin and the Turner stool are handmade from sustainably sourced English Ash so we would like to support The Queen's Green Canopy charity by planting an Ash tree for the Jubilee with the sale of every Special Edition Darwin and Turner Stool during 2022."