Sleep smart brand Sleep.8 has announced the opening of its new store at Lakeside Retail Park. The opening follows the success of its recently opened stores in retail locations of Bluewater, Lakeside Shopping Centre, King's Road, High Wycombe and Westfield Stratford.
The store in Lakeside Retail Park, West Thurrock, builds upon the momentum, showcasing the widest variety of products yet in the largest square footage Sleep.8 store to date. The Thurrock store is the first in their new store design optimised for retail parks, improving upon previous models to maximise the customer journey due to the plentiful floor space. Special features include a comprehensive Tech Lounge where shoppers can experience luxury massage gadgets, a large Mattress Zone for testing different firmnesses, and a Pillow Bar complete with 18 specialised pillow models.
The opening event, which saw the store officially open in late January, was attended by television star and influencer Elma Pazar, who promotes the brand on her social media, and John 'The Gentleman' Hedges, an undefeated professional boxer and Sleep.8 brand sponsor.
The brand's mission is to empower shoppers to focus on their own physical and mental wellbeing and get their optimal eight hours of sleep, every night. The new Thurrock store features a design lounge, allowing customers to tailor the bedroom of their dreams with advice from our in-store experts.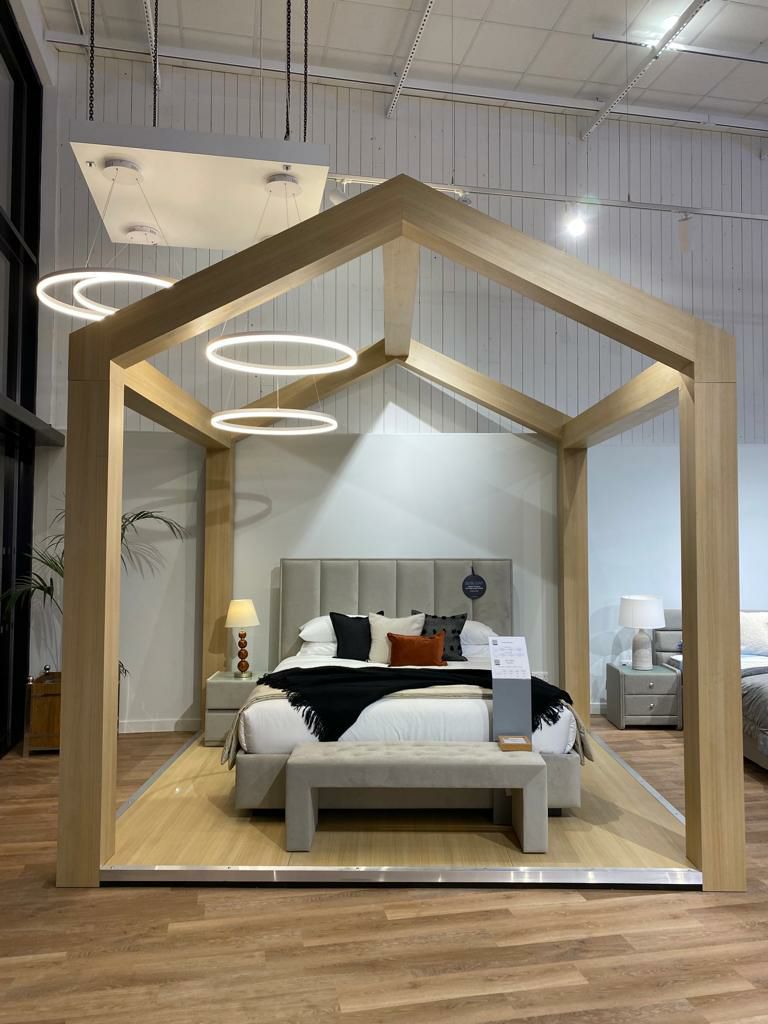 Innovative zoning makes full use of the retail space, allowing for an immersive yet relaxed shopping experience whilst also demonstrating the zoning potentials with Sleep.8's 360-degree upholstered furniture. They have elevated standard room displays by implementing wooden house frames which aim to inspire the imagination, and a 'Mattress Zone' where customers can relax while testing their prospective mattresses. From the designated relaxation area with the luxurious full-body massage chairs and pillow testing gondola, to the Ergomotion adjustable beds where customers can experience the weightlessness of Zero-Gravity sleep, every detail has been carefully considered to produce an enthralling, tranquil retail experience. Highly trained staff have sleep expertise, enabling them to match you to your perfect mattress and pillow in free 1-1 consultations.
Sleep.8 Global Vice President, Musi Chayla, commented: "With our latest bricks and mortar shops, we can really educate consumers about their sleep, which is critical to our physical, emotional and mental wellbeing. The surplus of floor space available at Thurrock's destination retail space has allowed us to play on previous layout designs and create something really special that shows off everything Sleep.8 can offer shoppers. It's about creating the connection with the customer and helping them to find the sleep solution that is right for them, such as with our pillow match consultations.
"As someone who comes from and believes passionately in retail, it's been distressing to see job loss, customer service decline and the demise of high street retail. Our online presence is strong but as a brand that believes in the importance of the high street, our priority is to look after our people and customers face-to-face wherever possible. This is the Sleep.8 culture, and it's important to us that this philosophy is visible to our customers from the moment they step into our new stores."
With the help of Sleep.8's expert staff, customers are able to tailor their sleep space to their precise needs. Sleep.8 also has an in-house somnologist who is always on hand for advice or quotes should you be interested. Sleep.8's in-house sleep expert, Ana added: "Sleep has an effect on many of our physiological systems, in particular, our cardiovascular system and brain functions. Insufficient or irregular sleep and poor sleep quality can lead to health problems for some and have been associated with poor mental health and anxiety."