Wendy Martin Green, Chairman at Peter Green Furnishers, talks about their 65th anniversary milestone with an eye on the future.
Peter Green Furnishers is a much loved business in the area of Hampshire and the Isle of Wight and in recent years it has been tagged with the label of 'iconic'. There are not many businesses that can enjoy such honours, but with a 66 year history under its belt, the company has continued to go from strength to strength, with the community it serves remaining at the core of its success.
Their story began back in 1956 when Peter Green, father of current owner and chairman Wendy Martin Green, opened his store called the Sleep Shop in Eastleigh with just £150 to his name. The Sleep Shop sold beds but it quickly evolved into a furniture and flooring store by popular demand.
In fact, one of the first pieces of furniture that went on display was the ever-popular Ercol Studio Couch. Conceived as a post war response to the Government's 1946 'National Utility Furniture Scheme', this now classic piece showed excellence in design combined with an economic use of materials. It became an instant industry favourite when it first hit the market and, amazingly, the company still sells the updated version today.
This item of furniture has more meaning to Wendy too as part of their 65th anniversary celebrations, they commissioned a photographer to retouch the only photo they possess of the Sleep Shop with her father standing outside, adding a modern studio couch with Wendy sitting on it.
"This is the first time I have been in a photograph with my father since his death 40 years ago," Wendy said. "The image was printed on icing for the top of our party cake using edible ink too. Now that's technology for you!"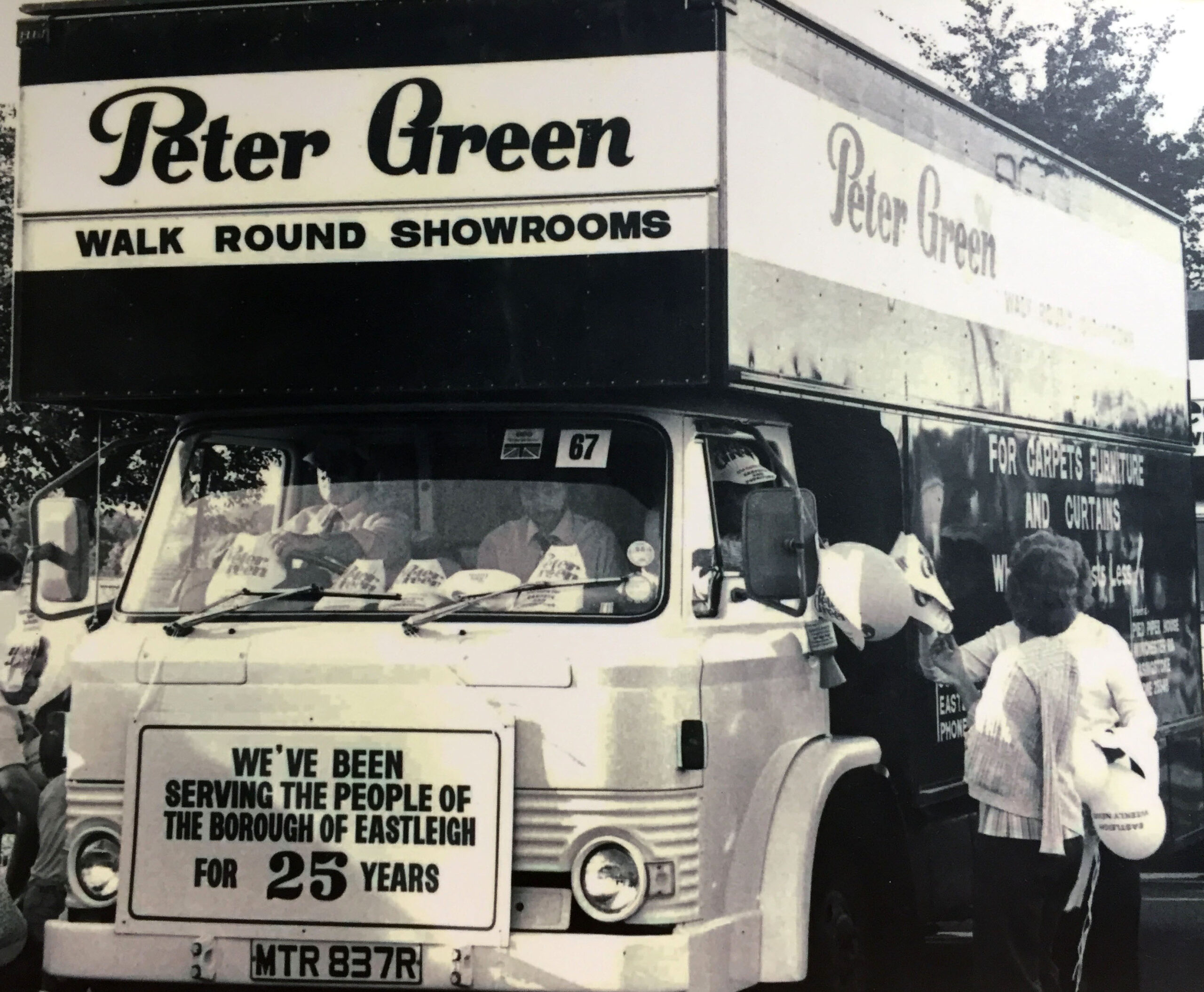 Following the death of Peter Green in 1980, Wendy's mother took over and played another key role in their growth, including relocating to an even larger premises on School Lane during 1985. Wendy took control herself some 12 years ago after her mother passed and has the same fire burning to succeed like her late parents.
From the Sleep Shop's humble beginnings to present day Peter Green Furnishers, the business has continued to ride both the high and low waves, tackling challenges head on, while becoming a staple in the community it serves.
"After my mother died, I took her place and found myself, like her, to be one of the few women in a surprisingly male-dominated industry," Wendy said. "Leading the business and building on my parent's ethics and successes, with the help of a loyal senior team, Peter Green still has a deep connection with the community. We know both our retail and commercial customers very well because we have grown up with them."
July 30th was the official 65th anniversary date, although a year later due to Covid halting any celebrations until now.
"We celebrated our 65th anniversary with a huge party at our store, which attracted 600 guests including customers, friends and representatives from our suppliers and former employees. The Eastleigh Rotary Club, of which we are members, also joined us and Wave radio also came along promoting their charity Cash for Kids," Wendy said.
"We held an auction of up-cycled pieces of furniture made for the BBC program Money for Nothing on which Peter Green Furnishers make regular guest appearances. The proceeds were donated to Cash for Kids. Music was provided by the Southampton band 'The Dinner Set' and we even had a local land train called Trigger running outside for the children and the 'young at heart' to ride on. This was very appropriate because Eastleigh is a railway town. It was a very community based event opened by the former Mayor of Eastleigh, and councillor Cynthia Garton. The outpouring of well wishes from the public both in person and in social media was amazing too."
And that's not all. The company plans to continue the celebrations with a Wellness Event to introduce its health care, low emissions and eco products, and they will be ending this year with their annual Christmas bash. Pausing the party for a moment, Wendy reflected on some special memories from over years – too many to jot down unfortunately, but here are some snippets including a bed race, Christmas food scheme, horse delivery and Britain's tallest man.
"Shortly after my father opened his Sleep Shop, he had the idea to organise a bed race as a fundraiser during the town's 1959 Carnival Week. The event was also filmed by Movietone News and shown as a newsreel clip across the whole nation.
"I remember in the 1960's my father started the Christmas Parcels Scheme. He cleared the store and asked the public to donate food to provide a Christmas dinner for all the elderly who could not afford one. He encouraged the local supermarket to donate bags and the local bakery, Mr Kipling Cakes, to give Christmas cakes and other food manufacturers in the area to make donations of food. The project lasted for many years and eventually had to be moved from his store to the local schools where the parcels were put together by the school children. My father provided the transport to deliver the packages to the people in need and he personally delivered many of the parcels himself, even on Christmas Day!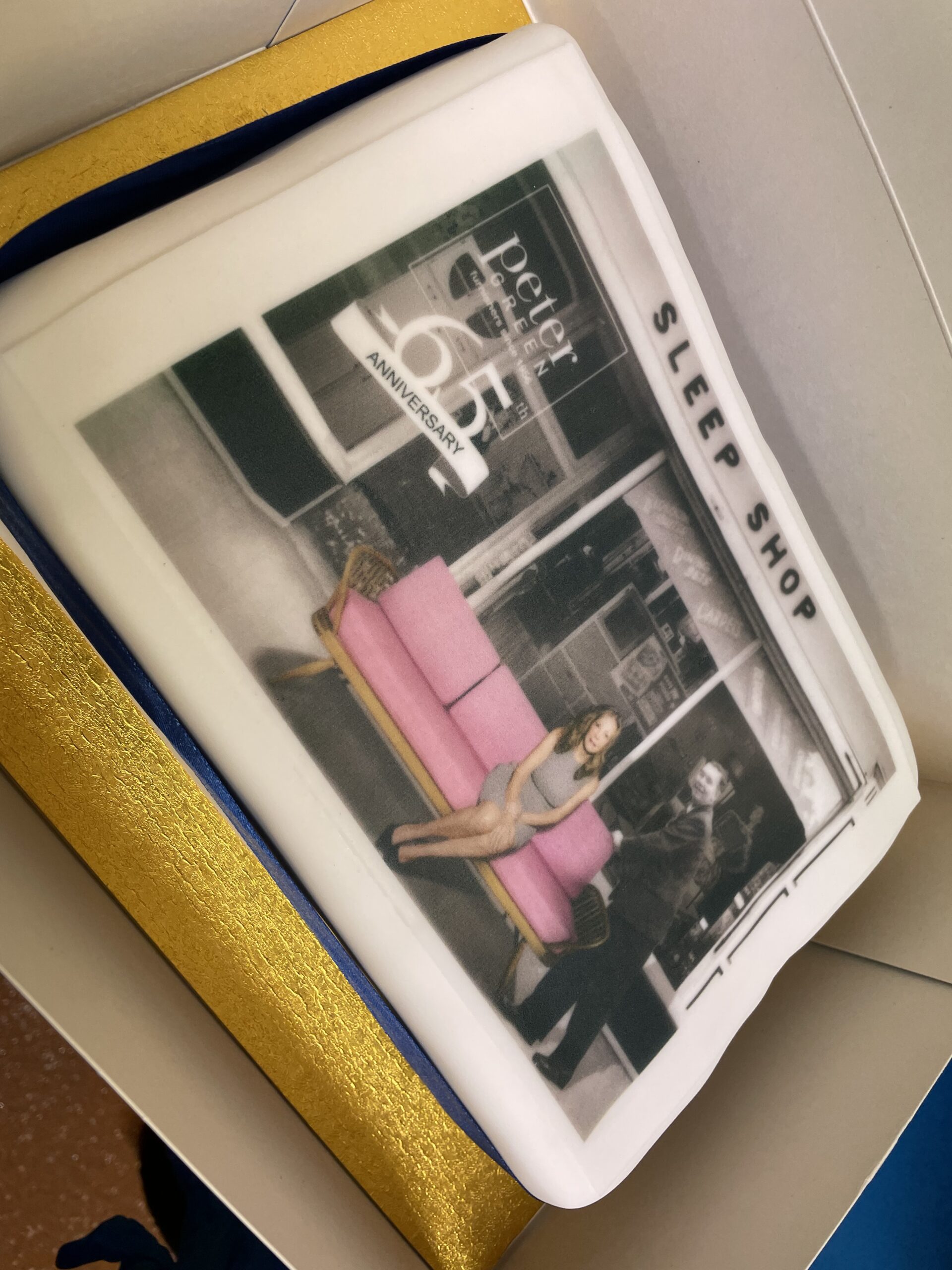 "In the 1990's when we delivered a customer's furniture with our own horse and carriage and this was filmed on TV. The smart cream coloured Peter Green carriage pulled by a white horse was a well known sight in the area and at country shows.
"In 1985 when we moved to our Chandlers Ford premises, we called it the Big Move, so it was only fitting that Britain's tallest man at the time, Christopher Greener, should come and open the new store for us. He carried my mother over the threshold and she looked truly terrified being so high up!"
So, what has been key to Peter Green's longevity? Wendy says their connection and commitment to the community and the loyalty of their customers has been paramount.
"It is wonderful that we are still here and to be referred to as an icon in the community. It is wonderful to have grown up in a neighborhood that has changed so much. We have furnished the region's homes, schools, hospitals, hotels, gyms, pubs and restaurants as well as their places of worship over many decades. We have employed hundreds of local people over the years and remain heavily involved with many local charities and community organisations and have had long relationships with our manufacturers, many of which have been supplying us since the beginning. We are part of the Hampshire fabric!"
Like every business, there are plenty of challenges to face and Wendy highlights the most recent being the toughest in their history, while remaining upbeat with an eye on the future.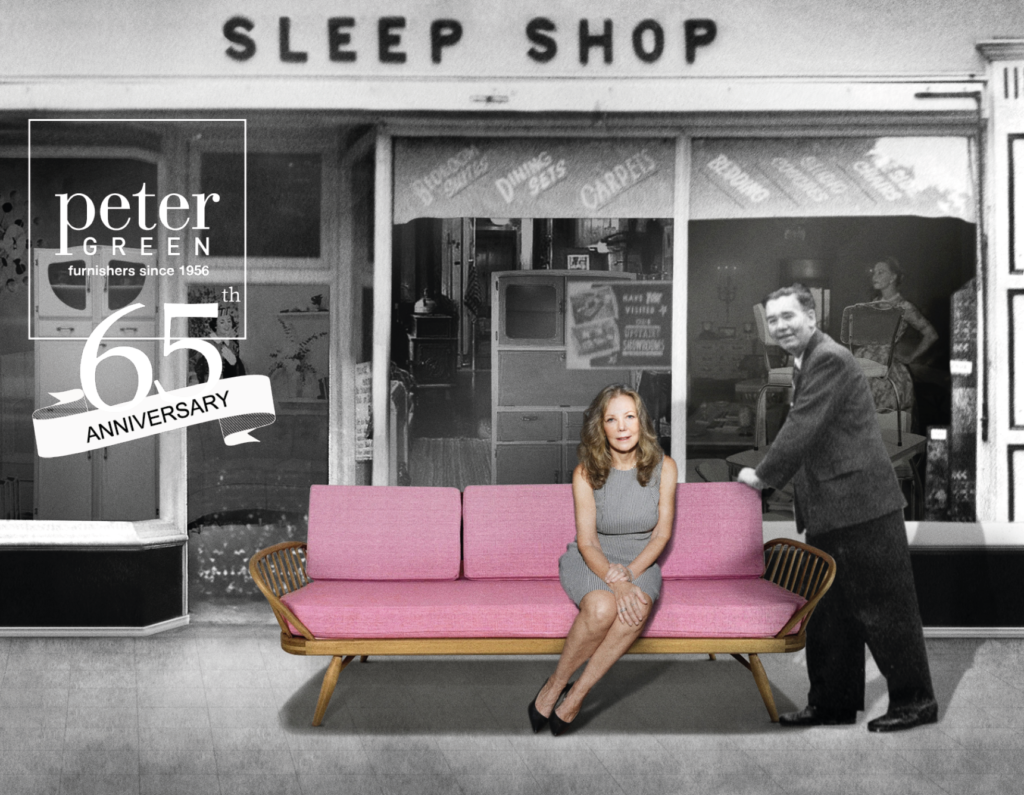 "Covid was the biggest challenge. That was very difficult for us as it was for everyone else. I'm immensely proud we are making it through when sadly many other small businesses were forced into closure.
"For us, business has been extremely good and we are keeping our fingers crossed that it stays that way, although I think we can all see that there will be further challenges ahead in the coming months and years.
"That being said, we're busy expanding our commercial offering and we are developing a new Commercial Showroom and Offices. In the autumn, we are planning a big refurbishment in-store with new flooring and fixtures and signage inside and outside. This could possibly require us to reduce the amount of stock we hold with a sale."
As final thought on the now, Wendy says the recent trend of biophilia, which means bringing the outside in, is a 'hot topic' amongst consumers. "With an interest from both our retail and commercial customers in eco and sustainable products alongside low emissions, this movement bundles up into our customers yearning to live healthier lives with reduced carbon footprints."
Here's to another sustainable 65 years.