Luxury homeware business murmur, part of the Bedeck brand and specialises in bedding, soft furnishings, gifting and home fragrance, has seen a busy end to 2022 with the openings of three retail stores in the UK and its native Ireland.
The first of which launched at designer outlet, The Boulevard, where murmur took a 1,108sqft store located at a Lotus Property-owned scheme based between Belfast and Dublin. Then followed its debut store in England at The O2's Icon Outlet, one of London's premium outlet shopping destinations, where a 1,637sqft store opened in early August. Completing the hattrick of openings saw its third store launch at Gunwharf Quays Designer Outlet in Portsmouth during September.
A few months on, we spoke to Elise Nicholson, Retail Director at murmur, to find out how business has been since launch and what's in store moving forward: "The response so far has been amazing and very positive regarding the products, the stores, and the overall murmur brand. Opening at Icon Outlet at The O2 gave us the perfect location to launch within central London and the opportunity to sit alongside international and independent brands. It is an iconic destination for both leisure and retail, and we're proud that this venue is home to one of our first UK murmur stores.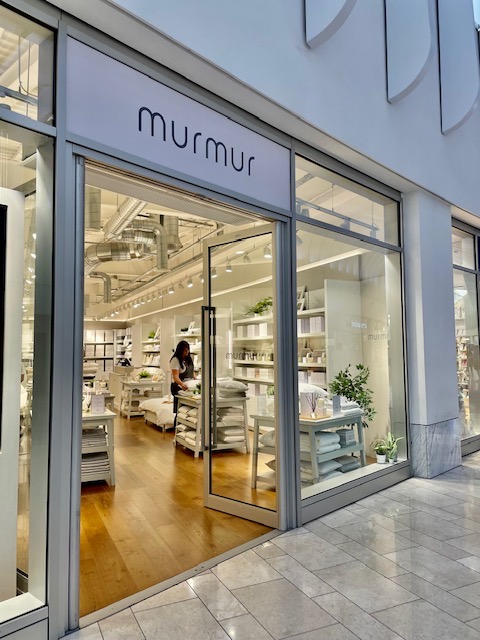 "We have made further investment in new and existing locations across the UK to build our brand awareness and presence, and to deliver more destinations for consumers to access our brand. Our openings so far were so well received, and this has sparked our ambitions to plan further store openings for 2023."
Elise said that the third new store opening at Gunwharf Quays Designer Outlet in Portsmouth has performed well since launch, helping murmur to build its brand awareness and presence on a wider scale. "murmur has been very well received, by new customers and existing loyal Bedeck customers alike. Our lifestyle brand showcases everything you need for your home. Consumers enjoy creating and personalising their homes, treating themselves to luxury furnishings, creating a lifestyle and a look that they are proud of, and murmur can support this in an affordable and accessible way."
Looking to the year ahead, murmur revealed that plans are underway for further expansion, while paying tribute to everyone that has supported the brand to date. Elise said: "All we can say is that you will see lots more of murmur in 2023 and we are so excited for our plans to come to fruition. Thank you to everyone who has supported murmur and thank you to our amazing teams and everyone involved who helped make the store openings happen."