Independent home furnishings retailer Glasswells has presented Graham Vale, Deputy Carpet Manager of their Bury St Edmunds showroom, with an award for 50 years of loyal service.
Graham Vale started his Glasswells career as a furniture shifter, rearranging furniture around the Glasswells St Andrews Street store in 1973. In 1979 Graham helped open a new store in Sudbury, and has been selling carpet and flooring ever since. What Graham doesn't know about carpets isn't worth knowing – he is the go-to guy with all the answers.
When the Carpet department moved to the huge Newmarket Road showroom in 1998, Graham was appointed Deputy Manager. This relocation enabled Glasswells to display more carpet and flooring choices than ever, offering over 10,000 options for customers, from soft luxurious carpets, to durable hard flooring from the likes of Karndean and Amtico.
Throughout the years, Graham has trained up all colleagues within the department, promoting his incredible leadership skills and sharing his wealth of experience. His kind and charming nature makes Graham a loveable character who overcomes challenges with very little fuss and ensures every job is done to the highest quality; he is a true role model to the new generation of Glasswells employees.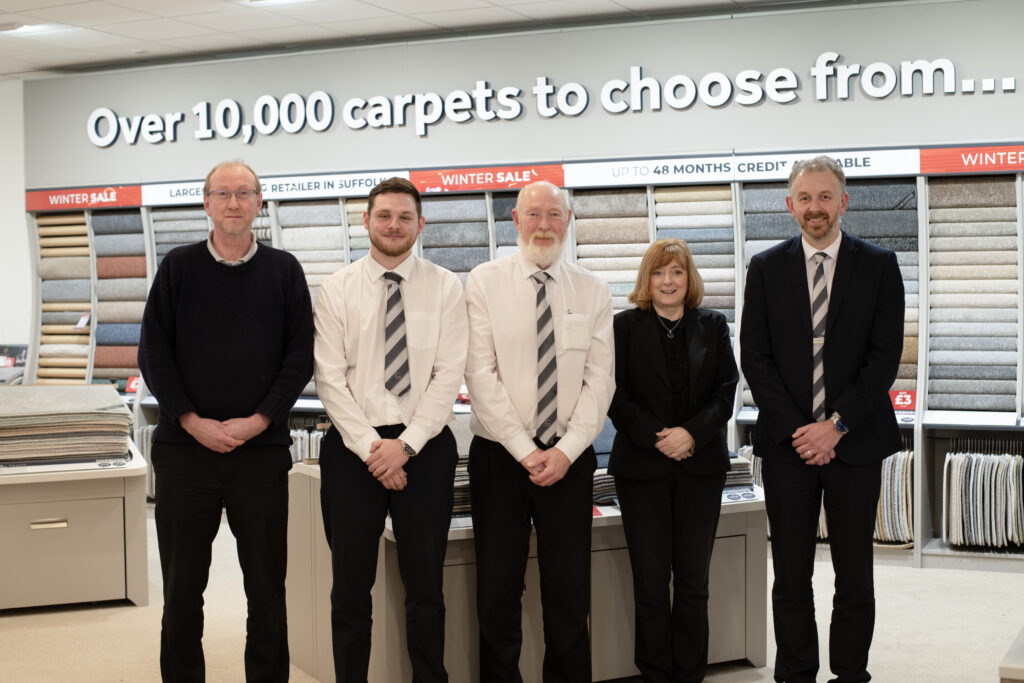 Using the innovative, computerised estimating system Masterpiece, Graham can have a floor plan mocked up in a matter of minutes providing the efficient service he always strives to achieve, with great flexibility. It's his knowledge, expertise and customer interactions that makes his service one of the best at Glasswells. So, it is no surprise that customers often return to the Bury St Edmunds showroom requesting Graham's help with their next flooring project.
Paul Glasswell, Managing Director, explains: "Graham is an incredibly kind, reliable and hardworking man. His comprehensive knowledge is an asset to Glasswells and our customers, as well as the department. He is always willing to accept a challenge and help everyone within the team overcome anything that the customers and their floors put in front of us. He has been invaluable to our success in becoming the largest carpet retailer in Suffolk."
Graham will be celebrating his milestone at Glasswells with a gift of holiday vouchers.
Paul concluded: "At Glasswells we pride ourselves on the knowledge, experience and exceptional customer service that our staff can offer our customers. That is what sets us apart from other retailers and makes our stores the very best home furnishings stores in East Anglia. Our long serving staff list is really rather extraordinary and it's very satisfying for myself and the family that so many of our colleagues have enjoyed being at Glasswells for such a large part of their working life."