The Flooring Show is back at the Harrogate Convention Centre this month. We take a look at the top five reasons why a visit should be pencilled in the calendar.
All your suppliers in one place
The Flooring Show is the UK's only trade event for the flooring industry and with over 400 brands exhibiting, offering everything from carpets to LVT and tools to underlay, the Harrogate Convention Centre is the prime destination to strike the best deals for your business. Big names exhibiting this September include: Abingdon Flooring Ltd, Adam Carpets Ltd, All-In-All Flooring Accessories, Ball and Young Ltd, Balta Carpets, Betap, Bostik Limited, Coretec Floors International, Cormar Carpet Company, F. Ball & Co. Ltd, Floors n Carpets Ltd, Hugh Mackay, Interfloor Limited, Kellars, Lamett Europe, Lifestyle Floors, Likewise Floors, Moduleo, One Flor UK, Packexe Ltd, Penthouse Carpets Ltd, Tarkett UK & Ireland, Tover, Tramex, Tremco CPG UK Limited, Ulster Carpets Ltd and Westex Carpets, plus many more. You can view the full brands list at theflooringshow.com.
The Demo Zone in Hall B is the place to discover new floor laying techniques and insights into working with the industry's latest products. Run by the Flooring Industry Training Association (FITA) and supported by the Contract Flooring Association (CFA) and National Institute of Carpet & Floorlayers (NICF), you can discover all you need to know to take your business to the next level. Take a look at the timetable below to plan your visit.
Sunday 17th
10:00 – 10:30 – Carpet Underlay Installation
10:30 – 11:30 – Stretch Fit Carpet Installation – Including Power Stretching
11:30 – 12:00 – Carpet Seaming
12:00 – 13:00 – Hand Sewn Bullnose and Stairs Overview
13:30 – 14:00 – Subfloor Moisture Solutions
14:00 – 15:00 – Smoothing Compounds
15:30 – 16:00 – Floating Floor Systems Installation
16:00 – 16:30 – Engineered Wood Floor Installation
Monday 18th
10:00 – 10:30 – Subfloor Moisture Solutions
10:30 – 11:30 – Smoothing Compounds
12:00 – 13:00 – Fabricated and Acoustic Underlays
13:15 – 14:45 – Luxury Vinyl Tile Installation
15:00 – 15:30 – Domestic Vinyl Installation
15:45 – 16:45 – Commercial Sheet Vinyl and Linoleum Installation
Tuesday 19th
10:00 – 12:30 – Open Forum/Requested Demonstrations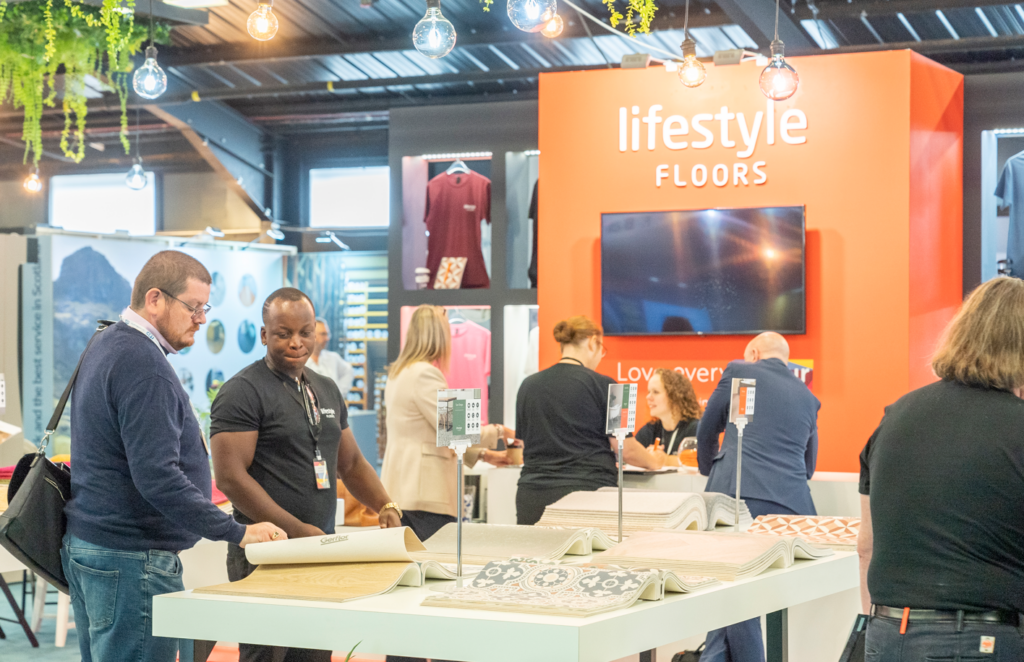 The Wool Trends Centre will once again be returning to The Flooring Show in Hall C. The Campaign for Wool and the Wool Carpet Focus Group will be delivering the theme 'Keep Warm with Wool'. Visitors will be able to walk through this creative showcase of hanging wool carpets, where leading carpet suppliers will be showcasing new shades, design constructions, types and qualities. Key trends include: Warmth, comfort, nature, aqua and texture.
This year's show also has a brand new feature which can be found in Hall C. The LVT Pavilion is your one-stop-shop to finding the latest and greatest LVT products in one place. An exciting selection of brands will be showcasing their most innovative products, whilst highlighting this durable and versatile flooring solution.
The Flooring Show attracts a specialist trade-only audience made up of key buyers, decision-makers, retailers, and specifiers from across the globe. This unmissable event creates endless networking opportunities with industry peers. Meet with old friends or form new relationships with a range of visitors. This is a networking opportunity not to be missed.
The highly anticipated final of the NICF's Fitter of the Year 2023 competition will take place in the King's Suite across Sunday 17th and Monday 18th. Five finalists will go head-to-head, focusing on LVT installation. The lucky winner will take home a cheque for £2,000, a winner's trophy and some great prizes including a selection of tools, and one year's free NICF Master Fitter membership.
Meet the finalists:
Dean Dickinson – Marston Moretaine, Bedford
Mathew Parkinson – Bolton, Lancashire
Wesley Brocklesby – Ossett, West Yorkshire
Daniel Jones – Thame, Oxfordshire
Darrel Emery – Reading, Berkshire
Taking part in the King's Suite Conservatory across all three days of the show, don't miss the chance to take home an amazing prize at the Tombola. You could win a free bar tab, hotel accommodation, plus a selection of other prizes worth up to £6,000.
Registration
Registration for the show is completely free and you can secure passes for you and your team by heading to www.theflooringshow.com and completing the short form. This pass will give you fast track access to the show and let you skip the queue on arrival.
Show Essentials:
Dates: Sunday 17 – Tuesday 19 September 2023
Opening hours: Sunday 9:30-17:30 | Monday 9:30-17:30 | Tuesday 9:30-15:00
Venue: Harrogate Convention Centre, King's Rd, Harrogate, HG1 5LA
Entry: The Flooring Show is a trade-only event and is free for industry professionals.
Register via the show website theflooringshow.com