Massage chair supplier Furniture for Life has teamed up with an innovative residential Deaf Village in Blackburn, donating a massage chair to support the health and wellbeing of residents.
The Deaf Village provides supported accommodation and a community for young Deaf adults as part of a major improvement to facilities attached to the School of Sign Language in Blackburn. It completes a specialist Deaf Hub aimed at reducing social isolation for those with hearing problems. Facilities comprise self-contained living quarters and communal space with views over the valley and woodland.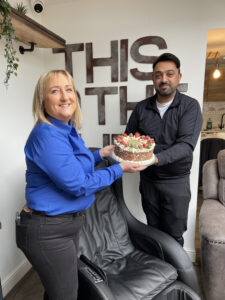 Furniture for Life Managing Director, Diane Hughes, said: "We're delighted with the feedback from residents and staff at The Deaf Village. They love the massage chair and it will really make a difference to the wellbeing of the people living there and using the facilities.
"Furniture for Life chose to support the Deaf Village after meeting its founder, Debra Cartlidge and learning first-hand how her own personal struggles with being hard of hearing have shaped her life. She was so committed to the building of the Deaf Village that she even sold her own home to raise the funds to make it happen. Our team were really inspired by her and her vision.
"The therapeutic and relaxation benefits of massage chairs are well proven, not just for people with hearing problems or disabilities, but for everyone. We all need a bit of respite from today's hectic lifestyles."
Debra Cartlidge, of the Deaf Village, added: "We're really grateful to Furniture for Life for the donation of the massage chair. The benefits to the residents are clear to see, and the quality of the chair and the massage experience it delivers are second to none."
Furniture for Life is looking forward to continuing their support for The Deaf Village through fundraising and activities to promote the independent living skills, employability and digital skills offered by the organisation, supporting the Deaf community growing up in a 'hearing world'.