The National Bed Federation (NBF) named the 2022 Bed Industry Awards winners at the Bed Show Gala Dinner in Telford, which took place on 20 September and was hosted by TV and radio presenter Colin Murray. An independent panel of judges selected 11 winners from a shortlist of finalists. And here they are.
Starting with Harrison Spinks, they scooped the award for Bed Manufacturer of the Year, which returned for 2022. With well-established sustainability credentials, the Leeds-based manufacturer has built further on those in the past year with initiatives ranging from product-related innovation to tangible end-of-life processes. From a high base, Harrisons Spinks has also found growth with key independent retailers in the UK and successfully expanded its international horizons. Finalists were Sleepeezee and GNG.
Taking Component Supplier of the Year was John Cotton Nonwovens. With impressive advances made to help its customers and the environment – alongside a truly next-level foam replacement product – John Cotton continues to demonstrate a world-class approach to developing the filling solutions of tomorrow. A close runner up was Wolf Components.
The Bed Product of the Year was awarded to Sealy UK for its Elevate Ultra Turing Plush mattress, part of its Sealy Posturepedic collection. The mattress is based on simple skeletal symmetry, keeping the body's posture parallel to the sleep surface. The judges acknowledged the product draws on the heritage of Sealy UK, using a lot of small innovations that come together to make a bed that does not just feel great, but looks truly fantastic and is sure to be a huge success. Close runner up was Harrison Spinks for its New Dawn Collection.
Hypnos took home this year's Component Product of the Year trophy for its Himalaya Nettle, Cotton and Kapok Fibre Comfort Layer. Completely new to the bedding market, this product demonstrated that comfort layers could be effectively and sustainably derived from nature, making it suitable for vegan products or mixing with other protein-based natural fibres such as wool. The judges acknowledged that the product drives value for the community that produces it and for the manufacturer and retail partners that invest in this unique comfort story.
Neil Steed from Shire Beds clinched the NBF's first NBF Member Sales Agent/Rep of the Year Award, which shines a spotlight at an individual level. Described by Shire Beds as "The father of the industry in the agent community", Neil has worked in the bedding trade for 50 years, driving more than 1.5 million miles and booking over £100 million worth of orders. Neil is known for his quote: "One always needs a good mattress and a good pair of shoes because if you're not in on one, you're in the other." The finalists were Louise Hardy – Shire Beds, Graham Riggall – Deluxe Beds and John Saunders – Sleepeezee.
Continuing its 2021 success, Dreams has once again scooped National Bed Retailer of the Year. The judges cited that the retailer overcame a different set of challenges with evidence of some excellent work supporting and building relationships with NBF brands. Dreams, which recently joined the Tempur Sealy family, demonstrated a continued excellent performance from a top and bottom-line perspective and was praised for its marketing. Finalists were Fabb Furniture and Furniture Village.
Mattress Online was crowned Online Bed Retailer of the Year for a fourth year running. The judges recognised its excellent achievements, from launching a new website to increasing average order value and conversions. Mattress Online has also grown its team by 14% and successfully launched its omnichannel strategy by acquiring its first two brick-and-mortar stores. Finalists were Mattress Next Day and Simba Sleep.
New for 2022, the Small NBF Retail Champion of the Year category was awarded to Premier Retail Champion Now to Bed, which stocks entirely NBF approved brands. With its new 8,000sq ft flagship store, website and additional warehouse, the judges praised the retailer's great improvement in margins and sales growth this past year. Alongside strong customer satisfaction evidenced in over 770 five-star Trust Pilot reviews, Now to Bed also invested in its staff with increased factory visits to suppliers and an improved fleet of delivery vehicles. Finalists were Linthorpe Beds and Prestige Beds.
Glasswells, a newcomer to the NBF's retailer scheme, scooped the Large NBF Retail Champion of the Year award. Glasswells promotes its NBF Retail Champion status and is a supporter of many NBF approved brands. Sustainability and staff development are high on its agenda too, with the NBF's Introduction to Beds course now a key part of bedding staff's induction. Sussex Beds was the other finalist in this category.
'The Power of Sleep' by Dreams, in partnership with Team GB and ParalympicsGB, won the NBF's first Best Marketing Campaign. In less than one year, Dreams, with its top athlete ambassadors, became the brand most associated with ParalympicsGB by its target audience, and the second most associated with Team GB. Its social media reached an incredible 35.5m people and the new 'Dream Team' product range now accounts for a significant amount of mattress sales volume. Finalists were Linthorpe Beds and Mattress Online.
Finally, winning another new category Outstanding Bed Store of the Year was Glasswells of Bury St. Edmunds. The NBF Marketing Committee produced a shortlist for this award which was then mystery shopped by an agency to reveal the winner. From exceptional kerb appeal and immaculate presentation of products to merchandising and excellent product knowledge, Glasswells' flagship shone as a store that truly knows its products, its customers and what is required to support staff to deliver the best possible service. Finalists were Bradfords of Evesham and Housing Units of Manchester.
"Now in their 13th year, the NBF Bed Industry Awards are a pivotal event in the bed industry calendar and a real opportunity to recognise the businesses and individuals who have gone above and beyond during the last 12 months. Congratulations to all the worthy winners and finalists and those who put themselves forward to be judged." – Jim Gerrety, NBF President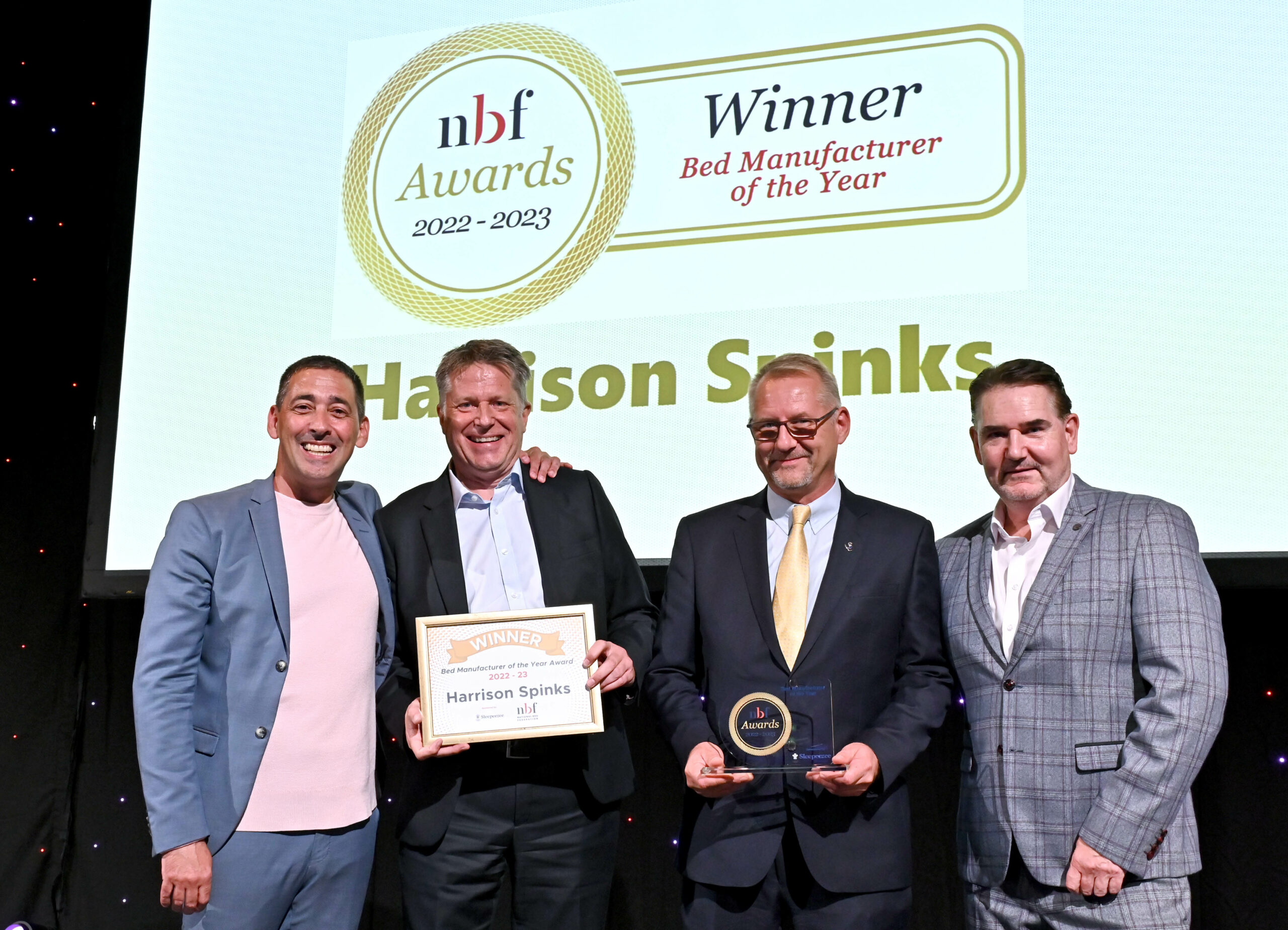 What the winners said…
Bed Product of the Year – Elevate Ultra Turing Plush mattress by Sealy UK
David Trimble, General Manager at Sealy UK – "This award win is an acknowledgement of all the design and development work that went into the new range. However, it is also a tribute to our factory teams for building this great looking, great performing product. To be recognised by the NBF for producing and selling the 'bed of the year' feels like the first step in a new era for Sealy UK. Special thanks to everyone associated with every aspect of this Award entry. It's a great result and a big win for us all."
Online Bed Retailer of the Year – Mattress Online
Steve Adams, CEO at Mattress Online – "Winning the Online Retailer Award for a fourth successive year is unbelievable, we're so proud as a team. We were also delighted to be finalists in the new category for Marketing against some tough competition. Our thanks to the NBF judges for their time, as a judge myself I know how much effort goes into the process. My personal thanks go to my employees at Mattress Online for their ongoing commitment and hard work."
National Bed Retailer of the Year & Best Marketing Campaign – Dreams
Jo Martin, CMO at Dreams – "It was a fantastic achievement to win the Best Marketing Campaign for 'The Power of Sleep'; our multi award winning activation that showcased our Team GB and Paralympics GB partnership during Tokyo 2020 and Beijing 2022. I'm tremendously proud of our continued partnerships, so it's wonderful that the hard work of the Dreams marketing team is recognised for delivering such successful campaigns."
Large NBF Retail Champion of the Year & Outstanding Bed Store of the Year – Glasswells, Bury St. Edmunds
Paul Glasswell, Managing Director at Glasswells – "We are thrilled that Glasswells has won not only the Large NBF Retail Champion of the Year, but also the Outstanding Bed Store of the Year. My grandfather started the business in 1946 and we have always strived to be the best home furnisher. To be described by the judges as "one the finest furniture retailers not just in the UK but maybe all of Europe," makes me very proud. Whilst all of the team at Glasswells has played their part in achieving these awards, special thanks must go to Julie Valentine, our Bed Buyer, who has put tremendous effort into making Glasswells the Outstanding Bed Store of the Year."
Small NBF Retail Champion of the Year – Now to Bed
Paul Burnet, CEO at Now to Bed – "Winning this award will greatly assist Now to Bed in our growth plans going forward. We would not be in this position without the superb effort from the whole team. I thank them all for their commitment."
Component Supplier of the Year – John Cotton
Mark Baron, Sales Director at John Cotton – "John Cotton is proud to be the first company within the industry to win the 'Component Supplier' of the year award. We have worked tirelessly over the years to ensure we provide our customers with quality performance products at competitive price points, while striving to limit our impact on the environment."
Component Product of the Year – Himalaya Nettle, Cotton and Kapok Fibre Comfort Layer by Hypnos
David Baldry, Group Managing Director at Hypnos – "Receiving the Component Product of the Year award is an incredibly welcome achievement that further supports and reinforces our ongoing efforts to inspire everyone to sleep sustainably. We live and breathe sustainability and it's a key consideration to everything we do, so it's fantastic to have been recognised for this design project."
Bed Manufacturer of the Year – Harrison Spinks
"We are delighted to announce that we won the prestigious Bed Manufacturer of the Year Award 2022-23 at the NBF Bed Show 2022. We were awarded this for our "strong all-round performance which delivered growth while maintaining lead times through a challenging market, and ongoing commitment to sustainability and innovation". We are incredibly proud of this achievement, and of all team members across the business who contributed to this success."
NBF Member Sales Agent/Rep of the Year – Neil Steed at Shire Beds
"We are delighted to have a fantastic sales team with two of them being honoured in the NBF Bed Industry Awards. Louise Hardy was a finalist and Neil Steed was the winner in this category. Congratulations to both of you."