Bensons for Beds has launched a new and exclusive range of beds and mattresses under its Staples & Co brand.
The range is designed to give customers a wide choice of comfort, storage and style features, with over 28,000 potential combinations.
The Staples & Co range includes a new selection of fabrics and colours, divan bases, storage options, headboard designs and bedroom furniture accessories, as well as its new innovative Artisan Collection mattresses.
Customers can choose from a wide range of options including 26 fabrics and colours, four pillow top divan bases, in customisable heights, five storage options, five leg options and 19 choices of matching headboard. The Artisan Collection mattress come in different sizes and comfort ratings.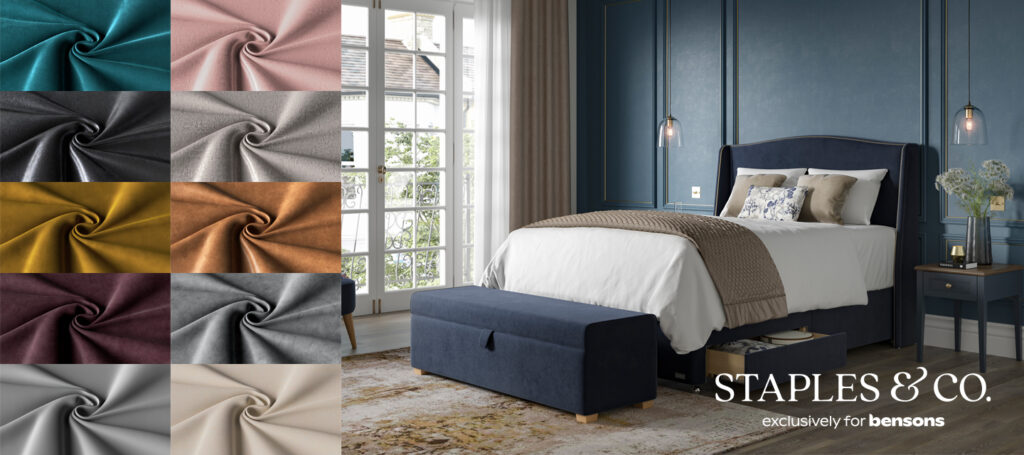 The Staples & Co divan bases and Artisan Collection mattresses are hand-crafted to order in the UK at Bensons' dedicated British Kite Mark quality accredited factory in Huntingdon, Cambridgeshire.
The divan bases are made with timber from responsibly managed forests, hand-upholstered in a choice of 26 fabrics and on-trend colours, including stunning vibrant velvets, faux leather and fun textures and come with a choice of storage options, including drawers and ottomans.
The Artisan Collection mattresses are meticulously handcrafted, created using layers of the finest organic, natural fibres along with innovative, comfort-enhancing materials.
The collection includes four models – the Classic, Deluxe, Superior and Grand – and all have premium pocketed spring and micro-spring technology – the perfect foundation for individual comfort and support for reduced partner disturbance.
Natural and organic fibres, including wool, cotton, hemp and flax, all certified by the Global Organic Textile Standards (GOTS), and UK organic alpaca wool are blended to create filling layers that provide superior luxury and outstanding comfort.
Bensons' new green polythene packaging uses a mix of natural and recycled renewable sources, while the polyester layers in the mattresses include recycled plastic bottles.
Each bed or mattress comes with a market-leading10-year guarantee.
The new range is part of the 'your bed, your way' Bensons' philosophy, which allows customers choose the right mattress, base and signature style for them, in five easy steps with the help of our in store advisors. 'Your bed your way' helps customers avoid making an expensive mistake on one of the most important investments for their wellbeing and in the peace-of-mind that comes from a good night's sleep.
Lara Purcell, marketing and innovation director at Bensons said: "We've launched our Staples & Co range to bring an extraordinary level of comfort and style personalisation to customers looking for a sleep solution that's built around their needs and requirements.
"Supported by the craftmanship of our 100-plus year heritage, and the expertise of our in store colleagues, we can find even more customers a better night's sleep."