Hertfordshire-based handcrafted furniture manufacturer Andrena Furniture has announced the sad passing of its Co-Founder and Chairman, Kenneth (Ken) Anderson, at the age of 89.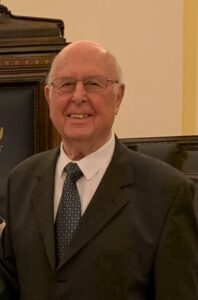 In a letter to customers and the furnishings industry, son, and current Managing Director of Andrena, Gary Anderson paid tribute to his late father who died on 3 August 2023.
"It is with great sadness that we announce the death of our Co-Founder and Company Chairman Ken Anderson. Together with my mother, Marina, they established Andrena in 1973.
"The beginning was humble, operating from a rebuilt battery chicken shed in a village called Nazeing, not far from the current factory.
"Dad used the experience gained through his whole working life to manufacture traditional hand carved "Tudor" style dining and cabinet furniture. He was always insistent that the furniture should be built "to last a lifetime". A principle that we still adhere to today even though the designs of our current ranges are more contemporary.
"He was very much a factory man. Even as recent as last year he would go in to the factory and get "stuck in" sorting out timber and furniture components. He had an incredibly strong work ethic and has been a good role model for those of us that have followed him through the business.
"Ken is survived by his four children (all of whom have worked in the business at one time or another), twelve grandchildren and eleven great grandchildren.
"As a mark of respect, the factory and offices of Andrena will be closed on Friday 8th September so that we can attend his funeral."
Kenneth (Ken) Anderson – 9th April 1934 to 3rd August 2023