Wholesale trade partner to the majority of the UK and Ireland's leading furniture retailers, World Furniture, has announced plans to hold a Home Show event.
Taking place from 17 – 20 September 2023 at the iconic Titanic Hotel in Belfast, the Home Show will feature their latest product launches.
Paul Taylor, Operations Director at World Furniture, said: "Following on from the success of the Home Show in January 2022, World Furniture will once again be hosting a Home Show at the beautiful Titanic Hotel, a superb venue to showcase all our new products. The drawing room is the perfect exhibition hall to display furniture.
"Beautifully restored and maintained, the Drawing Room is the original architect's room where all the drawings were completed for many ships including the Titanic. Its glass ceiling is designed to give off maximum light, originally for drawing purposes, which allows our products to be displayed in the best possible way."
In September World Furniture will be launching a number of new ranges including a selection of extension tables to add to their extensive PURA collection.
"A range of stunning sintered stone products with new finishes such as Australian Grey and Vik dark grey will be on display," Paul revealed. "These ranges will include 1.8m to 2.4m extension sets and a collection of occasional items to match. Expertly crafted in contemporary styling, the Benito and Matera ranges offer a sophisticated look and design, which is simply superb. We will also be offering a range of sliding extension dining tables in unique stone patterns with complimentary dining chairs in both swivel and fixed functions, exquisitely tailored to the highest quality and comfort. A number of these ranges will be complimented by full occasional items.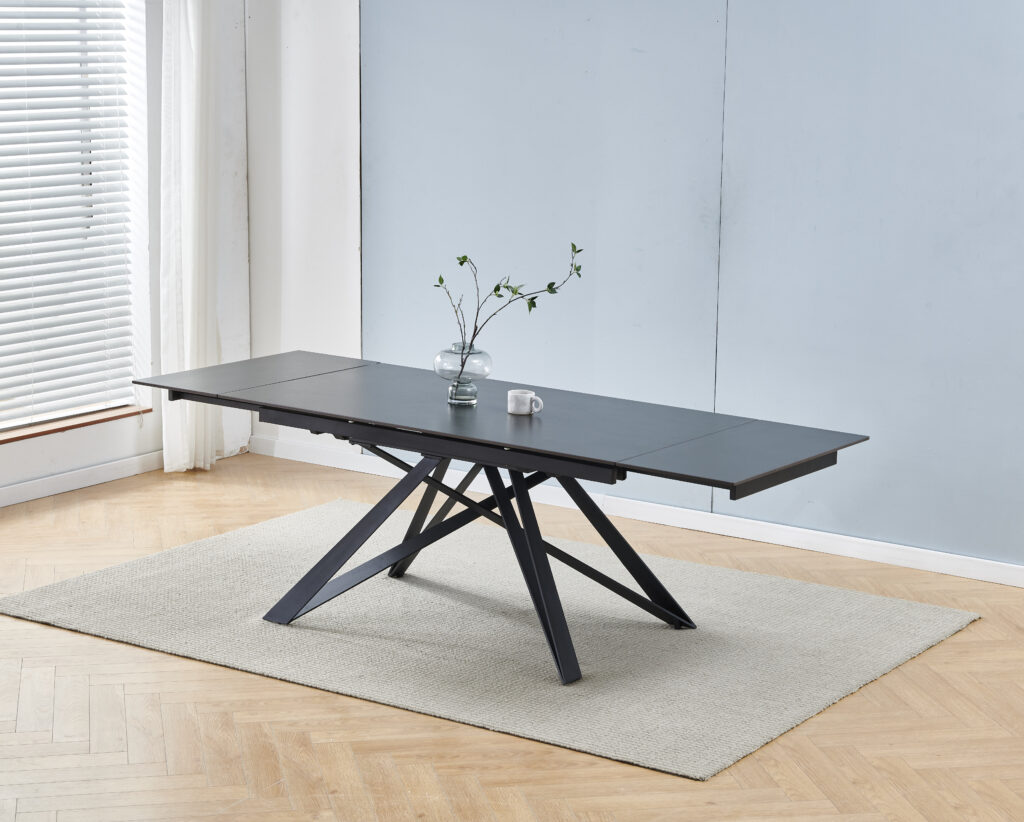 "There are also some further developments on our hugely successful Rimini range of light rhine melamine tables. We are now offering a round extension dining table, something our customers have been constantly urging us to do. We will also be launching a new range of melamine in European marble variants, which are unique but highly commercial.
"These ranges will be complimented by a number of dining chairs, designed for maximum comfort with a high-end look and feel. Simplicity is a main feature of our new chairs, with focus strongly on material quality, look and soft touch feel. Having teamed up with some of China's leading fabric suppliers, our fabric developments have very much stepped away from the norm and the new collections are the perfect partner for many of our dining ranges.
"We will also have new ranges amongst our exclusive electric recliner collection. The Pellini model will have all the typical attributes that our sofas have such as wireless charging, usb/usb-c, full electric reclining motion and will be tailored in completely new leather colours. We are also adding full tilt and rise chairs to our Madison collection in the 3 fabric colours. Simple mechanisms and 2 button facility make for simple and uncomplicated use of all the functions.
"Since 1999, we have invested and grown our business to guarantee our partners impressive lead times on exclusive ranges of high quality, beautifully designed furniture at a great price with exceptional service. From our warehousing located in Newtownards or alternatively our fantastic mixed container offering, we can provide a service that meets all your requirements. Additionally the Company has a strong focus on sustainability, with the majority of new designs coming in 100% recycled plastic and continued development to make all our packaging sustainable.
"We believe that great design should be available to everyone. Every day our focus is on curating and innovating an exclusive furniture collection that continually exceeds all expectations.
"We would love to see you there and we're offering complimentary flights and accommodation, if you are travelling from GB, with lunch or dinner on us. For more information and to book your time slot so you don't miss out on a fantastic show in a wonderful venue, contact me on paul@world-furniture.biz."