John Evans, Principal Designer and Founder at Je+1 (John Evans Design), talks about good store design, a recent project with Designer Sofas and some top tips for retailers.
Je+1 (John Evans Design) has been designing stores for the furniture industry for over 40 years, ranging from national clients including DFS, Sofology and Bensons for Beds, through to independent retailers such as Glasswells and Cousins. The business started life as a shop in Edgbaston, Birmingham, experimenting ways of selling products by display. This was soon noticed by suppliers and blossomed into designing furniture exhibition stands throughout the country.
It was at one of these events, a certain Lord Kirkham asked who designed the stand, as John Evans, Principal Designer and Founder at Je+1, reminisces: "My name was proffered and very soon after I was designing a 20,000sqft furniture store. The first of many for DFS as it became known. We are now 40 years on and still designing stores for the group."
So, what makes for a good store design?
John explains: "In my view, every good design starts with the customer journey. As we are living in a digital age this starts with an online presence which should be a good reflection of what the customer can expect from the physical store/stores. The problem I find is that it is easier for a designer to produce an amazing website and far more difficult for a retailer to transpose this into a physical store. This is where we can help.
"The internal layout is so important, the customer should be guided through the store without realising it, there should be areas where their attention is captured and they are made to pause and reflect on the items they are presented with. They should never be able to see all the store and the products on view, a visit should be a good experience and one worth repeating and talking to friends about, as a recommendation is everything."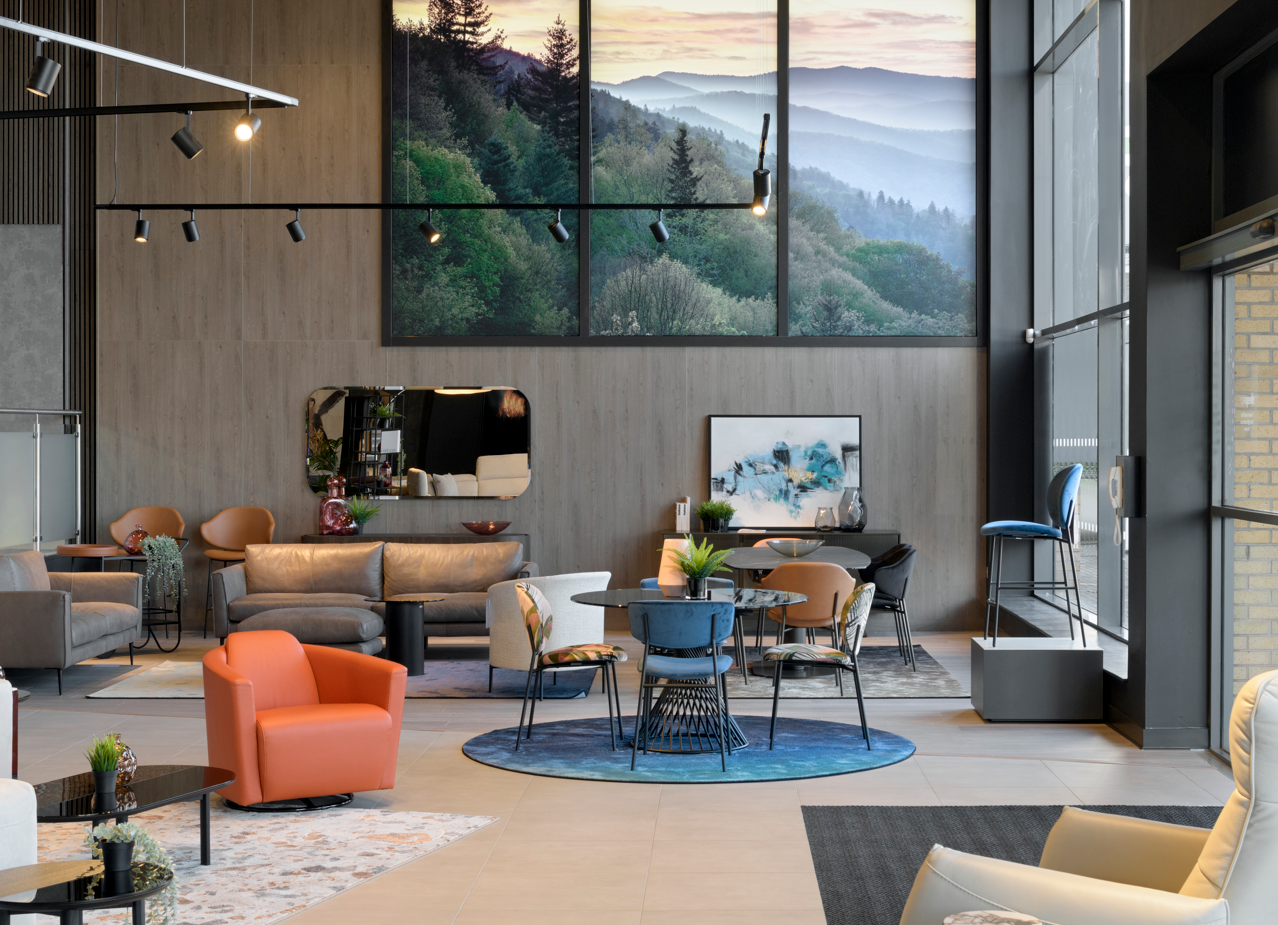 A recent success story has been their project with Italian furniture specialist Designer Sofas, a third-generation family run business, also spanning over 40 years. Je+1 was approached to create a new store concept "unparalleled in the marketplace that provides the perfect environment for their customer and product, whilst ultimately being conducive for sales". Je+1 worked alongside Designer Sofas planning their offering of upholstery, dining, bedroom and lighting; designing and delivering their first concept store at their flagship location and HQ in London's Brent Cross.
Following the success of the concept that took the new store to No. 1 in sales within the group, je+1 more recently began work on the latest store in Cardiff Gate. The store design at the 18,000sqft location has evolved from the concept store 'architecturally' and included new range strategies and brand galleries.
"As with all je+1's stores the customer journey is paramount to provide purposeful navigation through each destination, engaging interaction with product at each point," John says. "The stores interior design approach was to provide an inspiring atmospheric environment, that aesthetically matches the quality of its Italian product. A modern lifestyle inspired setting was created that progresses through subtle themes with the use of architectural finishes, feature designs and lighting; while also introducing new Brand Gallery designs for Calligaris and Cattelan Italia. je+1 delivered the store from Concept to Detailed Technical Design and Completion, assisting with product accessorisation and Visual Merchandising."
To make a concept become a reality, je+1 adopts ongoing and emerging trends into displays and has an eye for each different client. One key trend John has noticed since the pandemic is for out-of-town retailers to co-habit retail units as different retailers seem to be joining forces to share larger units. "One furniture retailer we have worked with shares his unit with a bed retailer taking a mezzanine and another furniture retailer sharing a ground floor. This is a trend that we feel will grow as a way to stay on the retail parks and maximise profits. In this case the layout of the store is crucial if all parties are to be successful. The big advantage of this approach is that it makes for an enhanced customer experience."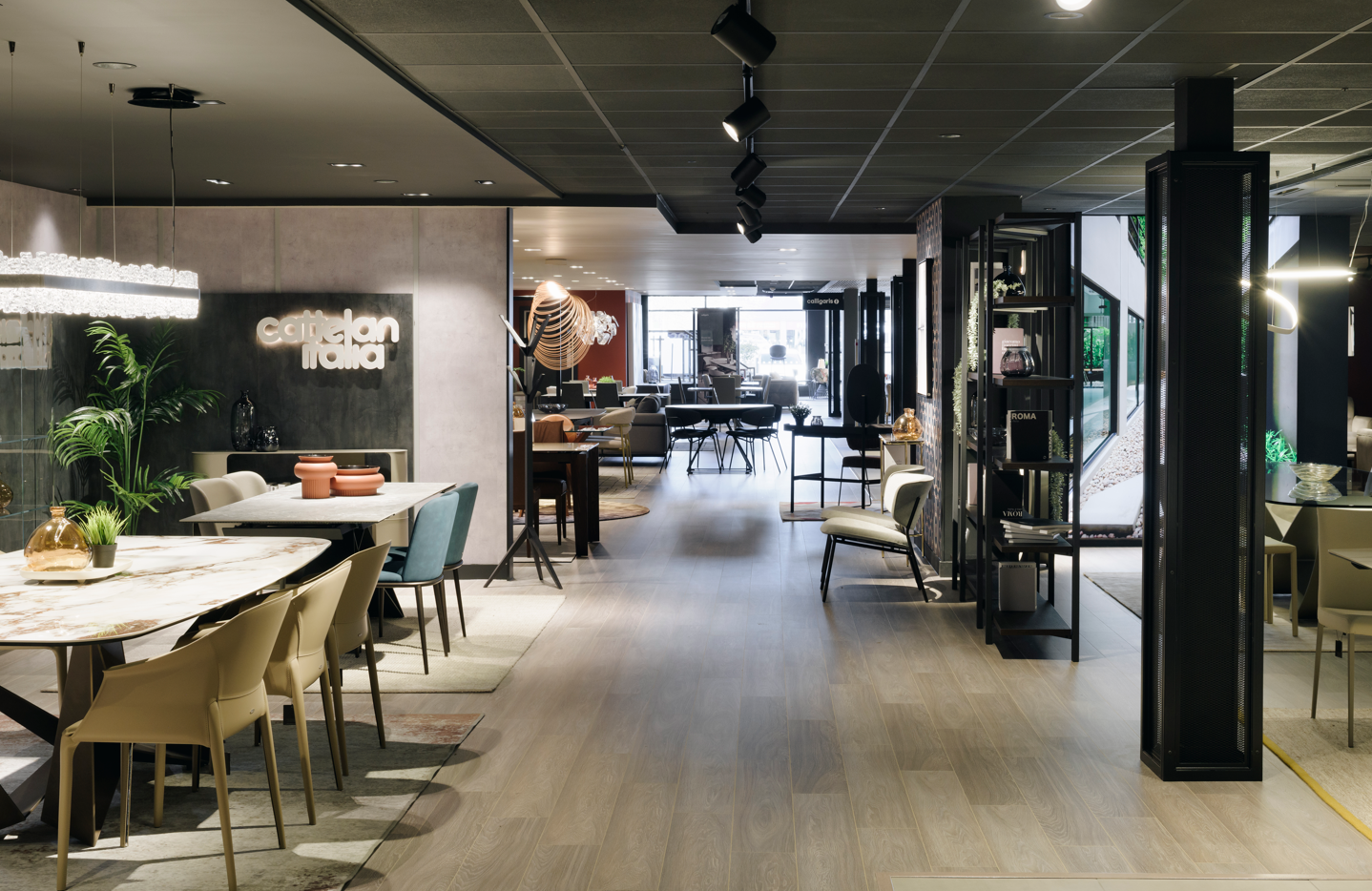 From key trends to top tips, John echoed his earlier advice on the customer journey and that they should "never be allowed to see all that is on offer from the front door", as this allows them to "form an opinion of whether or not the retail store has what they are looking for. The customer is allowed to form an opinion without giving the retailer a chance, and they may see something that changes their mind if they have a proper look around and share the whole experience," John said. Meanwhile, product cramming is another turn-off. "Please look at separating products so that the customers can see them in their best form, too often I see products crammed in so that they can't be seen properly. It's not the amount of product that is on display that's important, it is the way it is displayed that sells it."
Another area is all about ambiance. "Customers will be frightened to buy if the ambiance that is created is too nice as they will think that the products are too expensive for them. This is an argument that was put to me by a retailer, and my response was that at the moment the products on display look expensive because the environment in which they are displayed is very poor, if we raise the level of the store ambiance the products will look better value. The retailer agreed to try my approach and we managed to increase his turnover by 40%," John added.
Je+1 says that the retailers they work with see a benefit in return for an investment in presenting their products in such a way that makes the consumers desire to buy stronger as the key to success. John said: "We are looking at ways to work with more retailers, as an ex-retailer myself I know how important it is to maximise the sales per square foot of any retail space. We are investing in technology to be able to show our retail clients in a photo-realistic way, how their store can be transformed."