Joseph Shenton, co-owner of furniture outlet retailer Joseph James Furniture Outlet, talks about their rapid growth and future investments to maintain momentum.
In a time where the 'doom and gloom' cloud is ever looming over the industry, and the general country as a whole, it's even more refreshing when a positive story emerges, drawing its own light from the grey void of uncertainty that brings with it two things. One – a bit of needed positivity to the eyes of readers, and two – a sense of hope for others.
This positive story features two young guns striving to make a name for themselves in the furniture game, and with both only 21, Joseph Shenton and James Pullen, co-owners of furniture retail outlet Joseph James Furniture Outlet, are excited to add to their impressive start.
In August alone, the business hit a new record, achieving £150,000 of sales and has targeted month-on-month revenues of around £200,000 for the remainder of the year. Aiding this recent growth has been the move to its larger 20,000sqft showroom on Chester Road in Stretford, which has been in operation since June.
Rewinding the clock to 2019, Joseph Shenton and James Pullen, both school friends, decided to venture into the world of furniture with their 'winning formula' that involves buying end of line, excess stock and sample sofas from bigger retailers and selling them on to customers at a heavily discounted price. The duo started life in Stockport and after 18 months move to Altrincham with their warehouse based in Broadheath. Over the past few years, demand exceeded that of their location, citing the need for their new showroom, which is retail only, while the Broadheath base is now just being used to store stock.
"Sales have been very strong since opening the new showroom and we had a record month of £150k sales in August," Joseph said. "We have found our geographical location to be a strong position for attracting the key demographics who purchase from 'outlets'. We have encountered some teething problems such as lighting and leaking but hope for those to rectified in the near future."
Joseph says their delivery speed has been another key metric to its consistent success, with the company offering free same day or next day delivery if a customer is within 60 miles of the showroom.
"We are unusually young for the furniture market and we're aware of that."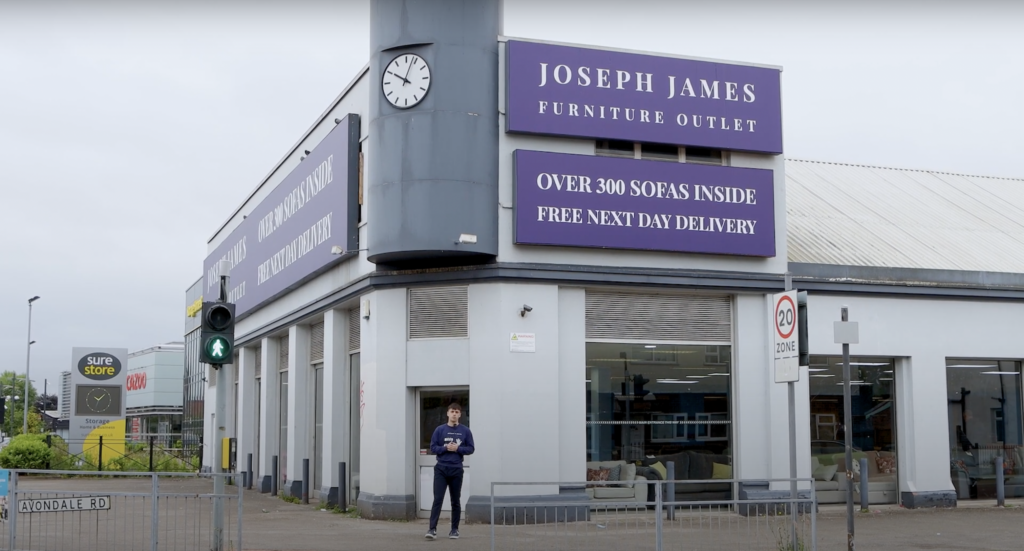 "With most sofa retailers you're waiting 14-16 weeks for delivery. A lot of people don't have the time to be waiting around or need a sofa quickly for whatever reason, and we can be there the next day. You can get pretty much everything you need from Amazon the next day now, and more and more people – especially the younger generation – are looking for an instant fix," Joseph said.
"With the increase in sales we have to become more efficient in our outgoing delivery processes to ensure we are still able to offer customers the rapid delivery they expect. We have done this by implementing a new delivery management software, refining the labelling processes in the showroom and in the warehouse, as well as increasing the working hours of our delivery drivers."
The company, which employees 15 staff, has also refurbished its photograph studio in order to improve the lighting of photographs, while revealing further investment plans that will be in technology – to develop custom software which will allow the business to easily and accurately process and track stock from the point of arrival to customer delivery, as well as expand their physical footprint with either Stockport or Liverpool on the cards.
Joseph revealed: "We have hopes to open a second showroom in Greater Manchester next summer, providing we are able to extend our stay at our new showroom. Alternatively, we may look at one large 'Mega Store' to cover the Greater Manchester area. We are also looking to secure a second warehouse so that we can split our incoming and outgoing deliveries into separate warehouses. This will allow us to take in more trailers per week."
Alongside digital and physical expansion, the company plans to extend its product offering too, and has already dipped their toes into other categories.
"We have dipped into other categories in the past and then retreated out," Joseph said, adding: "We found some success with mattresses but we struggled to advertise them online as aesthetically they struggle to differentiate online. When opening a second showroom, we will absolutely be diving into other categories. We hope to be a one stop shop for all larger furniture discount needs."
With products in mind, Joseph shared his thoughts on current customer trends and shopping behaviours. "Being an outlet, we sell different items every day. This means we get a great idea of what is popular and what is not. We are seeing a real turn back towards the safety of leather, especially for families and older customers.
"However, we are seeing a popularity in some of the more expensive and vibrant coloured pieces. Those tend to be my favourite too! In general, we also notice our sofas becoming far more price inelastic with the influence of the recent high inflation. Customers are starting to show a greater interest in the style, quality and size over its price. This is unusual, as in the past, we have found that customers will pay very acute attention to not only the price of the item but its saving over the retail cost."
Another unusual thing that Joseph also pointed out, and set a reminder of, is their age. "We are unusually young for the furniture market and we're aware of that. The furniture and particular sofa industry is one that seems to slowly catch up to the modernisation of customer demands. What else would a customer have to wait months for after ordering? We believe we have a great grasp of the modern sofa shopper's needs and we aim to supply them.
"A lot of the other outlets use what we call 'gimmicky marketing', where they make up an RRP price and make it look like you're getting a big discount. We're strict on ensuring we don't do that."