Machinery manufacturer MattressTek has been celebrating its global success with a round of awards recognising its International Trade.
MattressTek were finalists in the Made in Rossendale and Large Business categories at the Rossendale Business Awards on 30th November and ended up coming away with the former, along with the organisers' top prize for being 'an excellent business ambassador for the valley'.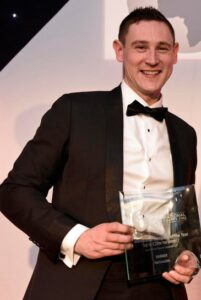 The business were up against Scentish and Foremost Furniture in the Made in Rossendale category and won but narrowly missed out on the Large Business award to Slingco, ahead of Framex and Orthoplastics.
The following evening, MattressTek won Company of the Year (up to £20m) at Insider North West's International Trade Awards at The Lowry Hotel. They were up against filters manufacturer MPE, Sovereign Beverage Company, 100 Per Cent Group and International Pheromone Systems.
Technical Director Shaun Peel (pictured) said: "We're over the moon to have won at both of these awards. We are so humbled to have even made it through to the shortlist or final but to win is thanks to our dedicated team at our site in Lancashire."
"Over the last five years, our range has proven popular with clients and big brands in the UK, US, Mexico, Europe and Australia, and we're proud to be supporting the inevitable transition into automation and industry 4.0, across the manufacturing and processing of foam components and springs, and are excited to see where our growth expands to next."
With over 40 years of experience, it has been a busy few months for the company, who attribute 70% of their production is export pursuits.
As a finalist in the International Trade category of The Manufacturer TMMX Awards as well, the company says: "Having maintained our position as a provider of quality, robust and reliable production lines for the bed industry and beyond, Innovation and problem solving remain at the core of our mission."