Retailer, All the Shapes Tile & Co., has opened an eco-friendly design and materials innovation hub for architects and interior designers at King Edward Triangle, Liverpool Waters.
The 9,000 sq ft showroom aims to be at the forefront of material innovation and the sustainable design movement and offers an exciting architecture and design destination for the North West region.
Founder James Lambert's vision was to create a 'future conscious' space that inspires creativity and sustainability. It is aimed at architects, interior designers, contractors, property developers, and the general public.
The business plans to host inspiring talks and workshops that will educate people and help their customers to make more informed choices from an ecological and sustainable point of view.
Managing director, James Lambert, said: "We want to enrich the debate and foster a legacy surrounding sustainability in the design industry. Achieving this requires makers and manufacturers that are willing to take a considered approach to sustainability and at All the Shapes we make it our mission to find them for you.
"Through our online resources and unique showroom, we aim to inspire creativity whilst offering the opportunity for aspirational material suppliers to connect on their projects.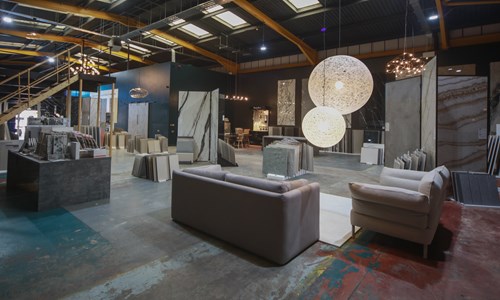 "Our commitment to every project is the same; to provide the best product and service solutions to our many and varied clients, from commercial and residential developers to architects and interior designers, contractors and sub-contractors, and private clients.
"We partner with and promote materials manufacturers who set high standards for energy efficiency within their own operations. These include brands offering surfaces, furniture, and space-enhancing solutions, as well as interior and exterior building materials. The designs and styles are endless, including neutral and bold colours, luxury, marbles, slates, limestones, terrazzo, granites, 3D shapes, metallics, patterns, fabric and wood effects."
Liza Marco, Asset Manager at Peel L&P's Liverpool Waters, added: "All the Shapes Tile & Co. has a very unique offer and is a fantastic asset for Liverpool, attracting designers and architects to our world-famous and historic northern docks.
"The businesses based at King Edward Triangle provide a vital link between the city centre and our iconic and transforming waterfront at Liverpool Waters. And they are a key part of our vision to create a sustainable mixed-use waterfront that will bring life back to the historic docklands and attract new residents, businesses and visitors."