Since Made Smarter, the movement to increase the take up of digital technology among manufacturers, launched its adoption programme in the North West in 2018, it has supported more than 2,500 businesses.
By offering expert, impartial technology advice, digital transformation workshops to help manufacturers take their first steps, and matched funding to invest in technology, 140 SMEs in the furniture sector have embraced the benefits of digitalisation. Many of those are using technology to solve business challenges and meet increased demand. Here are few grasping the opportunity:
Integral Surface Design makes made-to-measure PVC foil wrapped doors and furniture components at its plant in Skelmersdale, and has a warehouse and logistics centre in nearby Burscough. It has experienced 10% year-on-year growth since 2012 to achieve a turnover of £10m and boasts a team of 85 people. But intense global competition has driven the business to embark on a digital transformation.
Having already identified efficiencies and reduced costs by linking business operations, including sales, manufacturing and accounts, through a custom made ERP system, ISD is taking the data-driven approach one step further by embedding a digital IT infrastructure in a new warehouse and logistics centre, and linking it up to its headquarters and manufacturing hub. Using matched funding support from Made Smarter, ISD is implementing a solution which includes a new barcode system and upgrading its ERP software. This will give the business complete visibility of all operations in real-time and enable the warehouse to be managed remotely.
By digitalising workflow, previously paper-based and time consuming jobs are eliminated, increasing the productivity of the entire workforce. It will enable warehouse operatives and delivery drivers to optimise picking and delivery routes, and give the sales team faster access to information, allowing them to spend more time nurturing customers and developing new opportunities.
Meanwhile, data analysis and AI tools will enable the business to monitor industry trends and help the business be more responsive to fashion trends. The investment supports ISD's strategy to enter a new market selling additional ranges of doors and enable a more agile response to new opportunities.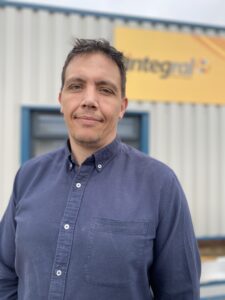 Dave Hourigan (pictured), Digital Transformation Manager, said: "The furniture and fittings industries face unique challenges in a fiercely competitive global market, where there are ever increasing demands for a greater range and complexity of products and services. We have identified an opportunity to enter a new market and, with the help of Made Smarter, have put data and systems integration at the heart of that solution. This new venture offers us an opportunity to lay the digital foundations for a warehouse and logistics hub. Integrating the two sites through digital communication will enable better management of stock, orders and distribution and establish full oversight of our operations."
Crystal Doors makes bespoke vinyl wrapped furniture components from its factory in Rochdale. It has been on a journey to digitalise its operations to remain competitive but also to achieve its ambitious net zero emissions, which it did this year.
The business has benefited from three key areas of the Made Smarter service: a digital transformation workshop; organisational and workforce development (OWD), an essential tool to successfully implementing emerging technologies into a business; and matched funding for a technology project. The workshop, which helps manufacturers select the right approach, how much to invest and which technologies will bring the greatest benefits, analysed the company's products, services, processes and people to find practical solutions to overcome challenges.
Armed with a digital roadmap, Crystal Doors was able to invest in a data and systems integration project to establish a network of sensors connecting their machines through the cloud onto a dashboard. This is enabling Crystal Doors to gain insights into how its machines are performing and identify potential inefficiencies, saving money and reducing emissions.
Richard Hagan, Managing Director and Owner, said: "Crystal Doors' digital transformation started with Made Smarter. From the first meeting, their insight and advice have been invaluable in refining our project to become as focused and impactful as it is today. By capturing data from all our operations, we can make informed decisions that enable a more efficient factory, which reduces our environmental impact and helps our bottom line. The support from Made Smarter catapulted us along our journey."
Made Smarter also supported Crystal Doors to embed new skills within its organisation which doubled the pace of the transformation. Ben Horn, Digital Transformation Programme Manager at Crystal Doors, is leading the project and commented: "Our digitalisation plans are ambitious and will introduce technologies and concepts that are brand new to the workforce," he said. "The cultural change has to be handled properly. We don't want anyone left behind, so the training and transition needs to be as easy and intuitive as possible. Upskilling our staff is key to its success."
Made Smarter is now keen to reach more SMEs across the furniture and home goods supply chain. They have produced a free guide to help demystify digitalisation and drive technology adoption. The downloadable guide showcases the benefits of digital technology, how to get started, the top five technology trends across the sector, and case studies of businesses supported by Made Smarter.
To download the free guide visit: https://www.madesmarter.uk/resources/guide-digital-technology-in-the-home-goods-and-furniture-manufacturing-sector/