This Spring, health and wellbeing specialists, Mammoth, have been challenging professional rugby players from the country's top clubs to take on the Mammoth Making a Bed Challenge.
Featuring Premiership players from the likes of Harlequins, Bath, Northampton and Newcastle, the Making a Bed Challenge, in partnership with the Rugby Players Association (RPA), has seen competitors taking a punt at an unofficial world record and a chance to get one over on their fiercest rivals. Taking time out from their tough training schedule, players such as Bath's Will Muir and Northampton's Ethan Waller traded passing drills and fitness tests for a quick wrestle with some bed linen at Mammoth stockists around the country.
When asked about tackling a king-size Mammoth and Honeycomb Hybrid Pillows, Will confirmed that he was satisfied with his performance at TR Hayes in Bath, clocking in at 1 minute 29 seconds: "I could've started a bit better, I think. But overall I'm happy with that time."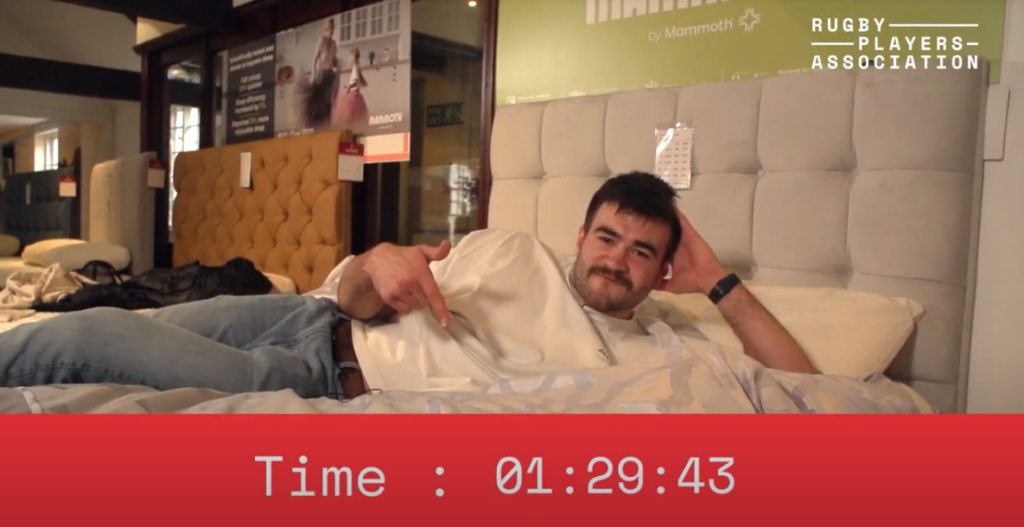 Meanwhile, Northampton Prop and current RPA Chair, Ethan Waller, was less positive about his performance after clocking in at 3mins 32. "This is embarrassing. It might be one of the worst things I've ever done!" he said.
Mammoth and the Rugby Players Association have enjoyed a close partnership for nearly a decade. During that time, hundreds of professional players have become ambassadors and advocates for the brand, benefitting from Mammoth's naturally cooling Medical GradeÔ foam and PostureCell technologies, which deliver postural support, pressure relief and faster recovery.
Mammoth has also supported the RPA in a variety of ways over the last 10 years – from leading workshops and seminars on the importance of sleep to sponsoring the England Player of the Year Award (won in 2021 by Tom Curry).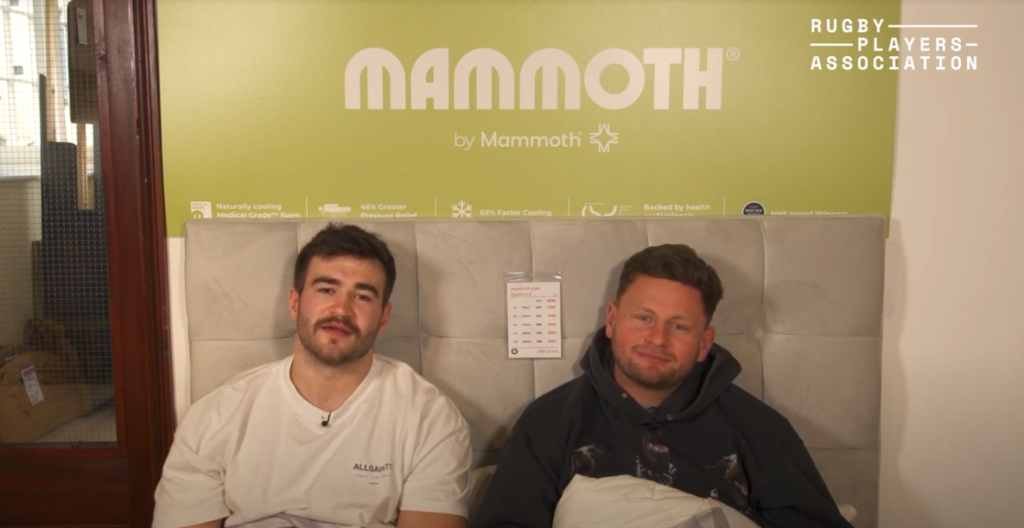 Speaking on the partnership, RPA Communications Manager, Stephen Thomas, said: "We've loved developing this latest campaign with Mammoth. They have been a valuable partner for several years and we knew that this challenge was something our members could really have fun with. It was also a great opportunity for players to get in store and do something a bit different during a long, hard season."
Through player activations, Mammoth and the RPA have also been able to support stockists by providing valuable marketing opportunities with high-profile athletes around the country, designed to reach thousands of people across social media and shine a light on the importance of quality sleep.