The Branded Furniture Company, sister company to furniture maker Whitemeadow, has agreed an extension to its furniture license with iconic designer brand, Orla Kiely.
First agreed in 2019, TBFC and Orla Kiely have been working together since then to bring a smile to people's faces through a colourful furniture collection, which features Orla's authentic and much-loved pattern designs.
Initially launched exclusively with Barker and Stonehouse, before then being placed carefully in selected retailers throughout the UK, the range has gone from strength to strength, continuing to exceed sales expectations each year.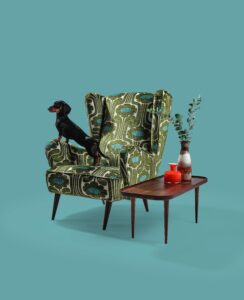 Jamie Bourn, Head of Brands at TBFC commented: "It's no surprise to us to see the success we're experiencing with this collection. The Orla Kiely brand is a longstanding one, and one that is much-loved by its followers. As well as the designs being instantly recognisable, what I think customers love most about the range is the playful pop of colour it offers. We're delighted to be able to continue our partnership with Orla and her fantastic team."
Roz Carter, Chief Operating Officer at Orla Kiely added: "We're very excited to continue our relationship with TBFC. As a license partner they have truly immersed themselves in our brand, whilst also guiding us with their industry expertise to create products that are stylish, on-brand and most importantly, our customers love.
"Another really important part of our journey as a brand is striving to be more sustainable, which again TBFC have really taken hold of in the design of our new products. We can't wait to show off our collaboration's newness and see it land in stores!"
Ben Frost, Creative Director at TBFC adds: "We are about to embark on a new seasonal launch that is super exciting. Working closely with Orla and her creative team we have developed some fantastic new patterned fabrics, sofa shapes and cute accent pieces ready to showcase in May. We are pleased to continue our journey with Orla and continue to work on new releases in the future."