Kathryn O'Hara, Marketing and E-commerce Manager at SleepHubs, won our Big Fat Furniture Quiz 2022 and received a celebratory hamper. We found out more about the business and their new mattress launch.
You may remember just before Christmas, Big Furniture Group launched a fun Big Fat Furniture Quiz, sponsored by Wallbed Systems, with 50 questions all about the furniture industry during 2022. Thanks to all that took part and we hope you had fun answering the questions. So, drum roll please, the winner is Kathryn O'Hara, Marketing and E-commerce Manager at sleep services provider SleepHubs, who was one of a very few bunch that answered every single question correctly and was picked at random to win the fabulous free hamper on offer. A big congratulations to Kathryn – she looks delighted!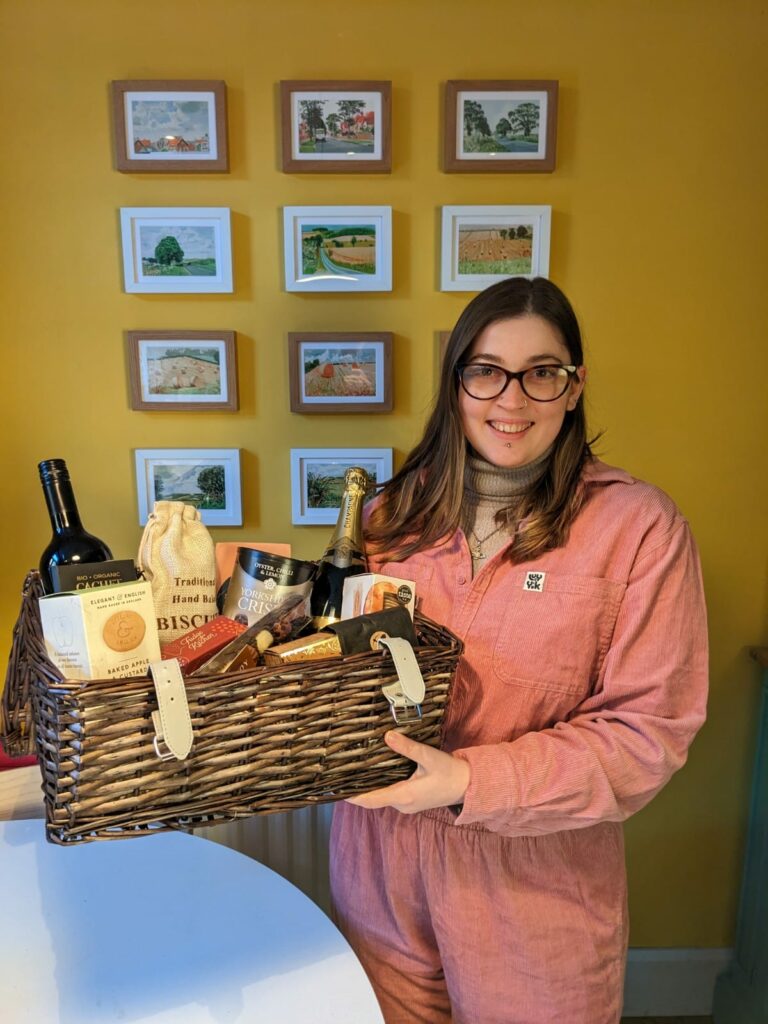 Alongside the prize also includes a spotlight feature on the company, which sees the business launch their new range of mattresses and toppers, as well as their own MattressFit customer quiz – but more on that later. To kick things off, Kathryn shared an insight into SleepHubs. "We can help you to rebuild your relationship with sleep, whether you've suffered for one month or 10 years, we have a solution for you."
SleepHubs provides check ups where they can assess, diagnose and treat a whole range of sleep issues, including insomnia. They work with sleep experts and therapists across the UK to provide a holistic solution to any sleep problem. Founder and MD, Charlie Oulton, created SleepHubs after being a sleep sufferer for many years. The company also offers business sleep services where it works with employers to improve productivity, efficiency, and staff health and wellbeing, as well as The Sleep Hub, an informative hub about various sleep disorders, common sleep complaints and more.
Another tool is their MattressFit quiz where it allows users to find the right mattress and topper from its newly launched Selectus range. Kathryn revealed: "We have just launched a brand-new range of mattresses and toppers alongside MattressFit, which is a recommendation tool. We get website visitors to complete the short quiz and then make a recommendation on which mattress or topper would be best suited to them.
"What a lovely surprise to win! And what a great hamper. A quiet afternoon pre-Christmas very well spent completing the quiz – we will thoroughly enjoy all of the delicious goodies!"
"The Selectus range has been in research and design for eight years and has cost millions to deliver. It builds on Charlie's metallurgy degree, our previous experience with Tweak mattress (a customisable sleep solution with interchangeable foam inserts, now exclusively available at Oak Furnitureland), our sleep research, Britain's largest ever blind mattress test at Grand Designs (where a Selectus prototype made its' debut and was a customer favourite, and customer feedback. During the pandemic, we spoke to more customers and built up the consultancy and advice, helping people to get the correct setup from their Tweak mattress which then evolved into the development of Selectus products and MattressFit."
The range contains five core products with a total of eight options, which include Essential Mattress Topper, Premium Mattress Topper (Split Comfort, available in two firmness options), Elite Pillowtop Mattress (available in two firmness levels), Luxe Mattress with Topper (Split Comfort, available in two firmness options), and Supreme Bespoke Mattress (for more complex needs like zoning for example).
The business has signed an exclusive UK manufacturing license and plans to roll out the range in "carefully-selected retailers only". As for MattressFit, the technology has been constantly developed since its initial version four years ago. Kathryn explained: "The first version of MattressFit was developed four years ago to help people get the most from the Tweak mattress. From speaking with customers, we found that people don't know what they want or need, and shopping for a mattress can be overwhelming, so we wanted to make a helpful tool that would tell people what to choose, and why. MattressFit uses proprietary research from the British Biobank and asks just a few simple questions before making a recommendation based on what the customer should find both comfortable and supportive. The first version of MattressFit resulted in a huge decrease in complaints and returns and we were able to use it as a pre-sales tool to boost sales too. MattressFit can also be used in-store as well as online."
Now, with both the mattress and topper range officially launched, SleepHubs will continue to educate consumers to understand why and how making the right mattress decision is valuable for them, alongside its sleep advice.
Looking ahead, the company remained tight lipped on future investments in the pipeline, saying that there are plans in motion but they would "have to eat us" if shared at this stage! Hopefully, the hamper will prove to be welcome distraction. On that note, Kathryn said she was thrilled to win The Big Fat Furniture Quiz 2022: "What a lovely surprise to win! And what a great hamper. A quiet afternoon pre-Christmas very well spent completing the quiz – we will thoroughly enjoy all of the delicious goodies!"