Graham Hirst, Managing Director at Ministry of Furniture, talks about recent investments, the move to their new headquarters and why biophilic design is still blossoming.
The Covid-19 pandemic raised an unprecedented number of challenges for businesses as they navigated through the uncertain period. For many, surviving has been the goal, while for some, realigning business processes and operations has been an opportunity to embrace new ways of working.
One such company that has risen to the challenge is Ministry of Furniture. The business recently relocated to a new headquarters in Milland Road Industrial Estate, Neath, also known locally as the Metal Box Factory, and is just the tip of the iceberg of their recent investments over the past 12 months.
Ministry has moved into an 8,000sq ft space on a long-term lease from Neath Port Talbot Council, which will be used for offices and a showroom, with the company investing a large six-figure sum into the new HQ.
So, just over a month on, how has the move been?
"The move has allowed us to create new showrooms, streamline operations under one roof, but also continue to build out some new aspects of our offering," says Graham Hirst, Managing Director.
"The main driver was simply that we needed more space. Having endured the challenges of the pandemic, we are now reaping the rewards of some of the changes we made during that period when we expanded and changed our offering while also investing in training our staff in the way they use technology and embrace the principles of the circular economy.
"The result is we were quickly outgrowing our old premises. But there was also a second reason. We are keen for office-based staff and production to all be on one site in the future. This new headquarters has the potential to enable this, while also giving us the space to create amazing showrooms, illustrating the best of what we can offer.
"It's important to us that we are one company, with one culture. This will allow us to achieve this in the long term, while also giving us the potential for even more growth."
As part of the investment, Ministry also incorporated a bespoke set of communications and workflow system designed to streamline its working practices and enhance its customer service. The investment has also been used to reimagine the space in two ways, which are also connected, as Graham explains: "First, the move to bigger premises has given us the space to create some incredible showrooms, showcasing the best of what we can offer for clients in different sectors but specifically workplace and education interiors.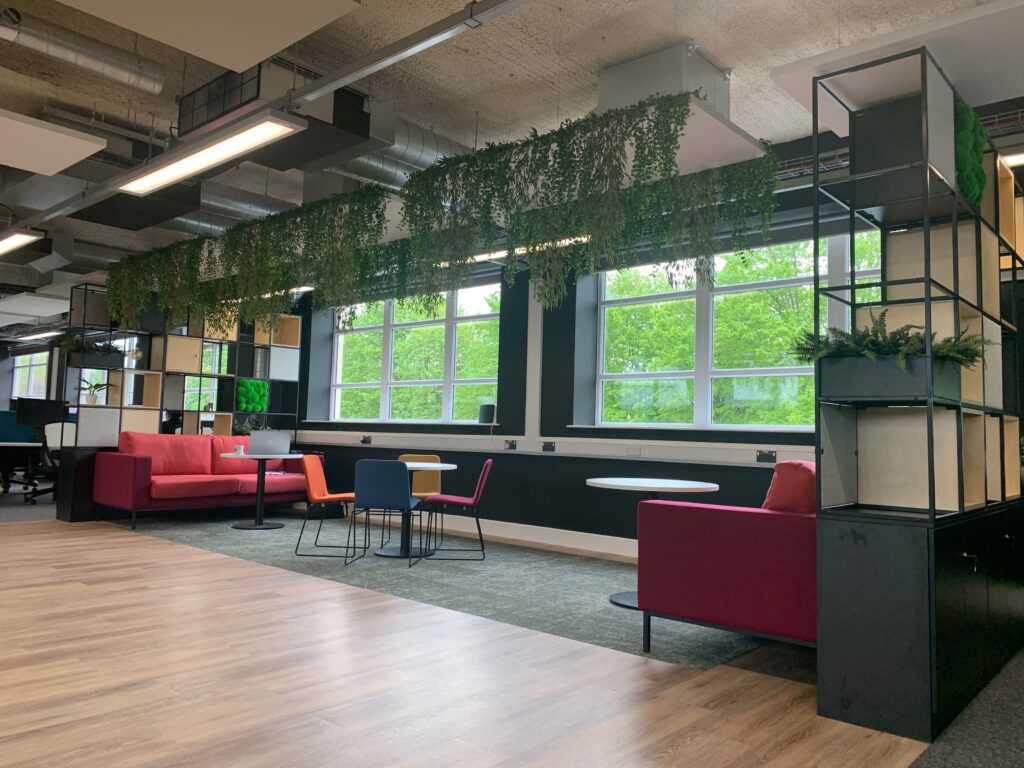 "Having endured the challenges of the pandemic, we are now reaping the rewards of some of the changes we made during that period."
"At the heart of this offering is enabling hybrid, agile working. We are supporting many clients in their journey, as many firms reconsider the very nature of their workplace – and how much space they need. Hotdesking and mixed working environments are being introduced as companies reimagine the office, scrapping outdated principles of set desks and offices.
"Directly related to this, we are also practising what we preach and integrating all these principles into our own workspace. The benefits for staff have been immense – but we're also learning as we do this. We have embraced a hybrid, flexible working model whereby our people have a choice of desks or a range of different working environments to choose from as well as a variety of collaborative spaces for formal and informal meetings with colleagues.
"There have been some unforeseen challenges around implementing hybrid working and we are able to share our experiences with our clients and the wider business community – particularly the challenges for leadership in supporting a hybrid culture."
Ministry has also been busy in upskilling its workforce too. Over the past 12 months it has invested heavily in new software, technology and a training programme to ensure it can seamlessly move back to manufacturing and installing fitted furniture in addition to graphics and contract furniture.
Graham continued: "We have made a significant investment in skills and technology that will allow us to again produce and install fitted furniture for clients in the education sector. This offering was always at the heart of the business, historically. Furniture wise, our focus had moved towards loose furniture and associated graphics, wall art and signage.
"We strengthened our Revit software capabilities and rolled out a comprehensive training plan for employees to further enhance our BIM Level 2 capabilities.
"Furthermore, we are also committed to developing local supply chains for all aspects of the job while leveraging the principles of the circular economy. Much of our furniture will be re-manufactured and upcycled, while we also work closely with Paint 360, a pioneer in the reengineering and reuse of waste paint, to decorate the interior."
With sustainability in mind, Ministry revealed that it is increasingly working with remanufactured furniture and upcycled materials, which are gaining popularity as companies are assessing and monitoring their carbon footprint.
"Many now want a full understanding of where materials are sourced and the nature of supply chains," Graham said, adding that sustainability is a "huge trend" in which the company supports. In keeping with other movements, he highlighted another area of importance too.
"Wellbeing is also important. We still see the biophilic design trend growing with the inclusion of living walls, planters and 'outdoor indoors' nature themed wall art.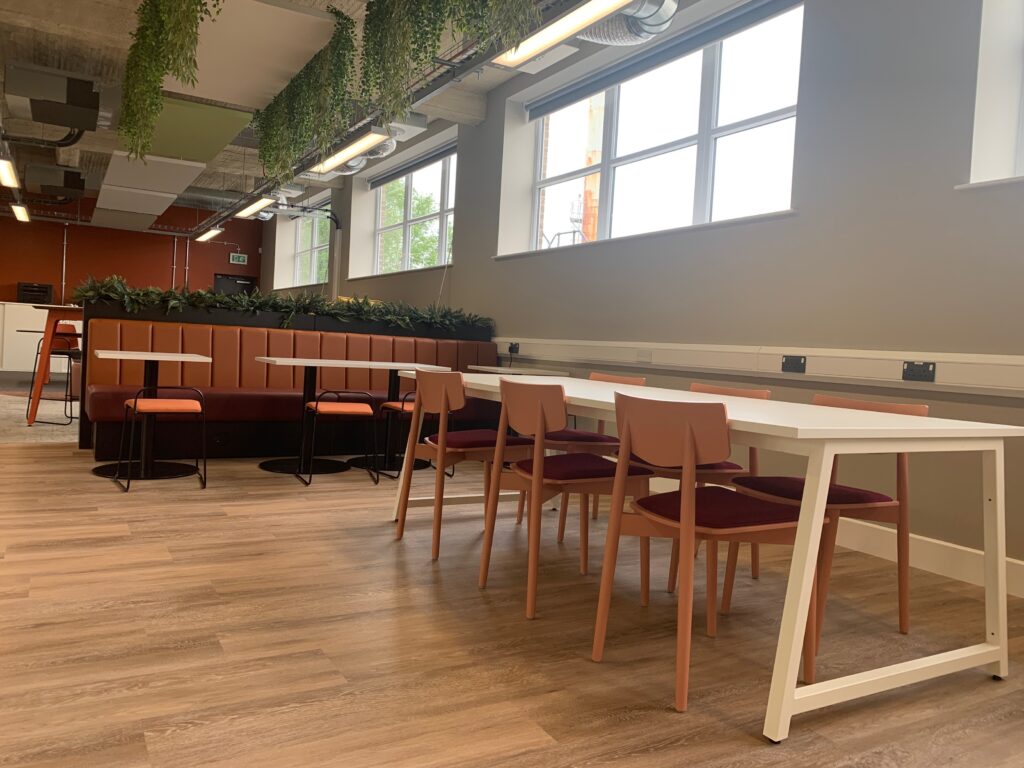 "The working environment fundamentally changed during the Covid pandemic, but many companies are now embracing the positives of that and want to adjust their working environments long term. With people working from home, companies want their offices to become alternative but inspiring workspaces.
"This ties in perfectly with our offering, whereby we can help clients through each part of the process from concept to completion. This approach also complements our commitment to the circular economy and skillset in remanufacturing and upcycling products. The clients we have worked with recently wanted a more collaborative working environment and I think that the final designs really help facilitate that creative energy."
As Ministry settles into its new HQ, with the move not impacting its manufacturing factory, based in Ystalyfera in the Swansea Valley, the business has an eye on the future and plans to pump in further investment over the next three years, which will also see up to 100 new jobs being created, to take a further 40,000sq ft of manufacturing space.
"We plan to expand the education product ranges that we currently manufacture but require more production and stock holding space. We have a desire to become a strong employer in South Wales providing training, skills and meaningful employment to local people. This space will allow us to develop the company culture under one roof and strive to achieve our goals on this front," Graham said.
Despite the challenges, Ministry of Furniture has emerged through them a much stronger company, which has "seen excellent growth" in its order book. The new headquarters is the beginning of their next phase of growth, one Graham is excitingly looking forward to embracing.
"We look forward to welcoming visitors to the new premises and literally showing them what we can offer. Watch this space!"