Upholstery manufacturer Hydeline has announced the appointment of Mark Jeffery to the position of Head of Operations.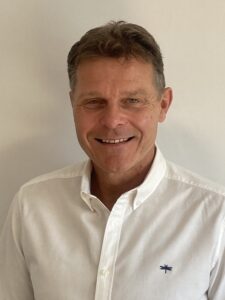 With the business forecasted to grow significantly in 2023, and with over 30 years experience in manufacturing and operations, Mark will be focussed on the delivery of the company's ambitious plans for the coming year and beyond.
Mark said: "I am very excited to have joined the Hydeline team, due in the main because of their "At the Helm" brand and the more traditional furniture style which took me back to my days as an apprentice where I first fell in love with furniture. Along with this product styling, it was clear that the quality of the furniture was what you would expect from a top brand which aligned with my own quality expectations and standards."
Having started his career at the age of 16 as an upholstery apprentice , Mark quickly moved his way up the ladder over the years, eventually moving across to other companies such as DFS and Furniture Village. After nearly 10 years at Furniture Village within various roles, Mark made the decision to take on a new challenge as Head of Quality Control (HOQC) at Studio Moderna where he oversaw 6 production facilities and the implemented many production lines and quality processes. After 5 years as HOQC he was then promoted to Head of International Operations and was responsible for all operations from PO placement to the final delivery of goods from the 6 production facilities.
Mark continues: "The year ahead will be tough across the furniture industry. With the cost-of-living crisis showing no signs of abating, luxury purchases like furniture will not be on the top of everyone's shopping list. So, to encourage the luxury spend you will need to be a standout brand coupled with class defining quality. Hydeline has both elements and I know we will have a successful albeit tough year."
To further support the company's growth, Hydeline has also enhanced its Regional Sales, Customer Hub and Finance departments with the respective additions of Glynn Wareham, Phoebe Jones and Kristina Simkova to the team.
Hydeline's Managing Director, Jonathan Burrage, added: "We have several exciting plans in the pipeline for 2023/24. As well as growing the experience of our existing team through training and personal development, the addition of Mark, Glynn, Phoebe and Kristina will serve the business and our valued customers well for the future. We are excited to have them join the team and we look forward to sharing more news in the coming months."