Malini Atwal, Director at soft furnishings supplier Malini, talks about their recovery from a devastating fire at the end of last year and how industry support has seen them rise from the ashes.
February this year marked the 30th anniversary milestone for Malini. What should've been a celebratory occasion, the party was postponed as the company began to rebuild following a fire at its Wolverhampton facility back in December 2022.
What's more, and a tougher pill to swallow at the time, the fire, being treated as arson, started at a factory at Lower Horseley Fields, which spread across the area, engulfing around 30 businesses. Malini was one of those impacted.
After three days of tackling the blaze, with 100 firefighters and crews from the West Midlands Fire Service, the fire was finally extinguished, leaving ash in its wake and dilemma for Malini; to go on or to close up shop?
"The fire was really upsetting for everyone involved," Malini Atwal said. "Everything was ash. We lost our last-minute Christmas sales and the January period where retailers would typically buy sale stock, but we couldn't supply so we lost all of that following the fire. Luckily, we had got most of Christmas wrapped up but it was another challenge for us to bounce back.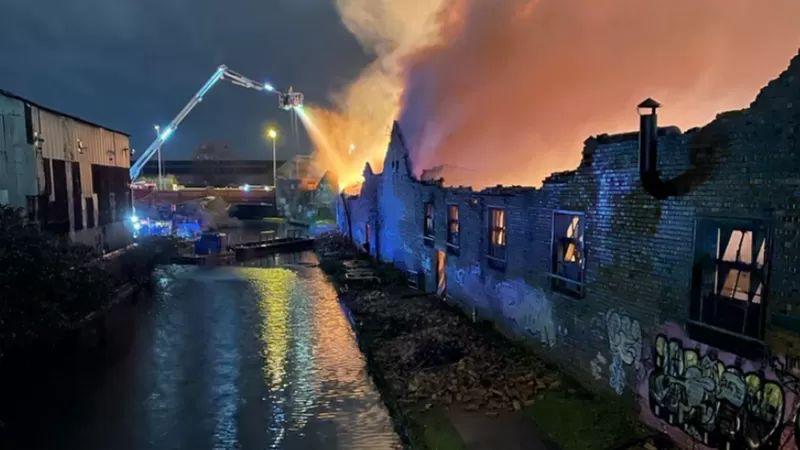 "In February, our business reached our 30-year anniversary milestone, so we had two options when the fire hit. At that point, did we just call it a day or keep going? We knew that if we closed it would impact jobs and we had built the business up over the last 30 years, did we really want to let it all go overnight?"
Despite being a stressful period for the business, Malini decided to push on following an overwhelming arm of support from both suppliers and customers alike. In fact, this support played a key role in rejuvenating and remotivating Malini to push onwards. "Thankfully, we had great support from suppliers, as well as from all our agents," Malini Atwal said. "Our customers have been extremely supportive too, so it made sense to keep going.
"Our supply base gave us credit, helped us with smaller quantities to keep us going, which is how we managed to be honest. We were lined up to do the Furniture Show at the NEC in January but it was at a point where we had nothing, even no samples, so we decided to focus on just getting the business back up and running. It was a very stressful six weeks to say the least."
Malini added that finding a new premises wasn't an easy task. "The process of finding a new space was painful too. We've enjoyed a reasonable rent over the years and finding somewhere similar was a challenge, especially as we needed a location quickly. We've moved out to Shropshire now, so we've adapted quickly to the change. It was incredible how people and the industry has helped, which really kept us going."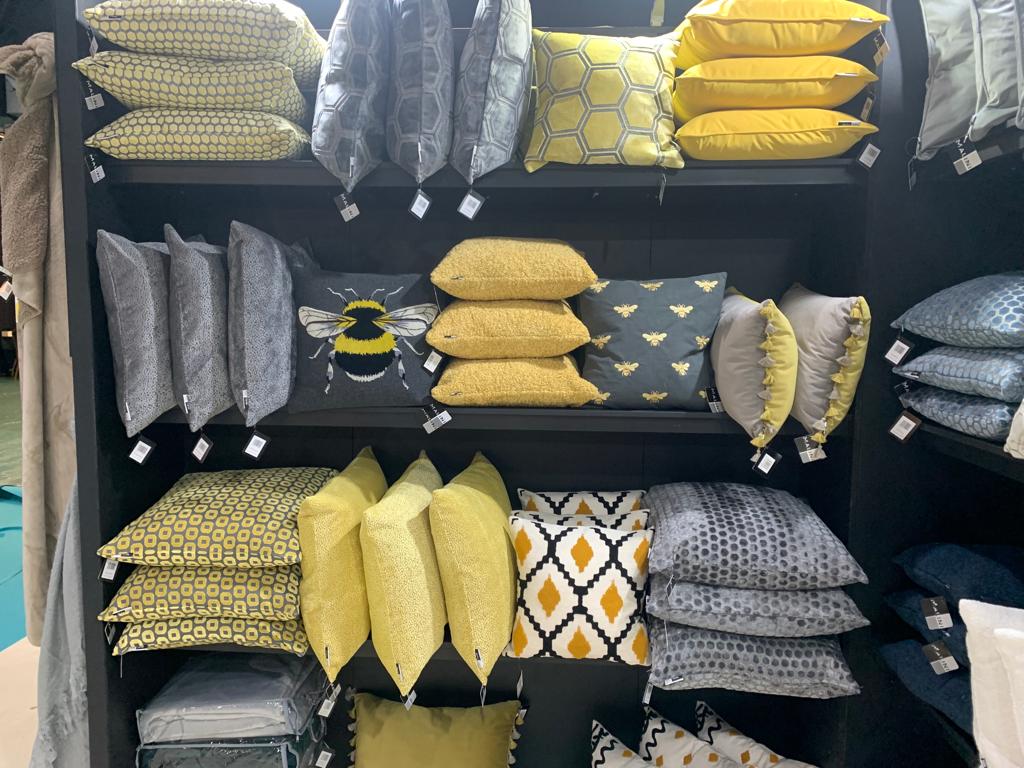 Since the fire, Malini said business has been good, they are "really happy with trade so far this year". As Malini mentioned, it could've been the end for the business, and perhaps the easier decision to make than to go again. However, after absorbing the devastation, the business rebuild was followed with its new 'Cushion Wall Concept', which was unveiled at the recent Spring Furniture & Beds Show. "The recent Spring show was a new one for us, which went down very well. We saw a huge gap, with how furniture stores sell accessories. I think in the past they have always used them to accessorize sofas and beds on display but weren't actually looking to sell them properly.
"Perhaps it's more difficult to motivate sales staff to sell accessories due to the commission opportunities with bigger-ticket items, but I think retailers have realised they need to do more of this product category. So, we were like, how can we make this easy for the retailer? One of the points of doing the recent show was to show retailers that we can make a unit for them, which is easy to install, where we can merchandise them and create a point of sale, and to just provide a solution, which is where our cushion wall concept came to life. It created a lot of interest and we came away from the show with a number of leads, which is fantastic."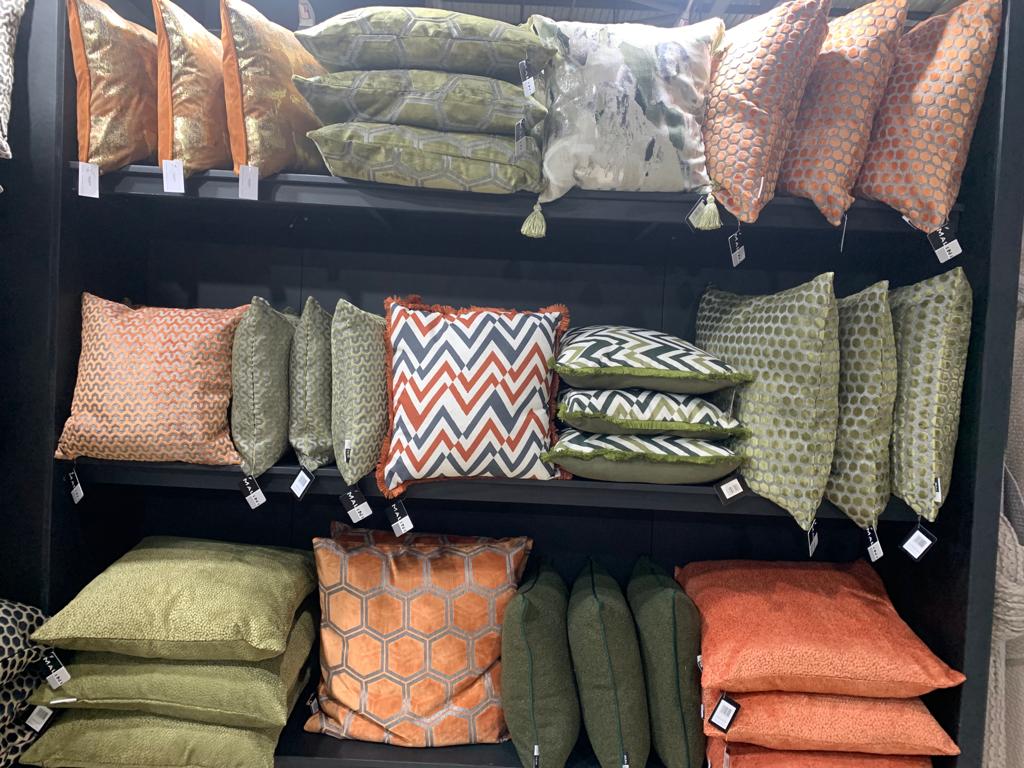 Malini said that the idea is to help put a wall into a retailer's store, while sharing the cost of the wall. Retailers will then receive free stock to populate the space, which can offset the cost of the unit. Malini Atwal explained: "The idea is to share the cost and help that way. The installation process is simple where it is a flatpack concept where a retailer can build it. We give them the stock and a picogram to help the retailer best display the merchandise.
"We are finding that we're getting more experimental about colour too. I think colour is playing a big part within interiors as people are moving away from being very minimal and want to introduce colour again. I think cushions are a great fix to that and our concept can really help retailers capture this too."
After months of adapting, Malini is as optimistic for the future as ever, and is looking to pencil a date in the diary for a well over-due anniversary celebration, an occasion they want to share with customers. "We will continue flying our flag and we really appreciate all the support from customers. It's been great to see and feel how our customers and suppliers have stood by us. We're hoping to finally celebrate our big anniversary, where the only flame will be on the cake."