Steve Adams, Chief Executive Officer at retailer Mattress Online, takes part in our Retail Focus feature where he discusses recent investments and future plans.
Main responsibilities?
My role includes overseeing the Leadership team and being responsible for key decisions and the wider strategy of the business. However, as the company grows, I'm gradually handing some of the responsibilities and entrusting those key hires and heads of departments to take the reins on business-as-usual activities.
Recent company investments?
We've recently announced a second store acquisition in six months as part of our strategy to add 10 physical stores over the next five years. We acquired the Skipton Bed & Sofa Centre earlier this year and has now added the premises of Sheffield bed outlet, Eades & Co formerly Discount Beds, to its portfolio. Our first fully branded store opened at Alderson Road, Sheffield on 12 August 2022. We also recently acquired additional warehouse space at Rotherham HQ.
Mattress Online invests heavily in digital technology and skills in-house. Digital investment and continual innovation are key areas of focus to maintain ongoing development and work towards future success.
In the last year we've invested in our people through training and development across the workforce, introduced a health and wellbeing programme for employees, and skilled up 10% of the company as Mental Health First Aiders.
Future plans?
I've got at least eight more stores to open in the next five years – and more if the right opportunities present themselves. The hybrid stores we're spearheading on blend our excellent online value and delivery promise with a traditional showroom experience, reinforced by outstanding product knowledge and great levels of customer service.
We're also going to be augmenting our in-house digital division with more key hires and the recent introduction of a Chief Innovation Officer, my brother Martin Adams. He's been on the journey with me in a consultancy role but will now bring his expertise to the forefront keeping us ahead of the curve and driving our tech focus forwards to further enhance the customer experience.
What is your mission?
In house, the mission is to scale the business in the right direction, while retaining and securing the positive culture that's been developed over the almost 20 years that Mattress Online has been trading. The "MO DNA" is hard to pin down, but we've got it in spades!
For the customer the mission we want to execute is to maintain the trust we've built around the brand, not to become too corporate, and to enhance the buying experience and purchase journey with enriched advice content and user experience on our bespoke website.
On sustainability, what is your business doing on this topic?
In 2015 Mattress Online launched a non-profit mattress collection and recycling service, pledging to recycle 40% of all mattresses by 2025. So far, we've saved more than 100,000 mattresses from landfill and a third of all our customers take up the offer.
All our plastic polythene mattress bags are made from 100% recycled content and are 100% recyclable, and our staff all wear uniforms made from ethically sourced materials. In early 2022 we were recognised for our efforts and won the Modern Retail Sustainability Award.
Steve also co-chairs a retail advisory forum with other manufacturers and suppliers from across the board, working on a collective approach to tackling recycling challenges in the bedding industry.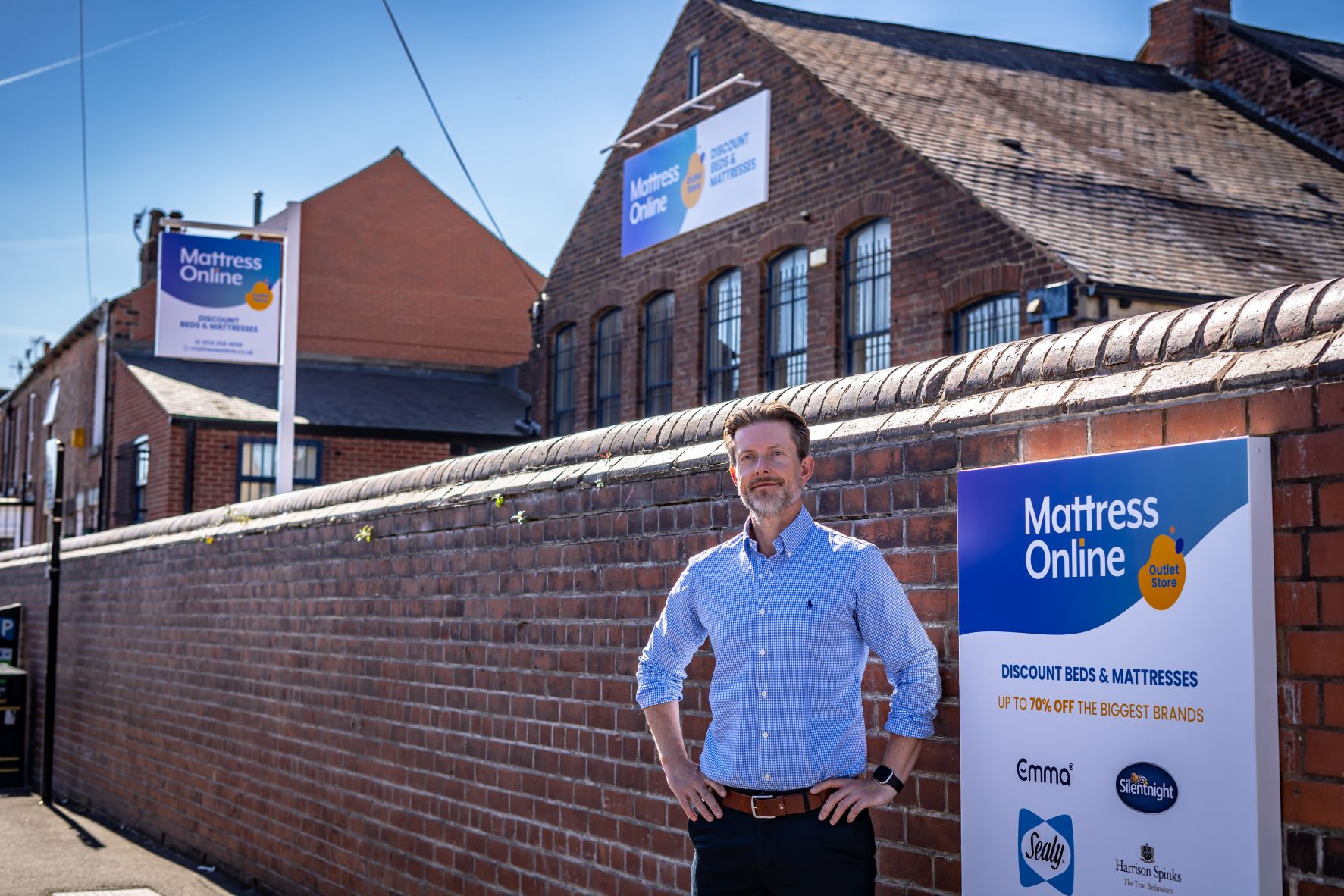 How has recent business been?
It's been a challenging market since the height of the pandemic, but we've retained a lot of that growth we experienced in 2020/21. Three years ago, I couldn't have predicted the revenue we saw during that time, and even now to be fair.
We're seeing a spending divide currently. The number of orders is lower than two years ago but the individual order value is up by a decent margin and I believe this is the same across our sector.
The customers that come to our site are there to buy, as confirmed in the conversion rates, there might be less people out there browsing but the ones that are there are committed to the purchase – simply put, it's not an accident that they visit our website.
What would you change in the industry?
The industry is incredibly traditional – and for us it's been a slow burn to be accepted as a retailer as opposed to an online retailer. Thankfully we're all there now. For me, I feel that as an industry we could streamline and simplify some of the mattress and bed jargon and be more transparent at a product level to simplify understanding for consumers.
What challenges do you currently face?
I have a worry about becoming overly corporate and losing the personality of Mattress Online; and keeping the entrepreneurial spirit alive while scaling up and going national with our bricks and mortar strategy. As the business grows through those acquisitions, I don't want my people becoming a number.
Anyone you would like to thank?
Everybody truly plays their part at Mattress Online and we look after each other – the loyalty and commitment from my team speaks for itself – we've recently awarded over 40% of the whole team for their long service of five, ten and fifteen years. When we added up the current combined service it was over 250 years which is incredible – I'm proud to recognize the hard work of everyone at Mattress Online.
Why do you think customers choose your business?
We're the amazon prime of the mattress world! Our great service and delivery promise makes us stand out, we work hard to be highly visible when it comes to Google presence and we are consistently striving to demystify the mattress buying experience.
Anything else to add?
Over the last couple of years Mattress Online made a substantial investment in a new bespoke platform and website, known locally as "Hollywood". The development team has produced something totally user experience targeted and that is unique to us as a tech forward retailer. It's performing well and we're seeing the benefits and improvements for customers and staff already.
I'm excited about how we innovate and take that forward, as well as other digital and tech plans we have in the pipeline. Watch this space!