Darren Crowshaw, UK Sales Director of Nectar Sleep, talks about why Nectar is becoming the most exciting innovation in the furniture sector.
Nectar Sleep is driving pre-sold customers into stores all over the UK using their store locator. The customers are presold on the brand, price, quality, value, warranties and reviews, the only thing they want to do in store is to try the product before they buy. The extensive in-store training documents are at your disposal, so upselling the customer to the exclusive range could not be easier. On average, 88% of customers switch to the in-store range when they are in-store, allowing retailers to maximise their margin.
The concept is simple and completely unique.
Nectar is the largest boxed mattress brand in the US. This unique in-store concept has grown prolifically since it was launched in 2018 and has been successful in the top five retail chains in the US. The UK Sales Director, Darren Crowshaw, who is heading up the UK team to mirror the US strategy comments: "We have had a great response to the range so far, which is unsurprising because it is a unique and exciting concept. The training assets and experience that we can draw down from the US team is a huge advantage for us and we are already seeing an accelerated sell through in-store. It's a critical step towards linking the gap between online and in-store trading.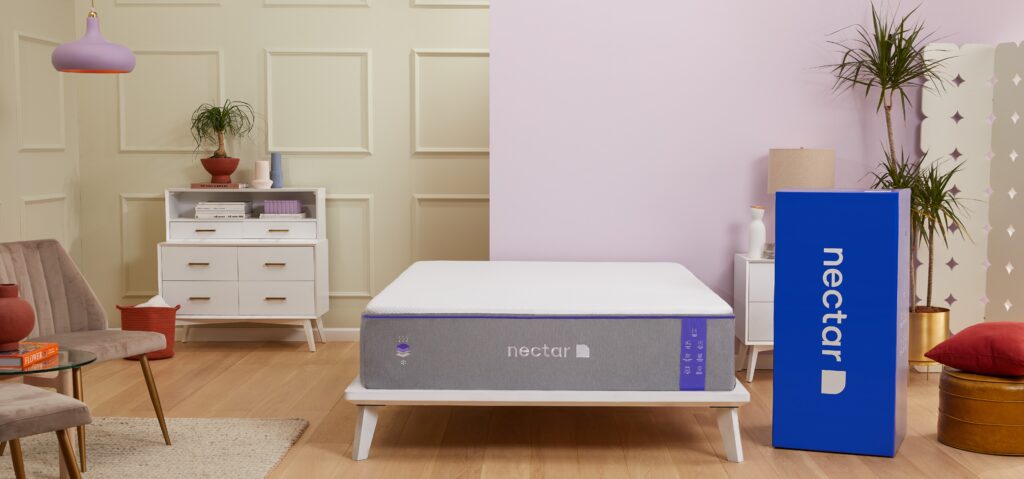 "Nectar have created the exclusive retail range with sustainability as a core focus, which is why they have partnered with Climate Partner to measure, reduce and offset their carbon footprint. Their ethos when creating a product is to make it once, use robust materials and make it so that the customer is happy with it. They are so confident that their mattresses do all these things that they offer a unique, industry leading, Forever Warranty and a 365-night sleep trial to all their products."
To underpin their industry leading guarantees, Nectar always ensure they work with industry leading supply partners. Primarily, Nectar have partnered with NBF Bed manufacturer of the year finalists GNG Group to manufacture their products. The range features their graphite infused, breathable Nectatex® Foam, manufactured by the leading British foam supplier Vita Comfort UK. The products also contain Nectacoil® springs, which are manufactured by Spinks, a subsidiary of Harrison Spinks, winner of the NBF Bed Manufacturer of the year.
"There is so much to talk about and it is so easy to become a partner. Become a stockist now to make sure your staff are trained and engaged, ready to maximise the opportunity in the Easter Sales," Darren said.