Online retailer of mattresses and beds Mattress Online has landed a prominent Scale-Up Award at this year's event, which took place at Tobacco Dock in London and was hosted by Russell Kane.
Mattress Online has long had technology at the forefront of the business and was one of the first online sellers of mattresses back in 2003 when the company launched its bespoke e-Commerce platform from a bedroom and garage.
During the pandemic, Rotherham-based Mattress Online saw turnover leap to £37.5m fuelled by stay-at-home spending on DIY and homeware. Growth was underpinned by the in-house Development team who continually innovate and find smarter ways to use technology to make the customer experience slicker.
In the past 18 months alone, Mattress Online has seen their turnover and profit increase by 200% with heightened demand following the pandemic, this has allowed them to introduce 20 new members of staff in this time, some within their senior team, as well as launch their first three physical stores in Sheffield, Rotherham and Skipton.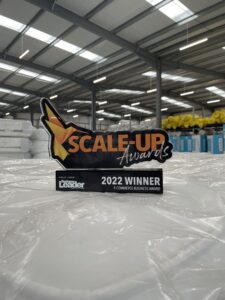 Now, they have achieved an E-Commerce Business Award from the 2022 Scale-Up Awards. Celebrating high-growth companies and the entrepreneurs running them, the Scale-Up Awards are the first and only awards focusing on the scale-up sector. Bringing together politicians, VIPs and business leaders from across the UK and even further they celebrate success and enterprise.
The independent panel of judges – which contained Touker Suleyman from Dragon's Den, PensionBee Co-founder Jonathan Lister Parsons, and many other esteemed figures – awarded Mattress Online with their illustrious E-Commerce Business Award.
Steve Adams, CEO of Mattress Online, said: "To be recognised nationally for our work is incredible. After being involved in E-Commerce from the early days and building the Mattress Online platform along with my growing team for almost 20 years, to be awarded this title is a proud achievement."
Mattress Online has seen a great level of success over the past year where it's incredible achievements have been recognised on a national level. This has included coming 68th in FEBE Growth 100 and achieving Online Bed Retailer of the Year for four years in a row by the National Bed Federation.