This year marked a special milestone for one independent furniture retailer, with the company appointing a fourth family generation at the helm.
Jade Farthing (pictured), Managing Director at Haskins Furniture, officially took the reins at the beginning of 2022 and has been planning her own path for the family business that was first established some 83 years ago.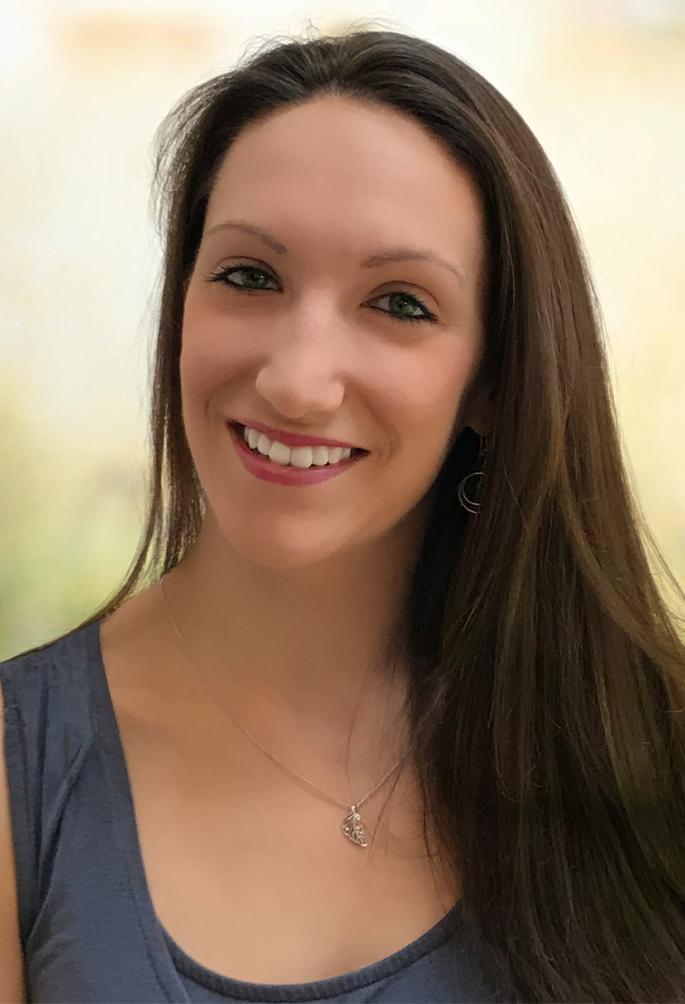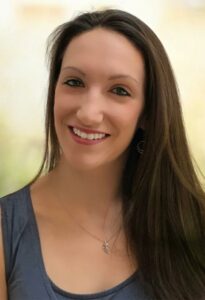 Rolling back the years to 1939, even World War Two didn't disrupt John Henry 'Jack' Haskins' vision of doing something special with his furniture. As Jade explains, "Jack began supplementing his income as a cabinet maker by producing and selling a few items of furniture at his terraced cottage in Shepton Mallet."
Fast forward to present day, the business still operates in the town and has become one of the pillars of its community.
For Jade, continuing the family's legacy has always been her dream ever since she started out at the business on £3.50 an hour. After spells away to find her own way, Jade re-joined the business in 2017, then became a director in 2020, and is now fully in the hot seat.
"I have always been involved in the business even when I was away at university and working elsewhere. I was lucky enough to work in two amazing furniture stores, one in Sheffield and one in Birmingham. These experiences gave me a greater understanding of the furniture industry and I built connections that I couldn't have done otherwise.
"Once my daughter came along, it was time to go home and embark on the journey that I always dreamt of. I have so much pride in working for a family business and have always wanted to carry on the family business. My granddad is no longer here but I have a deep desire to make him proud and show him that the business is in good hands," Jade said.
"My first year as director in 2020 was very turbulent with Covid 19 and the closures that we had to abide by but being made Managing Director for the group at the beginning of this year was one of my proudest moments.
"I had many plans in 2020 when I became retail director but because Covid I am only just implementing them. I have been working on our marketing and asking myself, who we are and where do we want to go. For the rest of this year, I want to shout about our heritage and reconnect with customers."
"More than ever, customers are interested not just in the price but where it is made, how sustainable it is and the impact on the environment. This is a subject close to my heart."
As part of Jade's modern approach, she revealed they are in the process of rolling out a new tag line as well as shaking up its branding. There has been an overhaul in its fleet following a lease end, bringing back the blue that dates back to its first lorry in 1950.
"Having white lorries just didn't look right, so when the leases came up, we replaced them with blue ones, which are owned by the company. It is fantastic to see the blue out on the roads as it reminds us of our heritage and so far, everyone has been very pleased."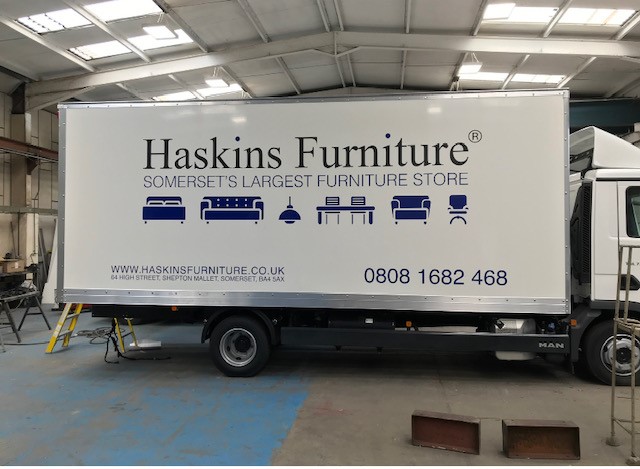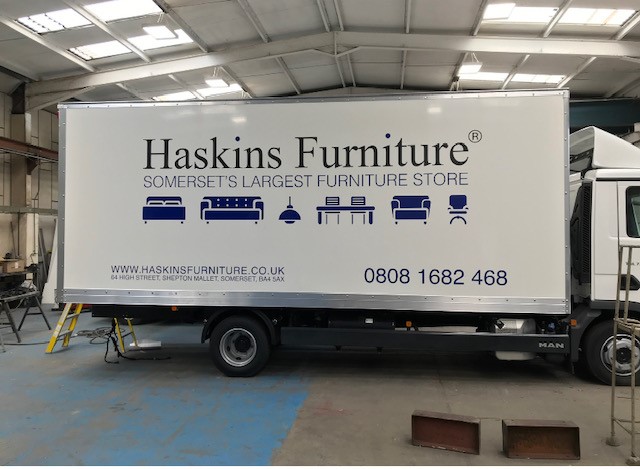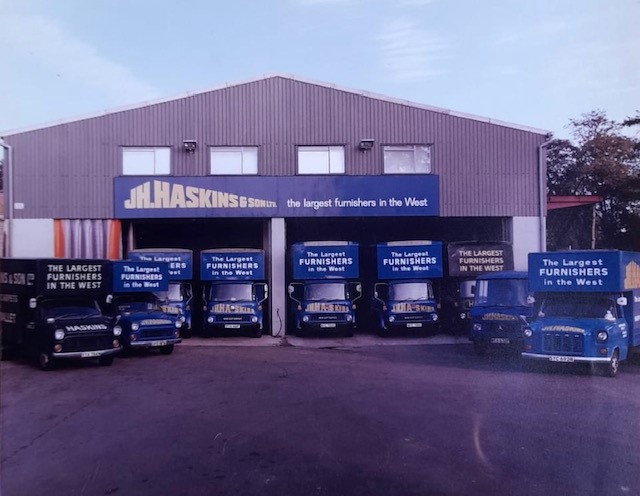 Other projects on the go include constant review of trends, which can have a major say in how the store looks and feels. Jade explains: "We follow the various trends which means there is always change; new studios, new suppliers, new products for different seasons and I thrive on there always being something new and exciting happening.
"We have recently put in a new ercol Studio and come July, we will have an Orla Kiely and Enchanted House studio instore too."
And that's not all. Jade says she's 'ambitious' and sees a clear vision on what Haskins could look like in the future. A vision that is actually homage to its past.
"Historically we had various store's; Bristol, Sailsbury, Yeovil and Romsey, but today we have our one store in Shepton Mallet. However, I'm ambitious, and I would like to grow the company in the not-so-distant future," Jade said.
"Online sales play a part in this though and this a fast-growing part of our business, and although our core values are around customer experience and service, online sales will have to play a part in everyone's future."
In keeping with trends, Jade says the eco-conscious consumer weighs heavy in her heart and therefore dedicates space for greener products.
"More than ever, customers are interested not just in the price but where it is made, how sustainable it is and the impact on the environment. This is a subject close to my heart and we have reduced our plastic across the business and we ensure we recycle where possible and use local suppliers when we can.
"When I am choosing new ranges, I consider this as I want to protect our world for my daughter, who is five. A lot of the big brands are bringing out more sustainable products and it is great to be able to showcase these."
Being a fourth-generation family business is testament in itself on the values and evolution of the company, and for Jade, incorporating their employees to be 'one of the family' too, is another key reason why they have surpassed eight decades.
"We have always been a family business and provided good employment. We sell furniture but we are not pushy salespeople, we go that extra mile for our customers and pride ourself on exceeding customers' expectations.


"Our teams are not given unrealistic targets or pressed on selling items that a customer doesn't want. We all work together and are a collaborate team. My employees enjoy coming to work, so they stay. We've had many employees leave and come back, with our longest serving employee, who started in 1972, set to retire this year and he will leave a huge gap in the business."
Under Jade's leadership so far, business has been positive, although her predications make out for another tough year ahead. "I've been very happy with how the year started. Unfortunately, I think we are in for another hard year with people tightening up on their spending or going on holiday after so many restrictions the last few years.
"However, we sell quality furniture, and our customer service can't be beaten, so we find that customers come back time and time again and we are always reaching out to new customers."
Haskins Furniture is certainly in strong hands moving forward. There are already plans afoot for their 100-year anniversary – but that will remain under wraps for now. And who knows, one day Jade's daughter may be the fifth generation. Let's hope she starts on a little more than £3.50 though.