Family-owned retailer Leekes has unveiled its head office transformation with a revamped workspace for "collaborative excellence".
Based in the heart of South Wales, the revamped space not only redefines the traditional office environment but also aligns with the brand's values and commitment to fostering innovation and collaboration. With the infusion of bold colours, striking murals, and an emphasis on providing a refreshing workspace.
Emma Leeke, managing director, said: "Our decision to refurbish our head office was rooted in a desire to create a workplace that inspired creativity, collaboration, and well-being among our employees. The new design aimed to break away from the conventional cubicles and sterile corporate atmosphere and, instead, foster an environment that celebrated the company's identity, values, and heritage."
The refurbished head office in Llantrisant, just outside Cardiff, now boasts an array of collaborative spaces that encourage employees to come together and share ideas. These areas include open-plan workstations, informal meeting spaces, and dedicated breakout zones, all designed to facilitate spontaneous interactions and brainstorming sessions. This shift towards a more open and collaborative workspace reflects Leekes' commitment to innovation and teamwork.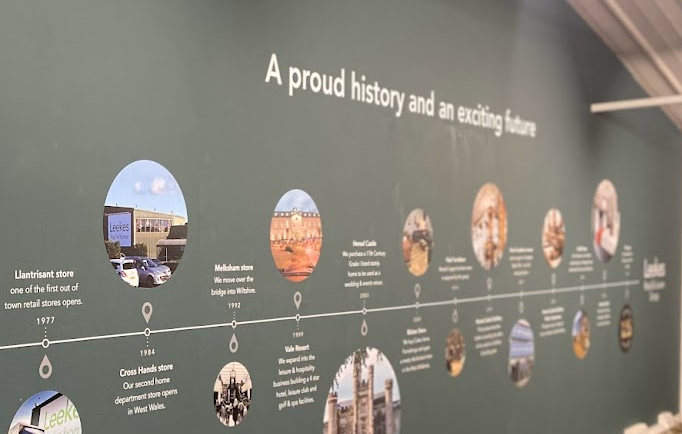 "One of the standout features of the transformation is the infusion of nature into the workspace," Emma added. "The addition of lush green plants not only enhances the aesthetics of the office but also promotes a sense of well-being among employees."
Leekes has also made a bold statement with the incorporation of art and murals throughout the office. These murals don't just serve as decorative elements but also convey the company's core values, reminding employees of their shared mission and vision. The use of art and bold paint colors brings a sense of energy and vibrancy to the workspace, inspiring creativity and innovation.
The design team at Leekes has worked diligently to create a fresh and modern look for the head office. Bold paint colours and contemporary furniture choices give the space a dynamic and vibrant feel. The new aesthetic is both visually striking and functional, creating an environment where employees feel motivated and inspired.
This refurbishment along with improvements in all Leekes stores over the last 12-24 months shows the company's continued investment in all of its locations and is supported by other new schemes that have been introduced to enhance employee well-being.
These include flexible working options, offering a 9-day fortnight for head office employees, a holiday purchase scheme, and a "Leekes Larder" that provides teams in all locations access to lunch and breakfast essentials free of charge.