Leekes Retail & Leisure Group is well underway with its £1.4m investment in solar energy across all its department store sites, head office, and 4-star hotel the Vale Resort.
Passionate about working to make a positive, sustainable impact on the planet, Leekes' 2 year programme of solar investment will be completed by spring 2023 and will see over 1.9 million kWh per year of energy generated allowing sites to be up to 45% self-sufficient, with over 900,000kg of CO2 emissions avoided each year.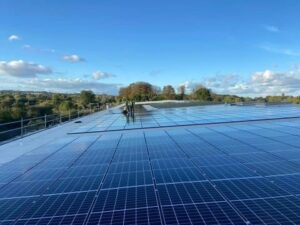 The retail business has been formally classified as "zero to landfill" for a number of years but the effort doesn't stop there and the group is committed to further changes to reduce its impact on the planet.
Since 2020 Leekes has replaced up to 80% of its lighting with LED alternatives, introduced enhanced recycling schemes and waste segregation and removed single-use carrier bags from its operation.
These changes are combined with considerable efforts to further reduce CO2 emissions and the overall carbon footprint of the business. With its company car fleet now 25% electric, older vehicles updated, and journeys planned with the most efficient route in mind, it ensures that deliveries are as environmentally friendly as possible.
Along with business changes, Leekes has established its "Green is our favourite colour" campaign which promotes a wide range of eco-friendly and sustainably sourced product ranges that help to encourage lifestyle changes, supported by informative product labels and point of sale made from recycled paper.
To find out more about Leekes' sustainability efforts, you can visit: https://www.leekes.co.uk/sustainability