Simon Peck, Managing Director at Julian Charles, reflects on the businesses 75th anniversary milestone.
'The heart of your home since 1947' is the tag line for long-established soft furnishings multi-channel retailer Julian Charles. Since its inception from a small Lancashire business, manufacturing ready-made curtains, to the retailer with over 70 outlets across the UK today, Julian Charles has continued on its path of evolution, with this year marking its 75th anniversary.
Specializing in a wide range of soft furnishings, including bedding, ready-made curtains, luxury cushions, cozy throws and on-trend home decor accessories, the business was first set up by Julian Greibach back in 1947, operating as a textile converter, selling fabric by the metre or by the roll.
Roll on to the 1990s, and following the success of the ready-made curtains, the company changed its name to Rectella Ltd and expanded into three locations, situated in Chorley, Tyldesley and Preston. Over the years that followed, Julian passed away in 1997, with his son's Charles and Francis inheriting the business. Charles took charge in 2017 and bought Francis out, then in 2014 the business was relaunched as Julian Charles.
In 2020 Charles decided to retire and the company was acquired by SKG Capital, who invested significantly in its online platform, extending the ranges and continuing its growth and legacy.
In present day, Julian Charles turned 75 earlier this year and has been celebrating ever since. Simon Peck, Managing Director at Julian Charles, said: "We decided to turn it into a yearlong celebration. "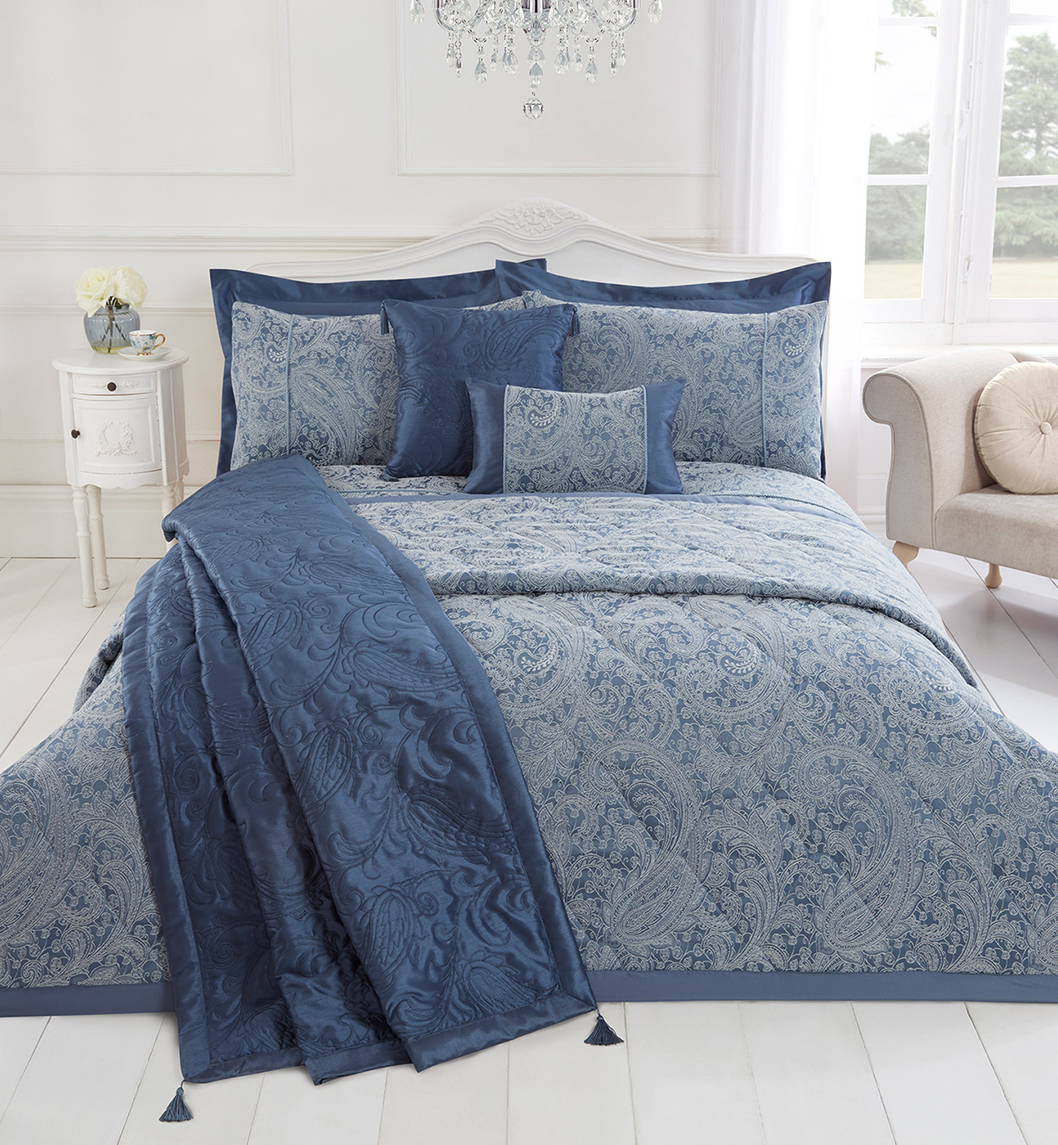 "We wanted to celebrate by giving back to our customers who have kept us going all these years. One of the things we decided to do was include scratch cards inside online orders that give discounts and prizes. The top prize is a £250 bedroom makeover. We also gave £75 vouchers out to customers as nice surprises in our stores and online too."
Alongside the scratch card giveaway, the business has introduced an anniversary bedding design, named Paisley Chambray, which launched at the start of September, and plans to host an anniversary event. Simon said: "We plan on having a store event later in the year, on 29th October, to celebrate and we have just launched our limited edition 75th anniversary bedding design".
"Earlier this year we asked our customers to tell us about their dream bedding. More than half of our customers favoured our jacquards with Paisley being a firm favourite. Blue was voted as the favourite colour and the end result was this gorgeous Paisley Chambray Blue Luxury Jacquard design."
The Paisley bedding special has a range of coordinating accessories including pillowcases, cushions, bedspread and a throw, whilst also being available in silver, blush, white, natural, duck egg and charcoal.
Simon added that there is more in line later in the year with its Christmas ranges soon to be launched, although remaining tight-lipped on this for now, while also paying tribute to staff as being a core reason behind the company's longevity.
"We are extremely proud to have reached this amazing milestone. Our employees have made Julian Charles what it is today and family values are exceptionally important to us. When we asked our team what the best thing about working at Julian Charles was, they said the people they work with, and that is something we are extremely proud of. Several of our staff have worked for the business for over 30 years and grown alongside the company over the years.
"We are pleased with business this year and we will continue to grow."