Emmett Lenaghan, Managing Director at Julian Bowen, talks about their contract sector success, sustainability importance and why making the buying process for customers should be pain-free.
Furniture wholesale business Julian Bowen continues to go from strength to strength and they are now seen as one of the key suppliers to the contract sector, partnering with key providers to offer a flexible product fulfilment service.
The well-established business has developed a reputation as a reliable source for delivering a complete package to meet the customer requirements. They pride themselves on offering bespoke furniture and installation solutions collaborating with clients to meet their specific demands. "This has come about through ensuring that every project is tailored to suit the client's requirements with the upmost attention to detail, from receiving the client brief, critical path planning and fulfilment, setting the benchmark for the finest quality and service in the contract industry," said Emmett Lenaghan, Managing Director at Julian Bowen.
The company has a huge choice of products from their standard range but they can also work with bespoke briefs across all categories of the home, managing more complex solutions to ensure customer satisfaction. Emmett continued: "Every project and client no matter how big or small, including Build to Rent, HMO, Student Housing, Private Rentals is handled by an expert team and managed to ensure complete satisfaction. Working closely with clients ensures that each project receives the individualised attention it deserves.
"This is supported by a heavily invested supply chain incorporating an experienced in-house buying and design team, with domestic and international Quality Control teams who work in close partnership with a select group of leading manufacturers."
Emmett says that Julian Bowen has a profound passion for all things design and has a continually growing product pipeline based on recent technological developments and cutting-edge furniture design, giving customers the best available choice on the market. They are also an FSC-certified company, committed to only working with suppliers using sustainable raw materials.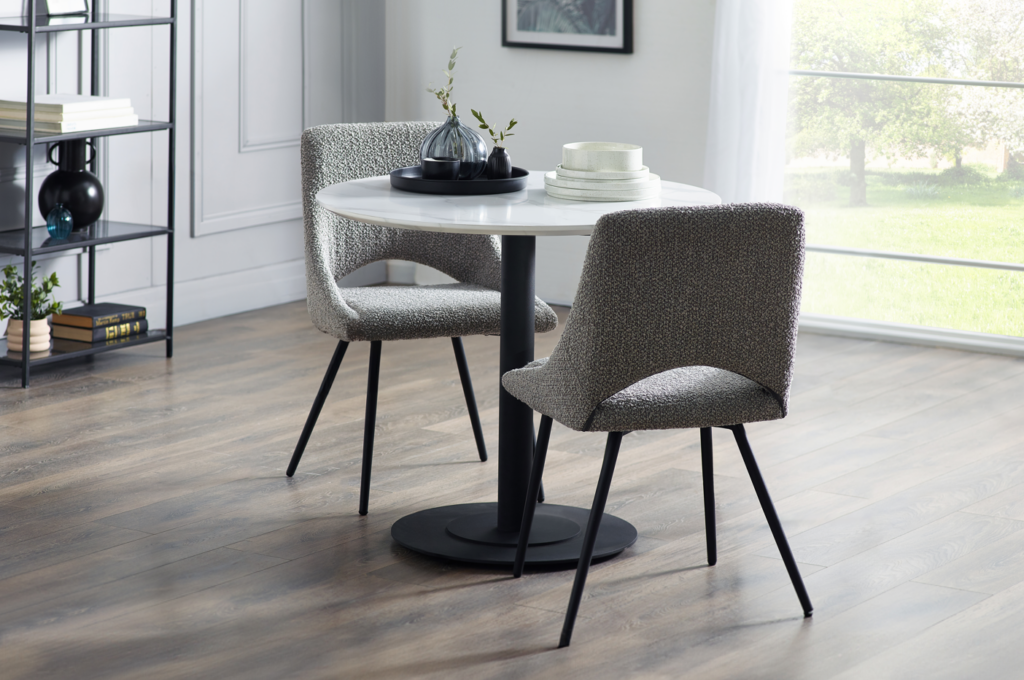 "We have forged an impressive new product development capability, which has created a platform for significant growth and an enhanced customer proposition with a huge focus on FSC, reclaimed materials and a robust sustainability policy," Emmett said. "The recently launched FSC Mallory Oak bedroom and dining collections has been a great success offering both exceptional value for money and classic timeless styling.
"Also, the stunning reclaimed and FSC Chatsworth extending dining table bench set, with the Woburn fixed table, bench and occasional pieces are doing really well. The country rustic style of these ranges reflects the growing trend in the marketplace for products sympathetic to the environment with unique characteristics.
"Our sustainability ambitions and commitments are in line with the UN Sustainable Development Goals, while our membership with FIRA and SEDEX reflects our commitment to remain at the forefront of industry developments and we firmly adhere to ethical and environmental standards across our operations and supply chain."
Furthermore, product development is backed up by a continuous ongoing investment programme across the business, which includes their marketing support, customer service, supply chain management and IT infrastructure. This is all to maximise business efficiency through automation from stock feed management to ordering and distribution. "This is further enhanced with tailored individual solutions with the new self-service customer portal, which enables our customers to log on and have access to all their details including; live-stock, outstanding invoices, product details and ability to order products at any time," Emmett added. "It's a huge flexible benefit to our customers.
"Another area of our business that has seen huge attention is the supply chain and stock management to mitigate overstocks and warehouse space constraints, which gives us the position of having optimum stock with sufficient capacity to meet our aggressive new product launch plans for 2023."
Julian Bowen's emphasis upon bespoke solutions and customer support has been a key factor in the development of its successful Direct Container business. Emmett explained: "This offers a well-managed one-stop solution from product development through to quality control, shipping and in-bound distribution and ongoing stock management support, while leveraging our significant buying power for our customer's advantage. Across the whole business, the emphasis is upon making the buying process as easy, efficient and pain-free for our customers as possible."