Independent home furnishings retailer Barretts of Woodbridge has unveiled its new store branding as part of its ongoing modernisation project.
Barretts, originally started in 1969 and still very much a family firm, is situated at 40 Thoroughfare in Woodbridge, Suffolk, has replaced the old green look with a more modern blue branding on its shop front.
This follows a successful in-store revamp too, which now includes new co-ordinated 'set' areas to help customers on their purchasing journey, with the business regularly updating its showroom to keep it looking fresh.
Millie Baker, Marketing & Online Sales Manager at Barretts, commented: "We've had our branding redone, from green to blue and have had the front signage hand painted by a marvellous local painter. We haven't had it changed in years and we're delighted with the finish.
"Our store was looking the best it ever has inside, so we needed the branding to reflect that. In store, we've been really successful with our showroom changes, including decorating and furnishings areas to 'create the look' and help the customer visualise what our products can look like in a home scene.
"We change our windows and showroom every few weeks to help keep the store looking fresh at all times. One of our windows recently was showcasing our wallpapers and paints so we had rolls of wallpapers from ceiling to floor, with 'paint dipped' paint brushes hanging at different levels from the ceiling too. This was a really successful way to promote those items of our store. And as ever, our Christmas windows always look phenomenal, and we even won the best Woodbridge Christmas Window 2022."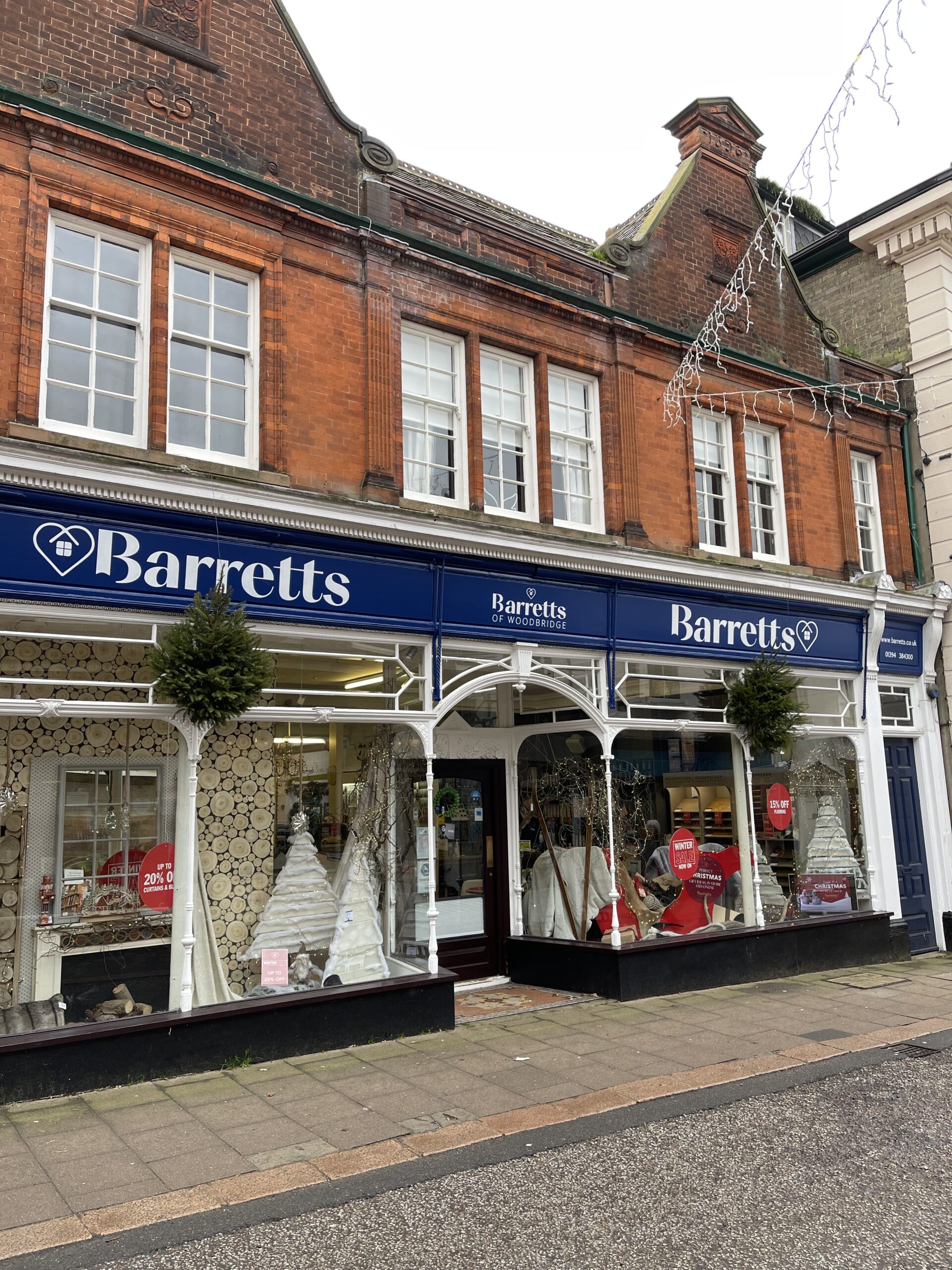 The ongoing investment has also seen the business totally reform its website, which was one of the first implementations of the modernisation back in October 2021. Over a year on, the online side of the business has delivered success. Millie continued: "With the new website, we have a new look menu which makes it super simple to navigate. It was vitally important that our new website was not just an online selling platform, but more importantly another window into our gorgeous shop, a place for customers to get a glimpse into our ethos as well as picking up inspiration for their new home furnishings.
"Barretts of Woodbridge hopes the new branding will deliver a real boost going into 2023, with the business optimistic on the year ahead. "Like most businesses, we felt the Covid hit but we have had such amazing support from loyal customers to shop local. We're feeling really positive for the future and hope the rebrand will give us that much needed boost," Millie said.
"With gorgeous river walks and fabulous independent businesses, Woodbridge really is a wonderful place to visit, and it's no surprise to us that Woodbridge is the 3rd happiest place to live in the UK! As a store, we're always trying to keep things fresh and 'on trend' so who knows what's around the corner!"