Ingka Group, parent company of furniture retail giant IKEA, has made a financial minority Investment in a UK based insurance startup called Urban Jungle, a company using technology to provide fair home Insurance to renters and homeowners.
Through its subsidiary, Ingka Investments, the deal is part of Urban Jungle's latest funding round with investors contributing to a total of USD 23 million of equity capital to accelerate its growth and rapidly scale its UK Home insurance business, as well expand in new markets.
Founded in 2016, Urban Jungle is now one of the UK's top-rated insurance providers, reaching the recent milestone of helping over 100,000 customers. The business uses the latest technology to help keep insurance affordable for its customers, whether that be by offering its customers 100% online services with no need to call, or through its use of AI and Machine Learning to catch fraud. The company aims to change the insurance industry by putting fairness and transparency at its core.
"We are delighted to have made this financial minority investment in Urban Jungle and are confident of their continued growth in the insurance market. They have developed an innovative solution with the potential to complement and disrupt the current insurance market and make insurance affordable for many more people. This aligns with our vision to create a better everyday life for the many people," says Krister Mattsson, Managing Director of Ingka Investments.
This latest funding round will be used to rapidly grow Urban Jungle's customer base and roll out into other markets in the year to come. It will also allow it to create 100 new jobs in the UK.
"We are thrilled with this funding round, and it comes at an exciting time, as we are growing very quickly which has been attractive to both existing and new investors. We are building a modern insurance provider from scratch, leveraging the latest technology, and using that to create products with fair, transparent prices and easy to understand terms – all whilst making insurance simple, quick and affordable. Fraud is a big problem in our industry, and it drives up the cost for everyone else. The way we use technology gives us a critical edge by being able to screen out fraudsters, and help genuine customers get a much better deal, which is particularly important at the moment," says Jimmy Williams, Urban Jungle Co-Founder and CEO.
"Ingka Investments invests to fulfil the IKEA vision to create a better everyday life for the many people and invests in innovative companies that share our values and our ambition to have a positive impact on people and planet," the group added.
Ingka Investments has also invested €190m in a wind farm and solar park, located in north-western Poland as it looks to expand its renewable energy portfolio.
The investment will help to further reduce the IKEA climate footprint across the value chain and support a broader transition to a net-zero society.
Ingka Investments already owns and operates 6 wind farms with a total capacity of 180 MW in Poland producing 450 GWh per year, well in excess of the electricity consumption of the Polish IKEA Retail and Distribution. The new agreement has been signed with OX2, a leading firm in large-scale onshore wind and solar power, who has developed both projects that are expected to be fully operational by the end of 2024. The total value of the transaction with OX2 is €173m.
Krister Mattsson, Managing Director, Ingka Investments said: "We are delighted to further grow our renewable energy portfolio in Poland. This investment represents another important step for Ingka Investments as it will mean a further reduction of the climate footprint of IKEA Retail including distribution and logistics, and also IKEA value chain partners based around the country. Having recently invested in renewable energy in Spain and Germany, this investment demonstrates our continued commitment to invest in countries where IKEA Retail operates and to increase the share of renewable energy across the IKEA value chain."
In other news, IKEA's owner, Ingka Group and H&M, has announced the launch of its first Atelier100 space to showcase London-based designers and creatives.
The new London store, which is located at Livat Hammersmith, opened on the 1 June and is the result of a first-of-its-kind cooperation between the Swedish retail giants.
Atelier100 represents a new sustainable and 'hyper-local' approach to retail – the project launched in April with an open call for creatives, makers and manufacturers living within 100km of central London to share their innovative product ideas.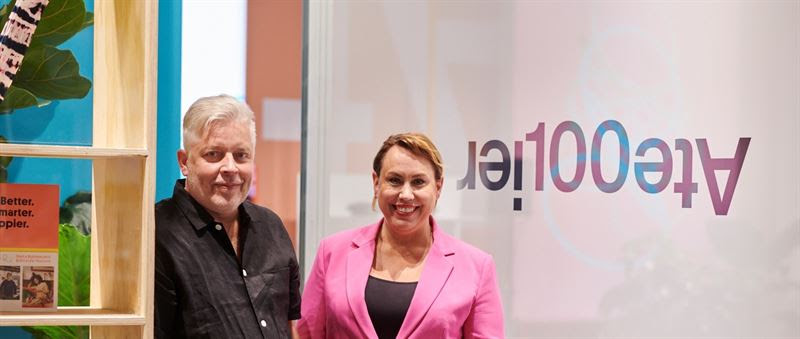 Marcus Engman, Chief Creative Officer at Ingka Group, the largest IKEA franchisee, said: "It is a proud moment to see the first Atelier100 open its doors. Every part of the space has a story, from the locally-sourced products on the shelves to the recycled material used to make the space itself. It will be ever-evolving and I am excited to see how the creatives on the programme make Atelier100 their own come autumn."
Camilla Henriksson, Global Brand Manager at H&M added: "I am thrilled to be here and to meet in person the creatives that we will be working closely with in the coming months. This is just the beginning of the journey for Atelier100, we look forward to seeing the impact this pilot has on the London design community."
The first 20 local creatives have now been chosen and are in the process of bringing their products to life through the unique Atelier100 funding and mentorship programme. The aim is for the space to begin selling these newly-designed local products from October 2022. In the meantime, the shop will showcase a range of products designed and manufactured by London-based creatives.