Swedish furniture business IKEA has earmarked a Brighton shopping centre as a potential acquisition target.
According to reports, IKEA has tabled an offer of £175m for the Churchill Square shopping centre, with talks over a sale ongoing for several months.
However, IKEA have not confirmed the bid, but did state it is continually exploring the "potential of new locations and sites" as part of its "ongoing transformation" to be closer to its customers.
Back in 2020, IKEA acquired the former Kings Mall in London for £170m.
IKEA UK has recently opened a new 452,000sqft customer distribution centre in Dartford, Kent (pictured). Located at the former Littlebrook Power Station site near the Dartford Crossing and M25, the new distribution centre is placed on the border of London to deliver almost one million orders annually – with many reaching customers within 24 hours of an order being placed. Today, almost every second IKEA purchase in London takes place online.
"As the popularity of online shopping continues to grow, the new multi-million-pound facility will enable faster, more sustainable home deliveries to IKEA customers in London and the southeast of England," IKEA said.
In other news, IKEA has also announced the launch of its new collection, MÄVINN, which is a celebration of traditional craftsmanship.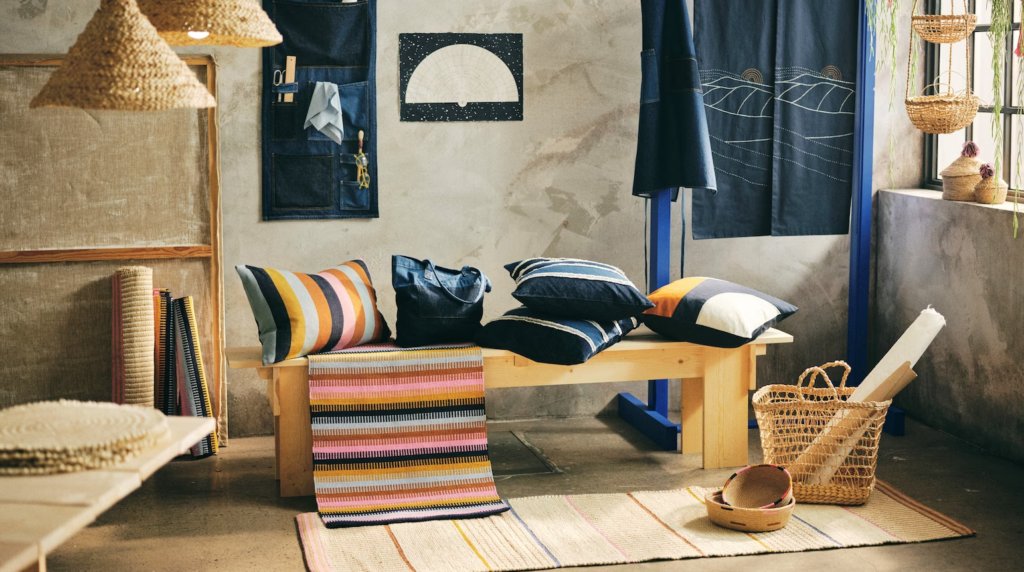 Launching in June 2023, the collection has been created in partnership with seven social businesses in Bangladesh, Thailand, India and Vietnam. All are committed to creating long-term opportunities¹ and improving the livelihoods of vulnerable groups in their communities.
MÄVINN is the second global social entrepreneurship collection from IKEA and marks the first annually recurring collection under this name – IKEA has however, been collaborating with social businesses since 2012.
The collection name "MÄVINN" is an expression of dialect from Småland, where IKEA was founded, and means "having the wind at your back". The MÄVINN range comprises of 20 pieces including baskets, rugs, a lampshade, an apron, bags, cushion covers, and a wall organiser. 
All products in the MÄVINN collection are made from materials including cotton, over-run materials from denim production, and natural fibres. These include paper made from the bark of mulberry trees, banana fibre and jute, all selected both for their durability and renewability. Most of the collection's materials are sourced from where each of the businesses are located, while the combination of materials and production techniques are based on the skills and expertise of the seven social business partners.
Paulin Machado, Designer at IKEA of Sweden, said: "Our initial idea was to emphasise craftsmanship and bring the person who made the product to the forefront. This led us to think about the experience of visiting a local craft market: the interesting objects you might find there and the people selling their crafts. Every item has a distinctive look and rustic feel of a handpicked item, blending colourful splashes with natural materials through embroidery and woven designs where their handmade nature gives its uniqueness."