The British Furniture Manufacturers (BFM) announced the winners of its new The Future of Furniture campaign at the January Furniture Show.
BFM Chairman, Nick Garratt, presented The Future of Furniture Excellence in Education accolade to High Seat Limited (HSL), and the Excellence in Sustainability award to Jay-Be.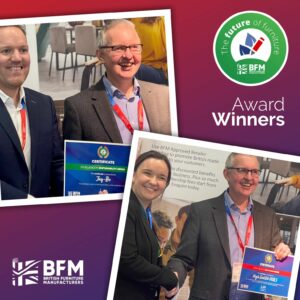 Lydia Burrows, Environment and Sustainability Manager of HSL and Roger Durrans, CEO of Jay-Be, attended the reception to receive the awards.
Commenting on the award win, Jay-Be said: "We've won! Thank you to British Furniture Manufacturers for recognising our continued commitment to a more sustainable future by presenting us with the Future of Furniture Excellence in Sustainability Award."
The campaign aims to highlight the value and variety of careers within the industry, as well as showcasing the steps the industry is taking to support a greener approach to manufacturing.
Details of The Future of Furniture Campaign can be found at https://www.bfm.org.uk/about/the-future-of-furniture/