Family-owned luxury bedmaker, Harrison Spinks, has created a new British-made collection with long-standing partner Feather & Black, which features a new range of mattresses containing 100% natural British fillings.
The premium range boasts 10 models, with the latest three mattresses recently unveiled in the range – Bennett no turn, Marlowe quilted and Conrad Ortho – layered with British wool directly from farm to factory. There is also an option to add an additional 5,000 spring count mattress topper.
For the fabrics, the fifth generation bedmaker has partnered with fellow Yorkshire-based manufacturers Abraham Moon & Sons and Camira Fabrics which have both been producing natural and eco-friendly materials in the heart of West Yorkshire for more than 150 years. The result is a premium patterned fabric option using quality, British-made textiles made from deluxe 100% wool.
Customers can choose from different levels of firmness for their mattress, which will feature Harrison Spinks' Cortec™ spring technology. Similarly, the new collection includes a style available in orthopaedic very firm tension, providing highly individualised support.
As an official partner of British Wool, all wool that goes into Harrison Spinks' mattresses is completely traceable from UK farms, with each mattress made with 100% natural and British fillings, including blends of ethically sourced hemp and flax, while being glue-free and FR chemical treatment-free.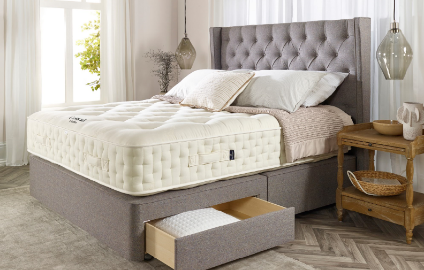 Nick Booth, Managing Director at Harrison Spinks said: "We're delighted to have been able to partner with Feather & Black once again on this exciting new premium range. This new collection incorporates our innovative Cortec technology, uses 100% British and natural fillings and, as with all our beds, each mattress is fully recyclable and British-made.
"We love the fact that Feather & Black customers will be able to sleep soundly, not only on a bed which is adaptive for premium comfort, but also knowing that they're supporting the local economy by buying a British made product."
Laura Burnett, Furniture & Homewares Buyer at Feather & Black, said: "This new range showcases the vast selection of great quality materials we have here in Britain, as well as a high standard of manufacturing that is both innovative and responsibly developed.
"We're always excited to work with Harrison Spinks and we love the amount of variety available in this new collection, from premium British fillings and springs to the inclusion of top-quality British-made fabrics from Yorkshire-based brands.
"Local sourcing and ethical production have been at the forefront of these designs, demonstrating the key values for both Feather & Black and our long-term business partner Harrison Spinks."