Glasswells Home Furnishings Showroom has been crowned winners of the Ooni Christmas Display Competition, showcasing their range of Ooni Pizza ovens and accessories creatively, whilst also incorporating an inventive Christmas theme.
In December last year, a small team at Glasswells in Bury St Edmunds took part in a national Christmas Display Competition run by Ooni Pizza Ovens. The competition was based on three key areas; in store placement, festive fun and range merchandising. This enabled Glasswells to get creative to create an eye-catching and unmissable spectacle.
Glasswells incorporated their extensive range of Ooni products by combining their visual and merchandising skills. They made use of their acrobat brown bears, which are often displayed at Christmas time within their stores, as well as using branded wrapping paper as a backdrop and pizza slices as baubles, which hung on their Christmas tree. From the infamous pizza ovens, to the official Ooni cookbook, as well as cleaning and cooking utensils, the striking display allowed customers to understand the products available, whilst also bringing publicity to the brand itself.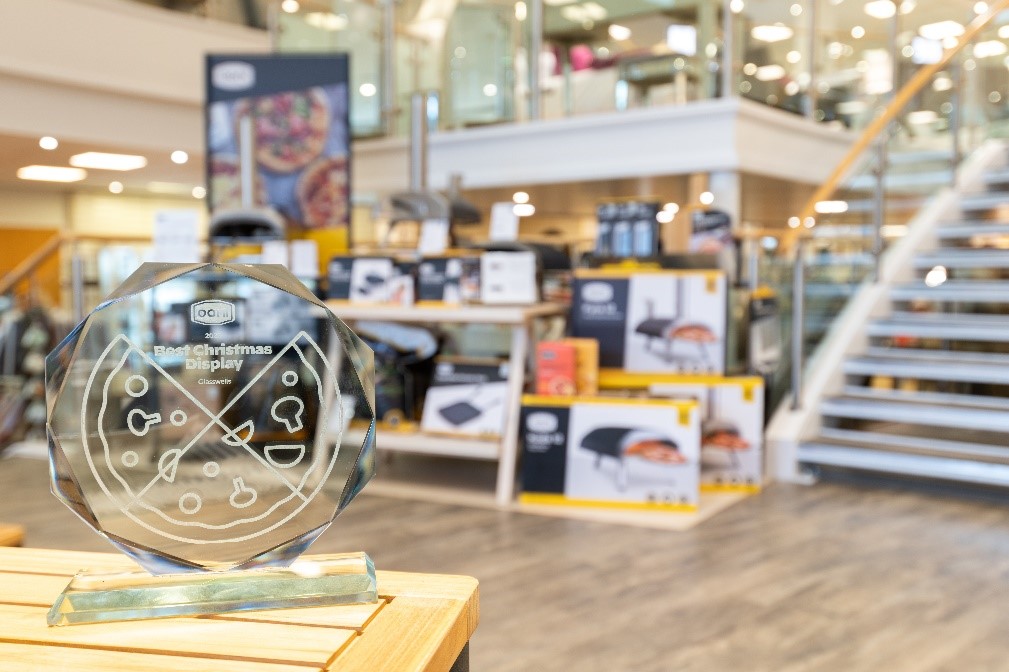 The hard work and effort that went into the display was clear from the judge's perspective and Glasswells were thereafter announced winners of the competition. The hard work from the staff members involved resulted in Glasswells winning stock for the shop with a retail value of over £450 and the coveted Ooni Golden Slice Trophy.
Paul Glasswell explains: "Our displays throughout our showrooms are carefully put together by our team of expert room designers who spend a lot of time and effort presenting fresh designs that inspire and appeal to all. This award has enabled us to demonstrate the creativity among our staff members and our determination to do everything to our best abilities. We are always keen to be involved in events within the industry and look forward to playing our part in future affairs."