Premium garden furniture brand Bramblecrest has identified a growing trend for Moon Garden designs for UK customers in 2023 and beyond.
A Moon Garden is the conscious designing of an outdoor space to be appreciated equally at night, by moonlight, as in traditional afternoon sun. "Using a Moon Garden to enjoy quiet, peaceful moments in nature during the evening reduces post-work/busy day stress and promotes better sleep, all factors in supporting good general health," says Bramblecrest.
A Moon Garden also has the added benefit of enjoying the sights, sounds and smells of the great outdoors and certain wildlife which come to life at night.
"Senses are heightened through a Moon Garden with shrubs, flowers and trees like jasmine, lily, wisteria and petunia blooming and releasing their most powerful scent when the sun goes down. Perfumes released by plants and flowers trigger endorphins which bring a natural feeling of happiness, contentment and de-stress," Bramblecrest added.
"Noises in a night-time garden add to the magic with evening birdsong from nightjars to nightingales, robins, warblers and owls combined with characterful sounds from crickets, frogs and the rustling of hedgehogs all adding to the connection with nature – perfect for a calming night's sleep."
Psychologist and TV Broadcaster Honey Langcaster-James commented on the potential health and wellbeing benefits of using a Moon Garden: "Both personally and professionally, I love the idea of a Moon Garden – creating an area in your garden that's been designed with evening enjoyment in mind.
"Aside from the fact that it could be a perfect way to inject a little romance into your relationship with your partner while at home, it could also be an ideal place to take some personal time out, to unwind, be more mindful, and to give yourself some much needed peace and quiet after a busy day. Spending some time in your Moon Garden could become part of your evening routine, and the relaxation associated with your added time in nature, could really help to ready yourself for a more deep and restful sleep.
"We Brits are well-known around the world for loving our gardens, but most of us tend to only ever think about actually enjoying our garden spaces during the day, when the sun is shining. Those who live in warmer climates might actually do the opposite, using their outdoor spaces much more during the cooler evenings and less in the heat of the midday sun, and it turns out that they may be enjoying a host of psychological and well-being benefits as a result of that!
"From a health and well-being perspective, going out to your outdoor space can provide you with both a literal and figurative breath of fresh air, helping to boost your mood and separate your more productive daytime period from your evening wind-down. This can put you into a restful mindset which will likely better prepare you for a good night's sleep.
"Our homes have become increasingly multi-functional and nowadays they need to be truly multi-purpose spaces, so much of our lives take place there. We use the inside of our homes for work and productivity, rest and relaxation, eating our meals, spending time with loved ones and meeting our obligations to our families and carrying out all sorts of other activities and commitments. Our gardens however, tend to be less demanding spaces.
"They are places which are usually devoted to rest, relaxation, pleasure, health and well-being, and are only very rarely associated in our brains with work tasks or other demands upon us. This means that spending more time in our gardens, if we are lucky enough to have one, makes sense for our overall well-being and can help us better delineate our productive and more restful down times, ultimately helping us with a better work life balance."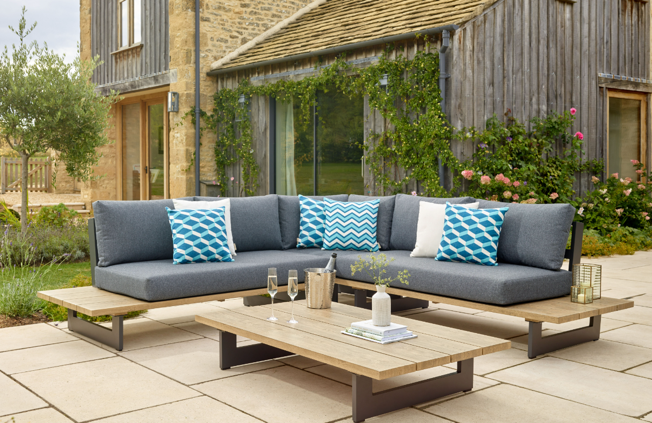 Furthermore, Bramblecrest has announced the launch of its latest range of premium garden furniture. These include Amsterdam, St Lucia, Zurich, Bergen, Lucca and Vienna, as well as a new range of accessories and scatter cushions.
Johnny Sparkes, Head of Product for Bramblecrest, added: "Our 2023 collection reflects our customers' growing desire to create seamless transitions between indoor and outdoor living. The new all-weather fabric and aluminium ranges replicate the textures and finishes of indoor furniture, but with innovative materials that may be left outdoors, all year round."