Adam Hankinson, Managing Director at Furniture Sales Solutions, talks about building trust and loyalty with customers, with one of the best ways being to sell it like a nurse!
Target Trust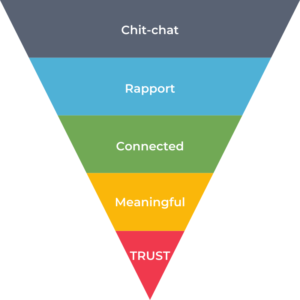 In a recent Gallup poll (6th January 2021). Nurses topped the "most trusted profession" for the 19th year in a row! Respondents were asked to rate the honesty and ethics of 15 different professions as very high, high, average, low, or very low.
Nurses remained the undisputed leader, earning a record score of 89%, 4 points up on last year. Doctors and Pharmacists both scored highly and were up on the previous year too. Conversely, at the low end of the poll, Politicians and car Salespeople tied at 8%.
A perception problem?
This depressing insight mirrors a Hubspot survey where a group of people were asked to imagine that they were shipwrecked on a desert island with 20 strangers from different professions. Where their first task was to vote for a leader – the Doctor won comfortably but the Politician, Salesperson, and Lobbyist all drew for last place, with only 1% of the votes each!
Steps to building trust – Seek at first to understand
The old adage is that this is a "show' room, not a tell room, so before launching into a big pitch about the product that earns you the most money, ask great questions of your customer that enlighten you to their situation, needs, wants, desires, and problems so that you can "prescribe" the right solution. A good doctor would take the time to understand the full nature of your ailments and symptoms before prescribing the right treatment or cure.
Sell from the heart – not the wallet
Empathy is the leading characteristic in nursing, that innate ability to understand how it might feel to be in the patient's situation. Likewise, the best salespeople have a way of getting inside the mind of their customer to see things from their point of view AND their own which enables matching the problem with the solution within the expert knowledge of the salesperson.
Be patient
How often has a customer asked you the same question as many other customers have asked you the same question? And how have you responded? For each individual customer they are genuinely asking that questions because they have some type of query or concern that needs answering to their satisfaction before they can proceed in the buying process.
Your bedside manner
A programme began at Michigan University in 2000 to help Doctors improve their communication with their patients. By 2010 claims against the doctors had dropped 36% and lawsuits by 65%. Special focus was made on "educating" patients using tonality, especially lowering their tone and by the use of humour in their conversations. Talk with your customers and educate them on why you're recommending your products or services.
Listen with rapt attention
The feeling of really being listened to – not just humoured – creates in the other person an inner warmth, the sense that you genuinely care about them. Picture a conversation with the most important person in your life when they were at their most vulnerable and you "being there".
Quality of contact
Doing all of this is likely to create a deep and meaningful conversation, not just a transaction. A unique interaction between two equally vested parties, the type of interaction that creates trust AND loyalty – trust in you and loyalty in your brand. Trust, then, is the secret to recommendations and referrals and loyalty is the secret to creating customers for life.