Manufacturer of self-assembly furniture FORTE has announced that Maria Florczuk, daughter of the current President of FORTE, will take over the position of the President of the Management Board.
Due to the resignation of Maciej Formanowicz from the position of President of the Management Board, the company announces that from September 2023, Maria Florczuk, the daughter of the current President, will take over the management of the company.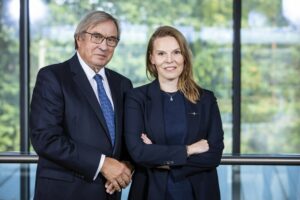 Maciej Formanowicz has held the position of President for over 30 years. During that time, he has developed the company from a single production plant in Ostrów Mazowiecka to a capital group comprising several manufacturing companies in Poland and trading companies in Europe that achieves an annual turnover of more than one billion PLN.
Maria Florczuk has been working for FORTE since 2007 and has held multiple roles in different departments in the company – from a merchant and a director of the purchasing department to a Member of the Management Board.
Currently, she oversees the company's strategic business development activities. She manages the teams responsible for marketing, purchasing, HR and strategic projects.
"We have built our strength on the mass production of furniture, operational efficiency and logistics excellence. We have always tried to be fast and flexibly respond to the needs of customers of both large international retail chains and traditional independent furniture stores. In the coming years, we will strengthen these competences and expand our offer through innovation and expansion of the assortment," said Maria Florczuk, current Member of the Management Board and future President.
"My personal mission is also to transform the company towards the Sustainable Development Goals. Commitment to environmental protection must be visible and tangible, because climate change is a fact. Today, business must decide whether to be on the side of the problem or the solution. I definitely prefer to be on the side of the solution, so – thinking about the next generations – we must move towards increasing our positive impact on the environment."