Keiran Hewkin, Co-Founder of Swyft Home, talks about what he would change in the industry and why Timothy Oulton is one of his furniture idols.
Let's start with you. Can you share a bit about yourself and your background?
My career started out in chemical manufacturing, a long way from furniture! It was really interesting but much riskier and a bit less glam. I have always been interested in making things and having a physical product. I find it much more clear-cut as to if you have done a good job or not.
What is your current job role and key responsibilities?
My job is to lead the commercial side of Swyft. So, all customer touchpoints, design and strategy fall under my remit. Luckily there are a lot of people in the business far better at the component parts than I am.
What do you love about your job?
I get to, by and large, pick the team I work with. Which is probably the single most enjoyable part of my working life!
What time is your alarm clock set for and do you have a morning routine?
My morning is dictated entirely by one of my two young children. They have made my alarm redundant. I always get five days a week of exercise in and can't start work without a coffee but there is no yoga or long walks journaling before my work day. It is to survive, feed kids and get coffee.
Why did you choose to work in the furnishing industry?
I wanted to move to London to live near my friends in my 20s and the only manufacturing jobs were bespoke furniture or food – and furniture won!
Who do you most admire in the industry and why?
Timothy Oulton. I do not think anyone has done more for bringing style to the UK upholstery market than him. All of his products had a distinct handwriting and he did not simply copy the dated traditional stuff that was on the market and sold by everyone.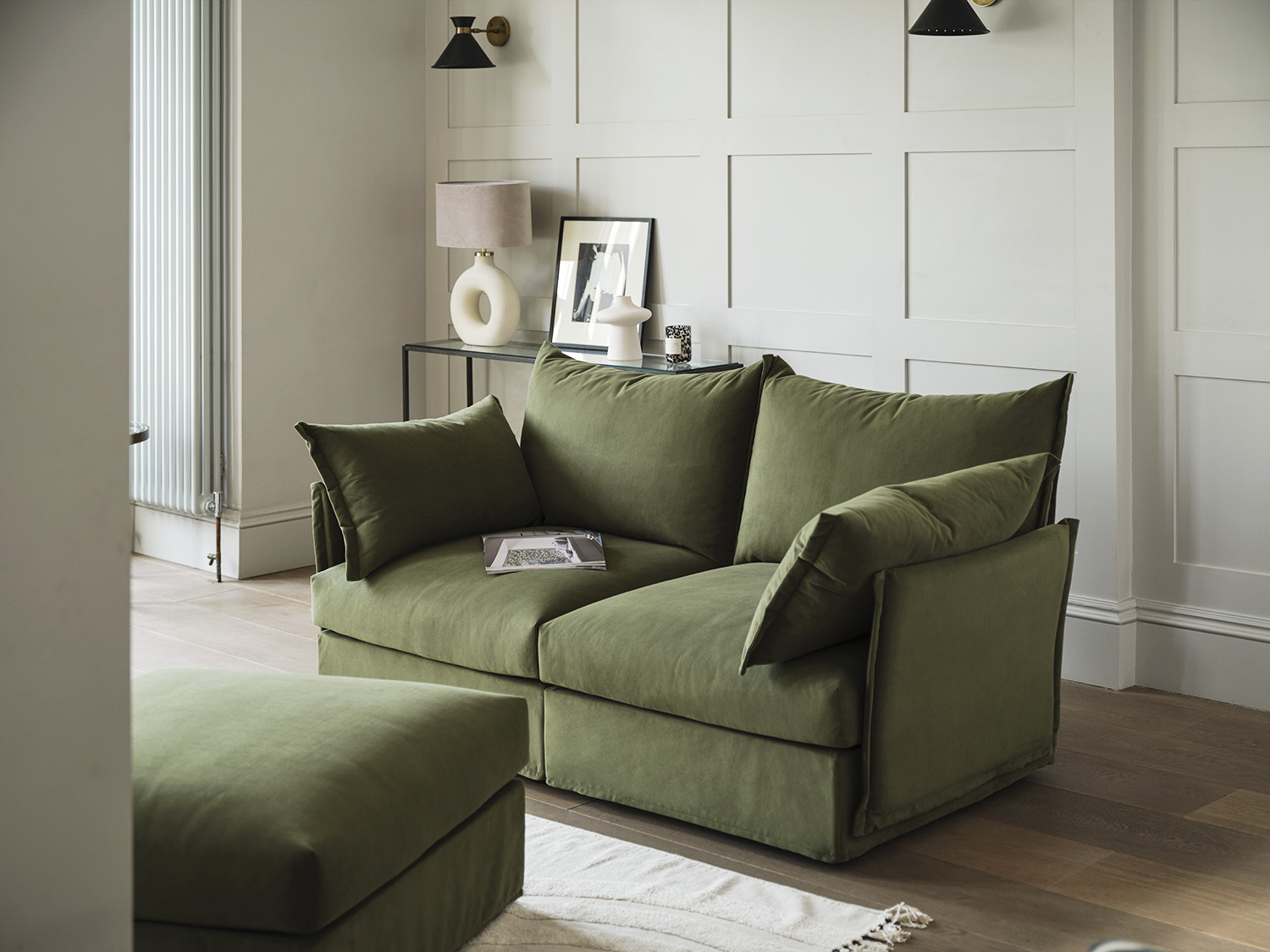 Have there been any special moments during your career?
Every product launch is special for me, all the hard work that goes before it gets realised all in one go. That first sale of a new product never gets old.
What is your favourite item of furniture you own?
My Swyft Model 06 sofa. That or my standing/sitting desk.
What do you think is trending within the industry at present?
Boucle and velvet never seem to go away. There are lots of earthy colours with brown and red tones making a strong comeback.
What would you change in the industry?
The waste and longevity of product. All manufactured goods should have a minimum life expectancy by law in my view, the most sustainable piece of furniture you can get is the one you already own. After that buy to get things that last.
Can you share an insight into your future plans?
We are launching something really soon that I cannot share but perhaps once it is launched we will be back to update you. Our recently launched bed and mattresses range is going well, it is still early days but it is doing as well as some of our sofa ranges.
What do you enjoy most outside of work / free time?
Aside from my family, running is my main hobby.
What might someone not know about you?
I did not own any furniture for the first two years of running my furniture business!
If you had a different career, what would it be?
I'd be a Mountain leader.
Finally, if you were an item of furniture, what would it be and why?
What a question. I'd be a bench somewhere on a hillside with a view.
Five Fun Qs:
If you could hack into any one computer, whose computer would you choose and why?
My old one, sure I have some bitcoin on there.
What fact amazes you every time you think of it?
Without sounding corny – that we are made of stardust.
What's the most spontaneous thing you've ever done?
Decided to cycle from London to the lake district on a Wednesday for three days for a long weekend. I had not ridden a bike for 10 years.
What is the most important object you own and why?
I honestly can't think of anything here.
What did you think was cool when you were young but isn't cool now?
ME.
Swyft has recently announced a new investment round with Channel 4 Ventures and BOOST&Co. Read more here.