Rich Greenwood, new MD of La-Z-Boy UK, talks about what the furniture industry is lacking, a bowling talent and future plans now firmly in the hot seat.
Can you share a bit about yourself?
I was born and live in West Yorkshire and started my sales journey around 25 years ago selling replacement vehicle parts to car garages in the North of England, if ever I needed grounding that job certainly did that! Since then, I have managed some of the largest retail accounts in the UK in a number of varied industries such as consumer adhesives, pet food, health and nutrition and more recently the furniture industry.
What is your current job role and key responsibilities?
I joined La-Z-Boy in 2021 as Sales Director National Accounts and was delighted to be made Managing Director in October 2022, 18 months after joining the business. I'm responsible for driving growth through all channels in our UK business by formulating and implementing strategic plans and ensuring all departments are working together in synergy.
What do you love about your job?
I love variety and certainly in my current position there is plenty of that, no day or week is ever the same and due to the acquisition of our own manufacturing facility 12 months ago this has never been truer.
What time is your alarm clock set for?
It doesn't matter what time I set it for, I always wake up before it goes off, even when I need to be in the Maidenhead office and it's a 4.30am start. My morning routine involves coffee, lots and lots of coffee.
Why did you choose to work in the furnishing industry?
I didn't so much 'choose' the furniture industry, an opportunity presented itself to me and when I did some background work into the La-Z-Boy brand and the growth opportunities that I could see, it was a no brainer. I can honestly say, it's the best decision I've ever made!
Have there been any special moments during your career?
One of the proudest moments of my career was very early on, back in 2004 when I won Salesperson of the year for Henkel UK, it was at a company conference in Barcelona where I was invited on stage to receive a full-size sword (not the best thing to give a Yorkshireman who'd had a few drinks). What it did do though was give me confidence to believe that I could make a good career for myself in sales, nearly 20 years later of believing in myself and hard work and determination and I've been rewarded with my new position at La-Z-Boy.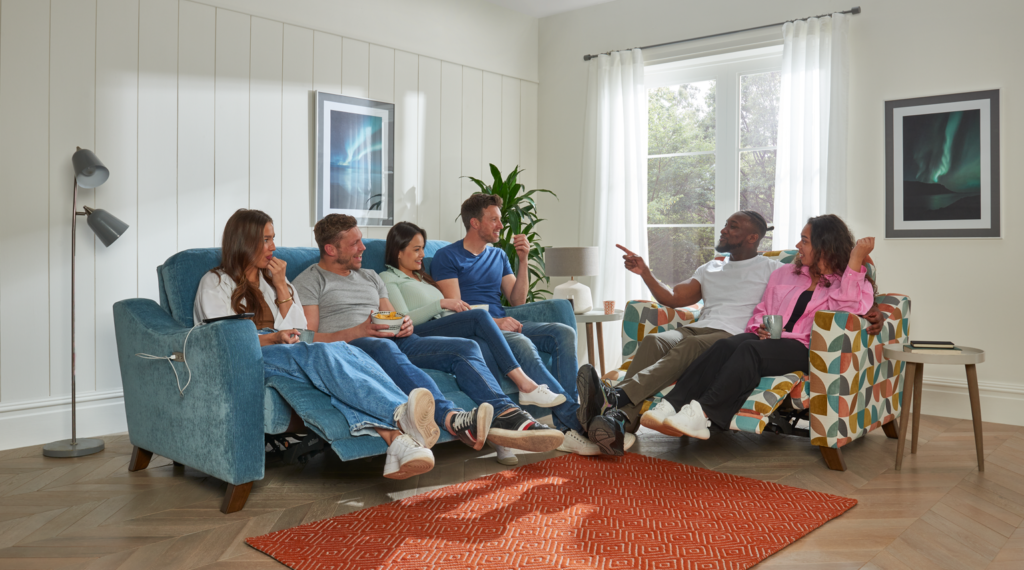 What is your favorite item of furniture you own?
You would expect me to say a piece of La-Z-Boy furniture, and you would be absolutely right. I have been fortunate enough to create my own, let's call it a movie room, when in reality it's a man cave and the centre piece of that room is a La-Z-Boy 2-seater reclining sofa with added head tilt and cooling cupholders and I can honestly hand on heart say, it's the most comfortable sofa I have ever sat on, I absolutely love it.
What do you think is trending within the industry?
We believe that the biggest trend we are going to see is a swing back to browns, beige and more neutral colours on textured and patterned fabrics. A switch towards more traditional looking furniture with exciting accent pieces, with a focus on comfort over style, and larger seating areas are proving to be popular. Consumers are also wanting to personalise their pieces too, so coordinated scatters, contrasting piping and panels, aluminium inlays, and alternative colours and materials of legs if it's an off the floor model. Technological advancements, so wireless charging, bluetooth connectivity and built-in speakers are frequently mentioned to see if they are options.
What would you change in the industry?
The industry is a great place to work and there are many different personalities within it but the one thing I think is lacking is youth. We need fresh ideas to drive the industry forwards, to not be afraid to try new ideas and not be held back by things that haven't worked in the past. We need more market research to drive forward innovation and find fresh new ways to engage with consumers.
Can you share an insight into your future plans?
I want to strengthen our position of being the brand leader in motion upholstery in the UK and Ireland by continuing to develop and launch more contemporary designs while adding innovative features. We are building our capabilities in Sales, Marketing and Manufacturing to ensure we have the best product range possible to support our consumer proposition across all channels of the market.
What do you enjoy most outside of work / free time?
I've coached both my son's football teams for around eight years, and I can honestly say, it's one of the most rewarding things I have done. Admittedly, in the colder months, when it's raining, snowing, and freezing cold and my hands are turning blue I often ask myself, 'why do I do this again?'
What might someone not know about you?
Back when I was a teenager, I used to play a lot of ten pin bowling competitively, I used to travel all over the UK representing my local team in Yorkshire.
If you had a different career, what would it be?
I would love to say professional footballer, as I'm sure a lot of people would but more realistically due to lack of fitness and ability, I would have to be a football manager instead.
Finally, if you were an item of furniture, what would it be and why?
I would be a plastic chair in the Stretford end at Old Trafford so I could guarantee watching every home Manchester United game!
Five Fun qs:
If you could hack into any one computer, whose computer would you choose and why?
Thats a hard one, I would have to say Quentin Tarantino. I'm a huge fan of all of his movies, I think hacking into his computer would give a true insight into his mind and how that process works to be able to create films, like Pulp Fiction, that really stand the test of time.
2) What fact amazes you every time you think of it?
Someone once told me that there is more water in Loch Ness than all the lakes in England and Wales combined, I still just cannot comprehend how that is possible, but apparently it is, in fact it's nearly double, Google it if you don't believe me!
3) What's the most spontaneous thing you've ever done?
I bought a season ticket for Manchester United in 2006 the day before the new season started.
4) What is the most important object you own and why?
Again, Manchester United related, it would be my match ticket from the 2008 Champions League final in Moscow that I attended.
5) What did you think was cool when you were young but isn't cool now?
Playing Manic Miner on my ZX Spectrum (only people of a certain age will get that)