Chris Townsley, Operations Director at Harrison Spinks, talks about his role at the business, sustainability and why educating people in this area is crucial.
Let's start with you. Can you share a bit about yourself and your background?
I've been working at Harrison Spinks, a luxury bedmaker based in Leeds, for 21 years. I joined the business in 2002 as an engineer, where I started out operating and repairing the spring machines, which create pocket springs that go into our mattresses.
Over the years, I've worked across many departments in the business including being a Quality Manager, Health and Safety Supervisor, Components Production Manager and Group Manufacturing Manager, eventually working my way up to Operations Director where I oversee pretty much everything that goes on in the Factory.
What is your current job role and key responsibilities?
I started as Operations Director in 2021 and I'm currently responsible for around 300 employees across the business. I closely monitor every process on the factory floor, from the pocket spring department where my career began, to the weaving department and fillings department, right through to the quality control of the finished mattresses.
During my time here, Harrison Spinks has continuously invested in my expertise and career development, so I've been in many roles where I've been able to help develop products, help set up new sites, and also enhance quality control as well as learn everything there is to know about mattress production.
What do you love about your job?
Every day I get to interact with people from all sides of the business who all have the most amazing stories and backgrounds. I know every person that works with us by name because of how many different areas I work across, and I spend a lot of time with them, from the shop floor to the boardroom.
Our commitment to investing in product innovation is really what's kept me so invested in the company for all this time. It's a top priority and we're constantly thinking about opportunities for improvement when it comes to our customers, our impact on the environment, and within our working practices and production.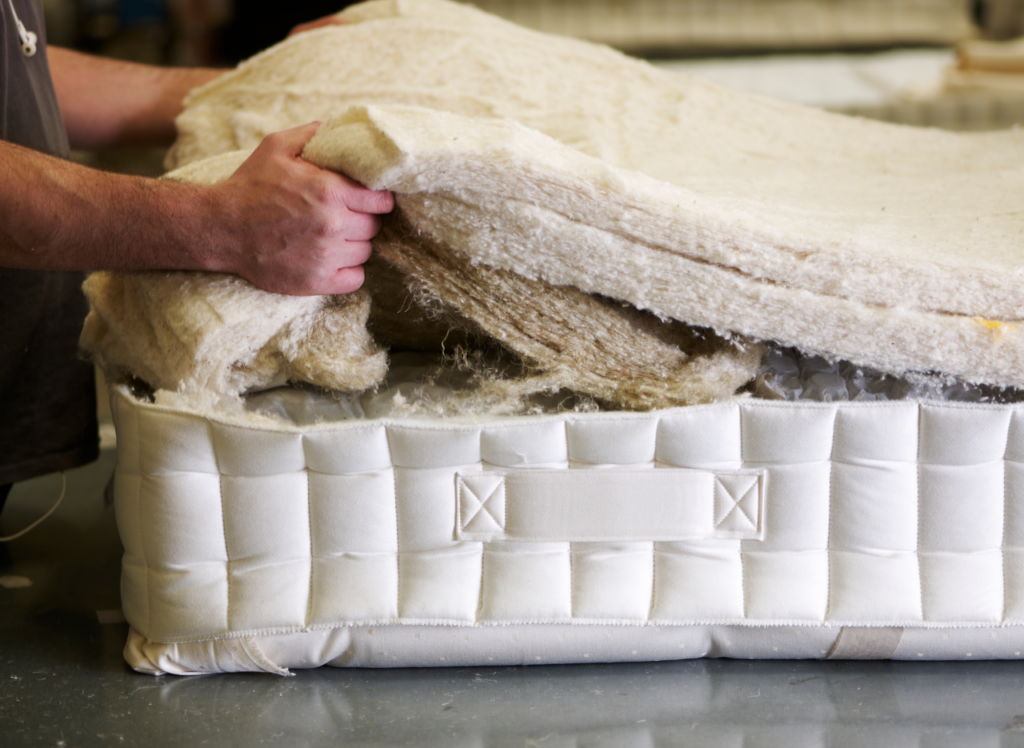 What time is your alarm clock set for?
Each morning I have two alarm clocks set for 5:45am and 6am, as I need the extra 15 minutes in the morning to wake up properly – as I'm sure you can imagine, my wife loves my use of the snooze button! Having woken up so early, a coffee is an absolute must as soon as I arrive at work, before I get into my day solving any issues that arise efficiently, starting down at the spring department and working my way through the rest of the factory floor.
Why did you choose to work in the furnishing industry?
I originally started working as an engineer after completing an Industrial Sewing Machine Engineer apprenticeship and once I joined Harrison Spinks, I was amazed by all the different departments and elements that went into making components and mattresses. Over time I got to see more and more of these areas and learn everything about bed production, so it then became clear that this was the industry for me.
Who do you most admire in the industry?
In an ever-changing industry with constant innovation and strategic planning needed to better our products, I'd have to say our owner, Simon Spinks. He's very forward thinking, and this gives us the autonomy to think outside the box and create not only award-winning products but ones that have the environment in mind through all stages of production, from sourcing the materials ethically and locally, to ensuring the components can be recycled at the end of their life, which I think is very admirable. He also creates a really positive culture within the business so that it's enjoyable and exciting to work for.
Have there been any special moments during your career?
There have been so many that it's hard to list them all. The introduction of Micro Coils – our patented world first glue-free spring system – was a very special moment indeed, especially since this allowed us to win our first (of many) Queen's and King's Awards for Enterprise in Innovation from as far back as 2013.
Some other notable moments would be the integration of our Yorkshire Farm to grow hemp for our natural fillings, the introduction of drawing our own unique fine wire in partnership with British Steel, proudly bringing weaving back to Yorkshire with our state-of-the-art weaving looms, and of course the many awards we have won along the way.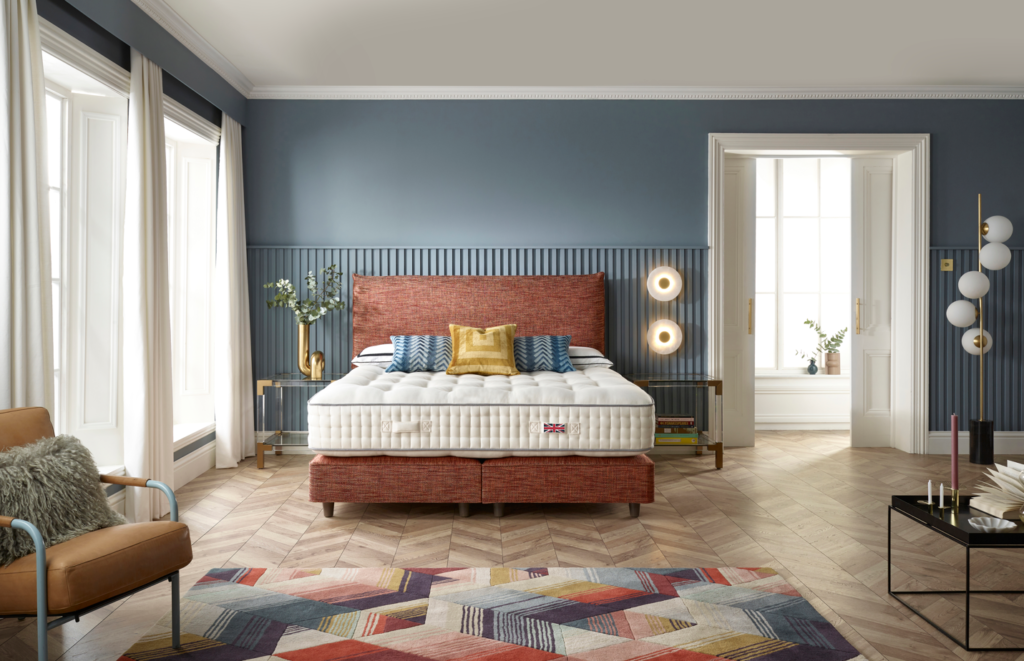 What is your favourite item of furniture you own?
Well, I will obviously say my bed has to be my favourite piece of furniture because I just couldn't live without it, and I sleep so well on mine – hence needing more than one alarm to get up! We spend between six and eight hours a day sleeping, so it's imperative to have a comfortable mattress. I have one of our Wensleydale pocket sprung models which is made with eight layers of luxury fillings, including British wool and mohair from Angora goat, as well as our signature hemp and flax from our farm.
What do you think is trending within the industry at present?
With sustainability and carbon footprint at the top of everyone's agenda, the ability to make stylish, modern, yet comfortable products that are better for both people and the environment is definitely at the forefront of the industry now more than ever.
We have been making ethical choices and creating eco-friendly products for decades, while establishing our partnerships with British manufacturers and suppliers. Whether it be using locally sourced materials such as the British wool, hemp and flax from our 300-acre farm, or the absence of harsh chemicals within our products, we're really proud of our eco-credentials and always strive to make the most environmentally friendly choices we can.
What would you change in the industry?
I think we could educate more people on production and what goes into making such unique products, as I think consumers would find it fascinating to learn how things are produced more responsibly.
It's important that we value both ethical production and innovation. As an industry, we could all do more to place importance on things such as sourcing eco-friendly materials and looking after the environment within our businesses practices.
Can you share an insight into your future plans?
We're always developing and innovating to continually strive to make our mattress products as eco-friendly as possible, working hard to streamline processes and ensure our premium mattresses are created through a combination of ethical production and using responsibly sourced, local materials. For example, we are constantly looking to put even moreeffort into reducing waste within our factory, as well as partnering with even more British businesses to source our materials.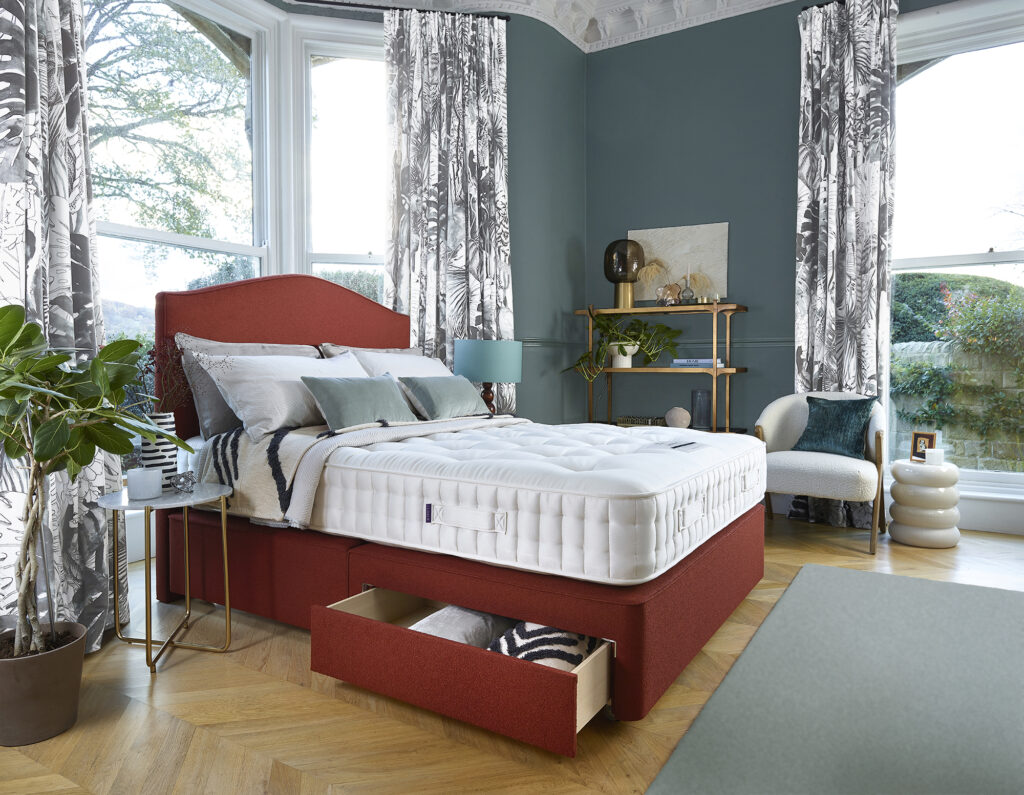 What do you enjoy most outside of work / free time?
After being quite active in the factory all day, I love to chill out by watching a good series or documentary, especially crime programmes. Let's just say, I reckon I am not far off being able get away with murder…
What might someone not know about you?
I am a big foodie and I love to eat out and try different cuisines from various parts of the world, with their local beers to wash it down. My favourite food has to be Thai food, and I can't get enough of Rosa's Thai in Trinity Leeds which isn't too far from the factory – if you're ever in the city I'd definitely recommend.
If you had a different career, what would it be?
Since my love of food, I'd either be a Food Critic or presenter of the Great British Bake Off. I reckon I could definitely be the next Noel Fielding.
Finally, if you were an item of furniture, what would it be and why?
I would be an Ottoman base as it is such a diverse piece of furniture and has more than one use – holds the mattress, has great storage, and looks good.
Five Fun qs:
1) If you could hack into any one computer, whose computer would you choose and why?
Bill Gates (in the hope of finding his bank details).
2) What fact amazes you every time you think of it?
I'm always amazed at how my wife puts up with me. She is probably the most educated person on mattresses to say she doesn't work in the industry.
3) What's the most spontaneous thing you've ever done?
One Friday back in 2018 I decided I would like to go on holiday and boarded a plane four hours later. We travelled to Dublin and hopped on a train over to Galway which is a fantastic place. It was in November so the Christmas market was spectacular and we had a great time, and I was back in time for work on Monday!
4) What is the most important object you own and why?
My coffee cup – it's a daily necessity.
5) What did you think was cool when you were young but isn't cool now?
I used to own a shell tracksuit back when it was 'cool' – I am glad there is no photo evidence I had one.