International soft seating manufacturer and eCommerce retailer, Bazaar Group, has been awarded Gold accreditation against the Investors in People Standard.
The accreditation is awarded to people-focused organisations that demonstrate a clear commitment to supporting and developing employees. Following a rigorous external assessment including an anonymous survey completed by 91% of its employees, Bazaar Group now joins the top 4% of gold standard IIP manufacturing organisations.
Alongside transparent business plans and a supportive, accessible working culture, the report highlighted that employees feel the Bazaar Group is an excellent place to work, offering them a good working environment and an exciting future with potential.
Some key statements evidenced by the Investors in People assessment included:
– Leaders are active role models, leading by example and are trusted by people throughout the organisation.
– Stretching objectives are set in conjunction with people, which support and respond to the organisation's 'Business Plan' and longer- term vision.
– Leaders continually look to the future to identify and plan for the capabilities that people will need to deliver ongoing success.
Since Comhar Capital's £10m private equity investment in 2021, the businesses natural tendency to seek improvement has been supercharged.
With the appointment of a trio of new directors to the board in 2022, Bazaar's strategic leaders are focused on helping the business continue its growth trajectory with a trusted leadership team.
Awarded 'Silver' in their 2019 evaluation, the Northumberland headquartered firm has focused on strengthening their people strategy over the past three years to secure their gold status. As a business that firmly places people at the centre of their thinking, this outstanding achievement demonstrates Bazaar's promise to develop a high-performing team.
Commenting on the award, Helen Svensson, HR Director at Bazaar Group, said: "As a team we are delighted to have achieved Investors in People Gold. Our IIP journey started 6 years ago, and the standard has underpinned our growth as a business and supported the creation of a high performing, engaged and motivated team, who live our values every day. Under the framework we continue to develop a people centric culture which delivers strong business results. We are hugely proud to be recognised as a Gold Investor in People. Going forward, we look forward to rolling out the framework internationally to our team in Germany and continuing to invest in our people as we grow."
IIP Practitioner, Andy Holgate, commented: "Having first begun to work with The Bazaar Group in 2015, it has been fantastic to see and be a part of the development and growth that has taken place within the business over the past 6 years. It's always been very evident how the leadership team have used the Investors in People Framework as a roadmap to help guide their approach, and equally they have always been open to and embraced the feedback that they've received over the years. Through three assessments, I have seen ongoing continuous improvement, with the transformation that has taken place since 2019 being especially significant and hugely positive. I'm therefore delighted for them that they have received the recognition they deserve, and that their people practices have been accredited by us as being advanced."
Bazaar Group CEO, Mark Dolder, added: "Not a day passes without us discussing people and how best to harness their collective and individual talent. The great thing about people is that there is no limit to what can be achieved with the right values, culture, and leadership. Therefore, I am extremely proud of Helen Svensson our HR director, for showing such energetic and skilful leadership in the development of people in our business. Also, of everyone in the organisation who are consistently exemplars of our values."
Bazaar Group has also strengthened its international business with the opening of a Hamburg-based distribution centre focussed on fulfilling the growing online requirements of European consumers.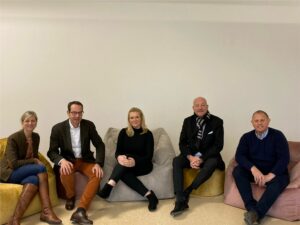 The new 35,000sq ft hub will provide a highly effective fulfilment and customer services operation bringing Bazaar's market-leading designs, consumer value proposition and delivery times to European consumers. Hamburg Invest supported Bazaar Group during the settlement process
Mark Dolder, CEO of Bazaar Group, said: "Coming to Hamburg was the right decision because of good accessibility for customers, great logistical infrastructure, especially with the port, good connection with the headquarter in England and our space requirements were perfectly met."