Colin Boyce and James Leach, co-founders of newly launched Passage House and agents for bed manufacturer Mattsons, share an insight into their venture and what they hope to achieve.
Following the recent UK showroom launch for Swedish luxury bed manufacturer Mattsons, and the appointment of Colin Boyce as its UK agent, the brand has bolstered its ranks with the addition of James Leach joining the fold.
Mattsons Beds opened its new showroom in Topsham, near Exeter, its 17th space across the globe and its debut location here in Britain. On the back of this new venture, Colin and James, both agents for a number of British and Italian brands, decided to bring their joint expertise together as one company.
And so, with the Mattsons Beds partnership spearheading the venture, their company, Passage House, was born.
"We've always wanted to do something together for some time – the chance to build a meaningful business and hopefully a brand together," revealed Colin.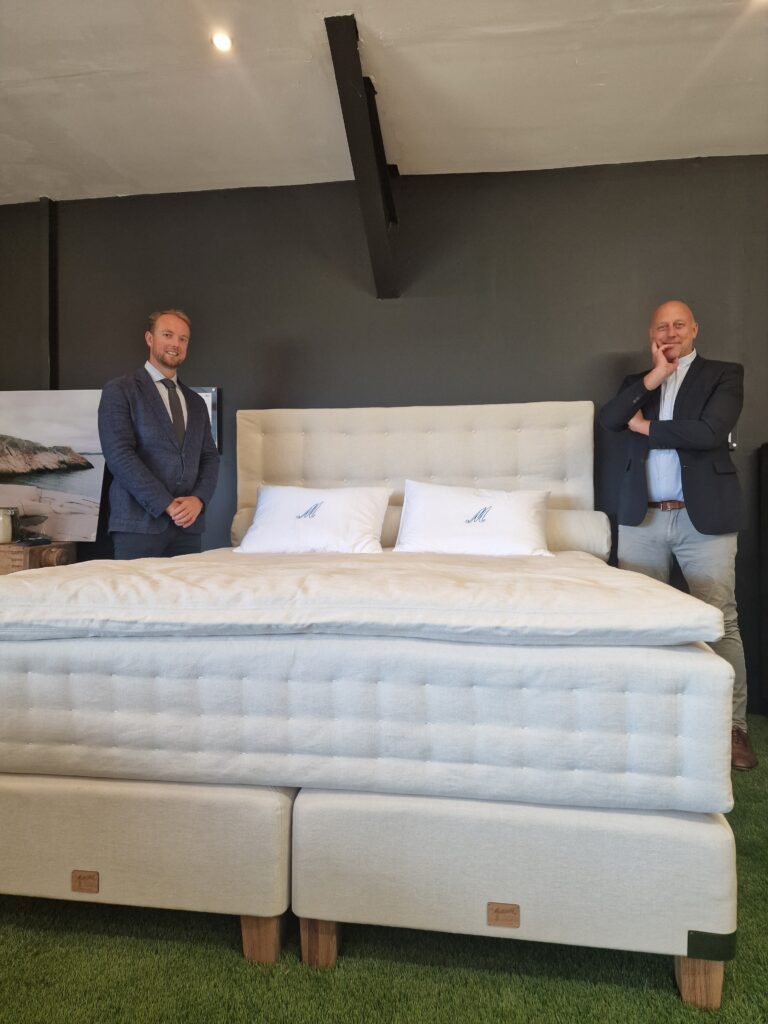 The name Passage House actually brewed over a pint in a Topsham pub, also called Passage House. It was there the concept, plan and strategy of their business model began to take shape, while also the setting for a very important meeting.
"Regarding Passage House, the honest answer is it's the name of the pub we had our first board meeting in after a very successful opening Mattsons launch day at the showroom in Topsham," James said.
"Our vision for the company is to be a vehicle/connection for a brand/manufacturer to operate in the UK, hence passage (route to market) and house (our company)."
Colin added: "When we thought of Passage House for the name of our ltd company, we were thinking along the lines of a customs agent (as we have to clear goods from Sweden), so we thought of the word, passage – being a facility to enable smooth movement from one thing to another, be that business growth or actual movement of goods.
"Our goal is to make Mattsons become a recognised and respected brand within the trade. We will start the journey to hopefully one day make Mattsons a brand known to some discerning UK consumers too."
The pair took the decision to focus on local interest first rather than appearing at trade shows here in the UK.
"We have decided not to show in UK trade shows as we have a wonderful trade showroom in Topsham, which is a stunning place and a really nice little town. However, we are pleased to be at the Milan fair next Spring," Colin said.
"Mattsons will support UK stockists by way of Google word searches in local 50-mile radius' plus, arranging and contributing to the cost of local magazines to hopefully create local interest. We are already working with paid promotions in the UK on Insta and Facebook."
"We believe there is a gap in the market for a luxury bed manufacture that's story has the use of natural materials at the heart of its products," James added.
As the business continues to evolve from its in inception, both Colin and James are busy putting all the cogs in place including a brand new website, which as it stands, is currently under development and will be live in the 'not too distant future'. For now, the pair will continue to promote the Mattsons Beds brand and the quality it represents, most likely over a drink or two.