Oxfordshire-based furniture manufacturer Rhubarb Seating Ltd is celebrating International Women's Day with recognition to its Co-Founder & Director Alysoun Stewart.
Rhubarb Seating has a strong female contingent in its management team, headed up by Alysoun Stewart, who actually started out in accountancy as a corporate finance partner with Grant Thornton LLP after graduating from Oxford University with a degree in History and Modern Languages.
Aly's career since then has seen her working in executive board roles with businesses across a number of sectors, including a number of professional service organisations, food production, leisure, four years with Chef Raymond Blanc as Commercial Director, supporting the expansion of Le Manoir aux Quat' Saison and the launch of the Brasserie Blanc group; and a period back at Grant Thornton where she led a national team focused on the development of company growth strategies and the implementation of effective organisational structures and processes.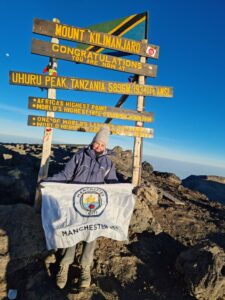 Most recently, Aly joined Ellandi as Chief Operating Officer in 2019, a specialist retail and town centre asset management company. There she worked closely with the founders to develop a world- class operating model to support the growth aspirations of the business subsequently taking on the role as Chair of The Board in January 2022.
Rhubarb Seating was born in 2011 out of the ashes of Tract Limited, a supplier of office chairs and tables that had a 40-year history, when Aly and her business partner, David Matthews, saw an opportunity to create a manufacturing business.
"Aly combines her professional career with an active life outside work," Rhubarb said, continuing: "As well as embarking on a recent journey of discovery across South America, where she walked the Inca Trail amongst other exploits, she tested both her physical and mental strength accomplishing the ascent to the summit of Mount Kilimanjaro in September 2022 – the highest mountain in Africa, the fourth highest in the world and, at 5,895 metres above sea level, the highest single free-standing mountain in the world.
"As we take International Women's Day to reflect on the women in our lives from whom we draw motivation and encouragement, the team at Rhubarb Seating are grateful to have Aly at the helm."