Beds and mattress retailer Dreams has revealed that its debut king-size gaming bed, which it claims to be the first of its kind in the UK and launched last month, has outperformed sales estimates by over 100% in the first three weeks of sales.
Dreams recently launched "The Drift" bed in response to the growing trend of in-bed gaming. The UK consumer games market reached a record figure of £7.16bn in 2021, as gamers increased spending on software, hardware and on game culture (books, toys, movies etc). This followed a surge in gaming fuelled by the Covid-19 pandemic, which saw the sector grow by 30% in just twelve months from 2019-2020.
Dreams' own research identified gamers were increasingly choosing their bed as a comfortable place to play. As many as one in 10 Brits (12%) now prefer to game in bed, with those doing so racking up an estimated one hour and 45 minutes gaming in bed every month. In response, it created the Drift, completed with design features specially crafted for gaming compatibility.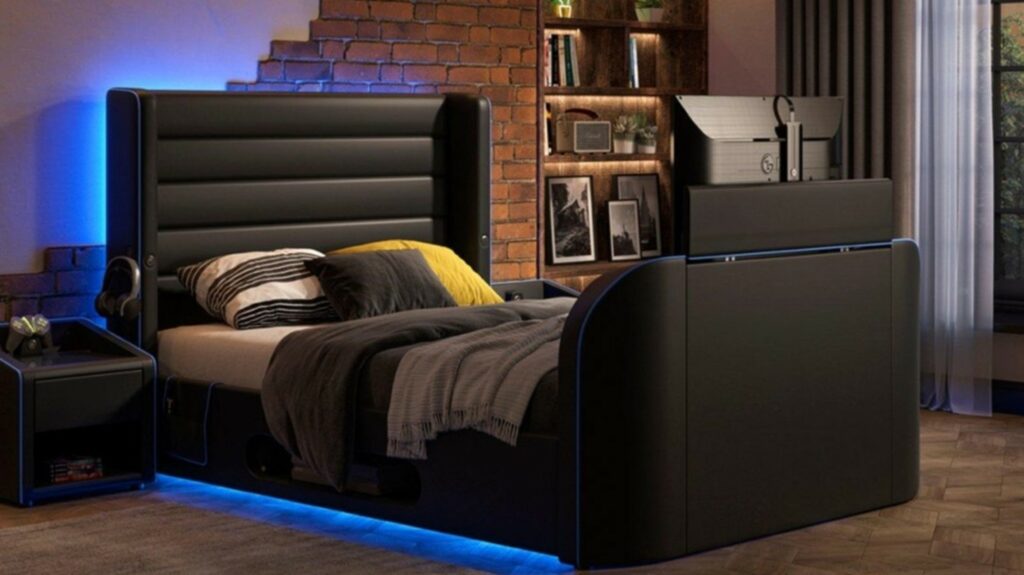 Paul Solly, Chief Commercial Officer for Dreams, said: "Since the pandemic, our beds have become a place for so much more than sleep. There are over 40 million gamers in the UK and increasingly gaming is something many of them are enjoying from the comfort of their bed. So it made total sense to us that a gaming bed should feature in our portfolio, adding to the existing range of products to suit different price points and lifestyles. It's all part of our strategy to bring people great quality beds that fit perfectly with their life and what they love."
"We're delighted that the early signs suggest gamers love this bed as much as we do! It's already our best-selling TV and tech bed and we've sold double the number of beds against our original forecast. We've also seen a huge amount of interest online – an engagement rate of 7,000 on social and almost 4,000 visits to the website."
The Drift is available in three finishes, including: black faux leather with blue or green piping, as well as a grey fabric with black piping. All of which feature LED lights, which frame the perimeter of the bed frame and headboard, to create a 'gaming atmosphere'.
"All styles hold a built-in TV with a lifting mechanism at the foot end, which easily and seamlessly hides away when it's time to sleep. The Drift also houses storage for games consoles, features nifty headset holders and USB ports on each side, and is even available with matching bedside chests with stands for resting your controller – to ensure the most comfortable gaming experience around," Dreams added.